James Buck
Alyson Detch at UVM
F
our years ago, when Alyson Detch was a high school senior, the University of Vermont was her dream school. When she found out she was not admitted as an undergraduate, she wasn't sure what to do next. She wondered whether she was even ready to go to college. Then she discovered another option:
UVM's Guaranteed Admission Program (GAP)
.
GAP offers an introduction to college and the ability to start earning college credits. It's designed for students whose academic performance in high school was less than what they had hoped for, those who are unsure of career goals and feel cautious about investing time and money as full-time students, and students who are considering a gap year. If Detch could complete 18 credit hours and maintain a 2.8 grade point average, she would be guaranteed admission to a UVM undergraduate degree program.
Need some flexibility in your education?
Find out about all the programs UVM CDE has to offer.
Detch applied for admission to the GAP program and was quickly on her way. She met with a program adviser, set up an academic plan, scheduled her classes and focused on her educational future.
"Going to college seemed really daunting," she remembers. "I was scared at first, but the GAP program really helped with that first step through the door." It turns out that a little help was all she needed: This fall, Detch starts her final year as an English major with a minor in reporting and documentary storytelling. She'll graduate in May 2021 with a bachelor's degree.
The GAP program is one of many available through
UVM Continuing and Distance Education (CDE)
. In alignment with UVM's land grant mission, CDE provides access to credit courses during the academic year and summer term, offered both on the UVM campus and online. CDE also offers more than 30 noncredit and professional hybrid and online programs. They're structured to meet the needs of part-time students who are often balancing work and family responsibilities.
---
Who are the faces of CDE?
Read more of Detch's story below, and meet
Rob Bousquet
, a working father and digital marketing professional at King Arthur Baking, and
Vy Cao
, who balanced the demands of school and parenting to become a public health worker applying her data analysis skills to the COVID-19 crisis.
---
A Clear Pathway to College
James Buck
Alyson Detch at UVM
Detch found the GAP application process straightforward and easy to navigate. After submitting the required documents, she met with an adviser who helped her outline which courses would be best for her. Detch remembers being so nervous about these meetings, but they helped reassure her about going to class on her first day.
Detch says her professors made her feel at home. For example, in one memorable history class, she learned about the Silk Road and the Khan Empire, and her professor and the teaching assistant made memes for the lesson. "They found a new way to teach the material in a way I could understand and remember. That made it really fun," she says.
Though Detch completed her GAP work in person, it's also possible to complete the coursework online. GAP students enrolled in online courses are eligible for a 30 percent tuition savings on standard in-state and out-of-state per-credit-hour rates. When Detch started her first year as an admitted undergraduate at UVM, she "wasn't scared at all." She reports that "it was so much easier than jumping in right from high school."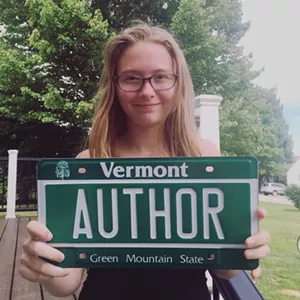 Courtesy of Detch
Alyson Detch
A writer and storyteller, Detch has written two self-published fantasy novels — the first in high school and the second during her years at UVM.
"My second book was so much better than the first because my professors and peers at UVM challenged me to become better at writing," she says. After graduation, she hopes to work in journalism or become a "scribe" for a hospital, taking notes on surgeries.
"I love sharing my stories with the world," she says, "and I got so much support at UVM."
---
'There's Never a Bad Time to Go Back to School'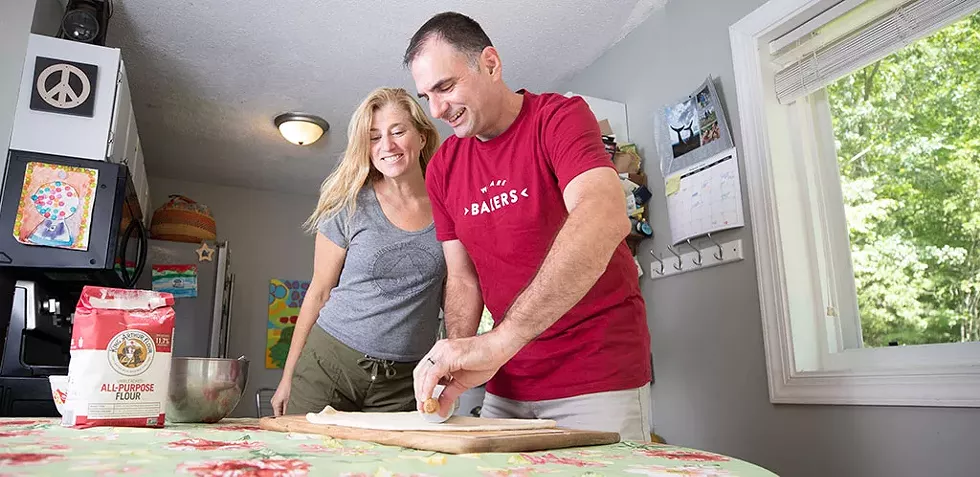 James Buck
Rob Bousquet and his wife Brooke roll out some pizza dough
Rob Bousquet is a busy guy. The Essex dad is as active as his two young sons, who love mountain biking, hiking, berry picking and cooling off at swimming holes. He also serves as their Cub Scout troop leader.
And he holds down a demanding day job: Bousquet is the digital shopping marketing manager for King Arthur Baking (formerly King Arthur Flour). The iconic Vermont business has seen an explosion in popularity due to rising interest in baking during the pandemic.
Yet, in the spring of 2018, Bousquet decided he could handle another commitment and enrolled in
UVM's Digital Marketing Fundamentals professional certification program
. "There's never a bad time to go back to school," he says.
How did he find the time? Bousquet often set aside an hour at the end of each day — or found blocks of a couple of hours during the week — when he could do his classwork. "If you want to make it work, you can make it work," he says.
Brooke Bousquet
Bousquet and his boys mountain biking
Bousquet began his career as a business consultant for a tech company, switched to marketing while working for Green Mountain Coffee Roasters and then, in 2018, took the job with King Arthur. He has a hand in all the ways in which consumers interact with King Arthur's products online: through keyword searches, on grocery store websites and on the company's social media pages.
Working in the digital sphere means things are constantly changing. "While you might think you have your finger on the pulse of what's going on, it's important to know that what you're doing today is going to work tomorrow," he said. "It's important to stay current so that you've got the best possible tools at your disposal."
That's what drew Bousquet to UVM's Digital Marketing certificate. "There are a lot of online programs of questionable quality," he says, "but I trusted UVM to put together a program that keeps up with current trends and was well structured." It lived up to his expectations. "I use things from the course each day that I'm working, because it broadened my knowledge on how to engage people's attention," he says.
"The instructors were helpful, as well," he adds. "All of them kept up with changes in the industry. They were quick to answer questions, give feedback, and were helpful when you had a problem."
Erik Harbison, lead instructor in the Digital Marketing Fundamentals program, has more than 20 years of experience in the field. "Every course instructor you'll meet has done the work. They've spent time learning in the trenches," he notes in the introductory course video.
An unexpected bonus for Bousquet was the incredible network the program provided. "One of the selling features they don't tell you about is access to a community at large," he says. While taking the course, he had conversations with other professionals who weren't in his usual circle. "It was a really great value in addition to the program itself."
---
'It Was Really Flexible'
James Buck
Cao working from home with her daughter
Another parent who faced the challenge of balancing academic and career goals with family commitments is Vy Cao, a graduate of
UVM's fully online Master of Public Health program
. Cao is a research specialist and data manager for the pediatrics department at the Larner Collegeof Medicine at the University of Vermont.
She works behind the scenes, digging into data with a focus on children and adolescent health through the Vermont Child Health Improvement Program. She develops survey instruments to assess and capture information and accurately measure health advances. She also collaborates with the Vermont Department of Health — but it's not the path she started out on.
A native Vermonter, Cao attended UVM and earned an undergraduate degree in microbiology and biochemistry in 2014. She'd thought about continuing her education by going to medical school, but it seemed like an impossible task for someone who was also raising a young daughter. So, after graduating, she took a job as a laboratory research technician in structural biology lab.
When she met with her adviser and former professors, many of them mentioned UVM's online Master of Public Health program. Until then, she hadn't considered it a possibility. She decided she could find time to take one course and see how it went. From the first class, Cao was hooked. She decided to go for her Certificate of Graduate Study, a short, six-course introduction to the field of public health. She loved it so much that she went on to earn her master's degree.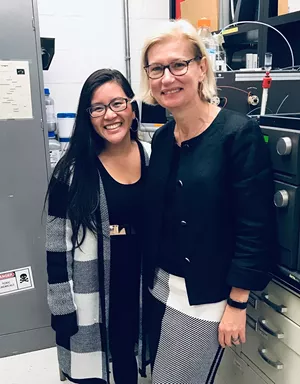 Courtesy of Vy Cao
Cao in the lab with principal investigator Dr. Sylvie Doublié
Cao was still working full time at the lab. At the end of her day, she went home to make dinner and spend time with her daughter. Adding coursework on top of that was a challenge, but she eased into it, taking courses part time as she got used to the rhythm and eventually transitioning into being a full-time student. "A lot of it depended on being organized and setting priority levels," Cao says. "It's exclusively online courses, and I got to make my own schedule. It was really flexible."
Though the classes are online, the format is discussion based. "I learned a lot from my classmates and their point of view," she says, "and that's part of what public health is about: collaboration with others from different fields."
The courses also offered Cao outside opportunities for research and volunteering. For one class project, she reached out to the Vermont Department of Health and the Area Health Education Centers to do independent research projects about vaping. One focused on the spread of vaping among Vermont youths. Cao worked with the Area Health Education Centers to assess the problem, identify gaps and concerns, and inform public health recommendations. The project went so well that she submitted her manuscript to an academic journal — it's currently being given full consideration for publication.
Courtesy of Vy Cao
Cao presenting her independent research on the spread of vaping among Vermont youths
When Cao started her graduate studies in 2016, she was surprised to find how many different things lead back to public health. "I never thought about it, but public health has an impact on so much, whether it's how many people can get on the elevator during a pandemic or why you're required to wear a seat belt," she says.
Courtesy of Vy Cao
Cao at UVM graduation with her family
Her advice for those considering signing up? "Go for it! My brother, Chaz, actually just started the program after listening to me talk so much about what I do and how much I love it. He just finished his first semester," Cao says. "It's something you should pursue if you are really interested in public health and you want to help people."
Cao credits UVM CDE's accessibility to educational growth for helping her reach her professional goals. "I was able to tailor the curriculum to what I was interested in, my professors were so supportive when I had questions, and it was really diverse and flexible," she says.
And access is paramount at UVM CDE. Designed for students of every age and stage of life, CDE has helped thousands of nontraditional students: From precollege or gap-year courses to professional development programs for career advancement, there's far more available than the traditional undergraduate degree.