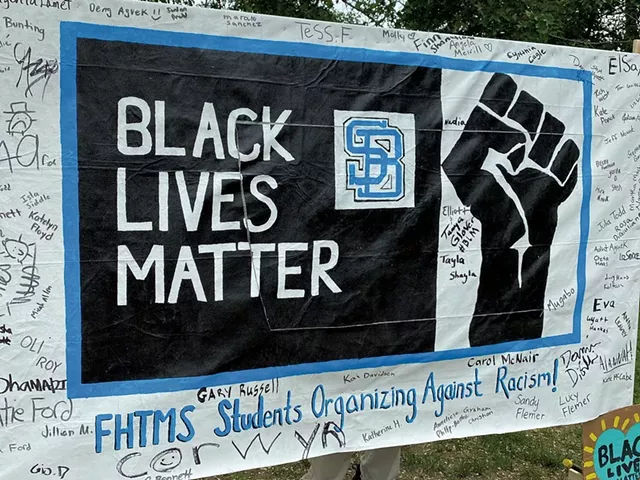 On June 13, volunteers — including Sylvester Owusu and his family, pictured on the cover of this issue — gathered to paint a bright-yellow, 25-foot mural with the words "Black Lives Matter" on the street in front of the Vermont Statehouse. That night, the mural was vandalized with mud and oil, prompting Gov. Phil Scott to issue a statement that said, in part, "We must redouble our efforts to dismantle systemic racism and bigotry, and stay united as Vermonters."
A few days earlier, a similar act of vandalism happened, on a physically smaller scale, when a Black Lives Matter banner on South Burlington's Dorset Street was slashed. It had been put there by local students and teachers — my husband among them.
The Montpelier mural was cleaned and the South Burlington banner repaired, but these two acts were reminders of the racism and divisiveness that pervade our country and, yes, even our state.
Much of this issue is devoted to how we, as parents, can do our part to raise anti-racist children. In "Reading About Racism," Vermont author Kekla Magoon talks about the difference between systemic and individual racism and how children's literature can help build a more just society. In "Stockpiling Priviledge," Burlington resident Marlon Fisher reflects on what it's like to be a Black father in Vermont. He urges white Vermonters to speak up and share their privilege and power.
I'm also pleased to introduce two new columns to our pages this month. Photojournalist Cat Cutillo will highlight local educators and role models helping to inspire Vermont kids. This month, she photographed and interviewed poet, activist and teaching artist Rajnii Eddins, who has worked with students through the Young Writers Project and the Fletcher Free Library.
"Musical Notes" is a new column that explores the intersection of music and parenting, written by Burlington dad Benjamin Roesch. This month, Roesch chronicles his experience exposing his sons and their friend to an eclectic array of music by listening to a different album each day, a project he embarked on when schools closed in March.
It's our hope that this issue of Kids VT will be a resource for families during this very complicated and challenging time — and that we'll all emerge stronger on the other side.