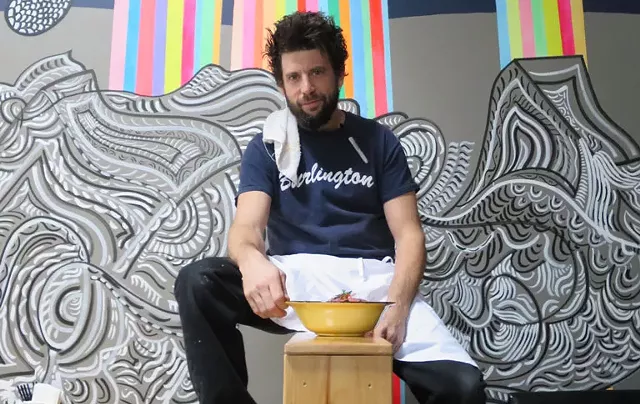 Matthew Thorsen
Chef George Lambertson of ArtsRiot
Part of the beauty of traveling is discovering new places to eat. Springtime in the Green Mountain State is the perfect season to check off some boxes on your "must-chew" list. Vermont Restaurant Week, held from April 20 to 29, showcases the state's finest fare and participating restaurants' individual flair.
How does it work? The 10-day feeding frenzy — organized by independent Vermont newspaper Seven Days — features special, fixed-price dining deals at more than 100 restaurants across the state. Visit vermontrestaurantweek.com for a handy guide to the $20, $30 or $40 multicourse menus.
And read on for a taste of three worthy restaurants within 25 miles of the Burlington International Airport. Each of these eateries brings serious flavor to local ingredients, cooking food that couldn't exist anywhere other than in Vermont.
ArtsRiot
400 Pine St., Burlington, artsriot.com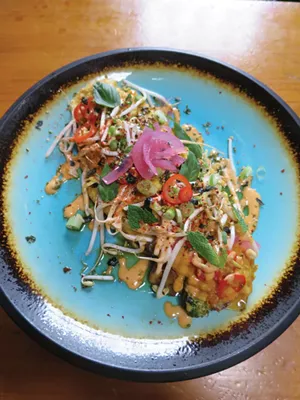 Matthew Thorsen
Okinawa Omelette at ArtsRiot
Plenty of places serve in-your-face cuisine, but few are so bold as Burlington's ArtsRiot. Located in the city's South End Arts District, the restaurant and event space is on a mission to "destroy apathy," one plate at a time.
Two experienced yet opposite chefs helm the kitchen. George Lambertson, a native son, brings eye-popping color and pizzazz to the menu. Jean-Luc Matecat makes sure that each component is perfectly cooked and thoughtfully plated.
Together, the chefs concoct Asian-inspired snacks such as Brussels sprouts with pork belly, ham breadcrumbs and yuzu juice. Pork-and-ginger dumplings are served in lobster-miso broth with shrimp, cabbage and tofu.
Then there are the purely American dishes. These include a chicken sandwich with blue cheese and cafeteria-style "shrettuce," and the popular 400 Burger. Save for the American cheese, every component — from the special sauce to the sesame-seed bun — is made or ground in-house. It's a happier riff on a Happy Meal.
Equally engaging as ArtsRiot's food are the near-nightly events in the restaurant's adjacent club. It's impossible to be apathetic at the range of silly to serious gatherings, from trivia nights and schlocky horror-movie screenings to talks about issues such as food insecurity and civil liberties. All of these ingredients add up to a restaurant that's truly one of a kind.
Nearby Attractions
Rachel Elizabeth Jones
S.P.A.C.E. Gallery's spaceman mural
Burlington's South End is a hotbed of art galleries and studios. View a quirky exhibition at the S.P.A.C.E Gallery, located in a building known as the Soda Plant.
Stock up on wine and cheese at Dedalus Wine Shop, Market & Wine Bar. Its artisan food buyer, Rory Stamp, was recently named the finest cheesemonger in the country.
Drink a beer or two at one of Pine Street's craft breweries, such as Zero Gravity or Queen City Brewery.
The Kitchen Table Bistro
Oliver Parini
The Kitchen Table Bistro's citrus salad
Since 2003, married chef-owners Steve and Lara Atkins have been quietly serving exceptional food in a charming former farmhouse just off Interstate 89. Unlike many modern restaurateurs, they don't post much on social media — although their brief Instagram feed is lovely to behold. They simply turn out pitch-perfect dishes season after season, year after year.
Though the two were born 1,000 miles apart — Lara in Tennessee, Steve in Vermont — they followed oddly parallel journeys in life. Planning to go into medicine, each acquired a degree in biology before pursuing his and her true passion — food — in the kitchen. In front of a stove at Vermont's New England Culinary Institute, they found both their calling and each other.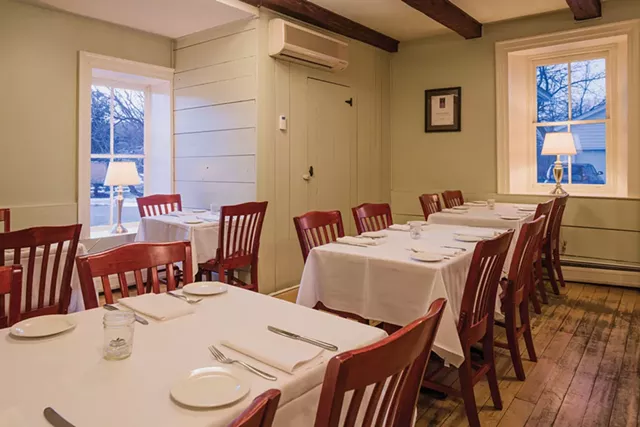 Oliver Parini
The Kitchen Table Bistro's farmhouse dining room
Both Atkinses have been semifinalists in the prestigious James Beard Awards, and their Richmond bistro has been written up in USA Today, Yankee Magazine and the New York Times. In a 2008 piece, "Dazzling Fare Heats Up Backwoods Vermont," food journalist Mark Bittman called the spot "country, cozy and comfortable" and praised the beef tartare, steamed mussels with bacon and aioli, and "fork-tender" lamb shank.
A decade later, the kitchen is still turning out renditions of those dishes. Newer creations include Maine lobster bisque with house-cured salt cod, and milk-braised pork shoulder with sweet potato purée, broccoli and salsa verde.
For dessert, Lara riffs on classics with aplomb. If her apple cake is on the menu, don't miss it.
Nearby Attractions
File: Brent Harrewyn
Stone Corral Brewery
Hit the slopes at Cochran's Ski Area . For just $25, adults can enjoy spring sliding at a hill that's home to Olympic gold medalist Barbara Ann Cochran.
Grab a beer at Stone Corral Brewery. The former horse ranch offers a dozen brews on tap, plus live music Wednesday through Sunday.
Tour the Old Round Church, a 19th-century, 16-sided wooden meetinghouse maintained by the Richmond Historical Society.
Prohibition Pig
File: Jeb Wallace-brodeur
The bar at Prohibition Pig
For nearly two decades, 23 South Main Street in Waterbury has been home to a brewery. First it was the famed Alchemist, which moved to a new location after Tropical Storm Irene devastated the downtown in 2011. That meant Prohibition Pig had big shoes to fill when the brewery and barbecue joint set up shop.
But from day one, the community welcomed Pro Pig. It's a pleasure for meat eaters to find barbecue in veggie-loving Vermont. The menu reflects northern-meets-southern comfort, from crispy pork rinds dusted with spices to fried pimiento-cheese balls with chile pepper jam.
Chopped pork barbecue is served charmingly on a metal board lined with brown paper, with sides such as maple baked beans and mac and cheese. Squirt bottles contain vinegary Carolina barbecue sauce and a Vermont variation laced with maple syrup.
Diners wash it all down with a slew of brews, including drafts made in-house and by famous friends, such as Lawson's Finest Liquids and Hill Farmstead Brewery. Cocktails range from classic hot buttered rum to the Garden Grove, made with local vodka and rosemary syrup.
The brewpub is built for guilt-free indulgence. On nearby mountains, it's not unusual to hear the snowboarding aphorism "Go big or go home." In Waterbury, a more apt slogan might be "Pro Pig or go home."
Nearby Attractions
Courtesy of Glenn Zimke
Glass art by Glenn Ziemke
Watch artisan Glenn Ziemke make blown-glass objets d'art at Ziemke Glassblowing Studio.
Head into nearby Stowe to sample the famous Heady Topper IPA at the Alchemist brewery and visitors' center.
Stop by the European-style coffee bar at Vermont Artisan Coffee & Tea. Beans are roasted on-site, and owner Mané Alves is a world-renowned coffee educator.
---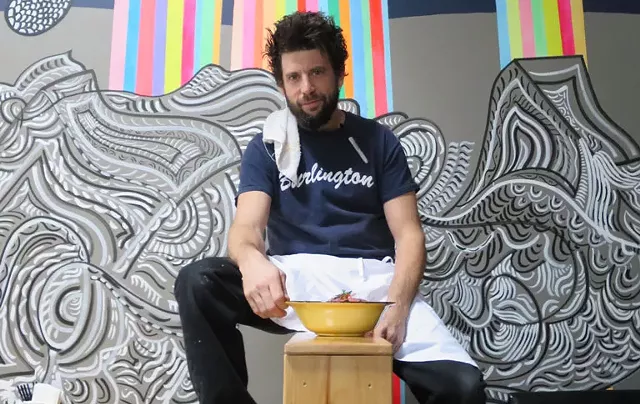 Matthew Thorsen
Chef George Lambertson of ArtsRiot
Le plaisir de voyager est indissociable de celui de découvrir de nouveaux restaurants. Le printemps dans l'État des Montagnes vertes est la saison idéale pour essayer quelques établissements incontournables et cocher ainsi quelques cases. La Semaine des restaurants du Vermont, qui se déroule du 20 au 29 avril, met en vedette les meilleurs plats du terroir et le flair individuel des restaurants participants.
Comment cela fonctionne? Cet événement, qui dure 10 jours, est organisé par le journal indépendant du Vermont Seven Days. Des repas spéciaux à prix fixe sont proposés dans plus d'une centaine de restaurants de tout l'État. Vous pouvez visiter le site vermontrestaurantweek.com pour consulter aisément les menus de plusieurs services à 20 $, 30 $ et 40 $.
Vous trouverez dans cet article une description de trois restaurants qui valent le détour situés dans un rayon de 40 km de l'Aéroport international de Burlington. Chacun d'entre eux se distingue par sa façon d'apprêter les ingrédients locaux et sert des plats qui ne pourraient exister nulle part ailleurs qu'au Vermont.
ArtsRiot
400 Pine St., Burlington, artsriot.com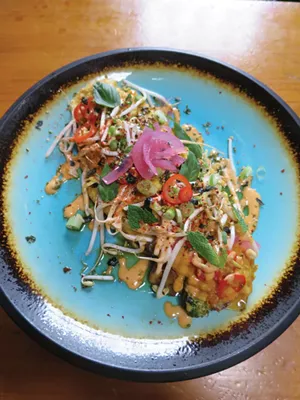 Matthew Thorsen
Okinawa Omelette at ArtsRiot
Beaucoup de restaurants servent une cuisine audacieuse, mais aucun ne va aussi loin qu'ArtsRiot, à Burlington. Situé dans le South End Arts District, cet établissement qui fait aussi boîte de nuit s'est donné la mission de « vaincre l'apathie », une assiette à la fois.
Deux chefs expérimentés mais diamétralement opposés dirigent la cuisine. Le Vermontois George Lambertson ajoute de la couleur et une touche de prestige au menu. Jean-Luc Matecat s'assure quant à lui que chaque plat est apprêté à la perfection et présenté avec soin.
Ensemble, ces deux chefs concoctent des petits plats d'inspiration asiatique tels que choux de Bruxelles et flanc de porc, chapelure de jambon et jus de yuzu. Les dumplings au porc et au gingembre sont servis dans un bouillon de homard et miso avec crevettes, chou et tofu.
Le restaurant sert aussi des plats américains typiques tels que sandwich au poulet avec fromage bleu et laitue effilochée, et le populaire burger 400. Sauf pour le fromage américain, chaque ingrédient est fait ou moulu sur place, depuis la sauce spéciale jusqu'au petit pain aux graines de sésame. Nettement plus joyeux qu'un Joyeux festin.
Presque tous les soirs, des spectacles sont organisés dans la boîte de nuit adjacente au restaurant. Ils attirent la clientèle tout autant que la cuisine du restaurant. Impossible de rester apathique devant ces prestations comiques ou sérieuses, depuis les soirées de jeux-questionnaires jusqu'aux projections de films d'horreur en passant par les débats sur des questions telles que l'insécurité alimentaire et les libertés civiles. Tous ces ingrédients conjugués font d'ArtsRiot un restaurant unique en son genre.
Nearby Attractions
File: Suzanne M. Podhaizer
Cheesemonger Rory Stamp of Dedalus Wine Shop, Market & Wine Bar
Le South End de Burlington fourmille de galeries d'art et de studios d'artistes. Ne manquez pas l'exposition originale de la S.P.A.C.E Gallery, située dans un immeuble connu sous le nom de Soda Plant.
Faites vos provisions de vins et de fromages au Dedalus Wine Shop, Market & Wine Bar. Son acheteur, Rory Stamp, a été nommé récemment le meilleur marchand de fromages aux États-Unis.
Prenez une bière ou deux à l'une des brasseries de la rue Pine, comme Zero Gravity ou la Queen City Brewery.
The Kitchen Table Bistro
Oliver Parini
The Kitchen Table Bistro's citrus salad
Depuis 2003, le couple que forment Steve et Lara Atkins propose sans faire de bruit une cuisine exceptionnelle dans une ancienne maison de ferme tout à fait charmante située à deux pas de l'Interstate 89. Contrairement à de nombreux restaurateurs, ils ne sont pas très présents sur les médias sociaux, mais leur modeste fil Instagram est vraiment agréable à suivre. Saison après saison, année après année, les plats qui sortent de leur cuisine relèvent tout simplement de la perfection.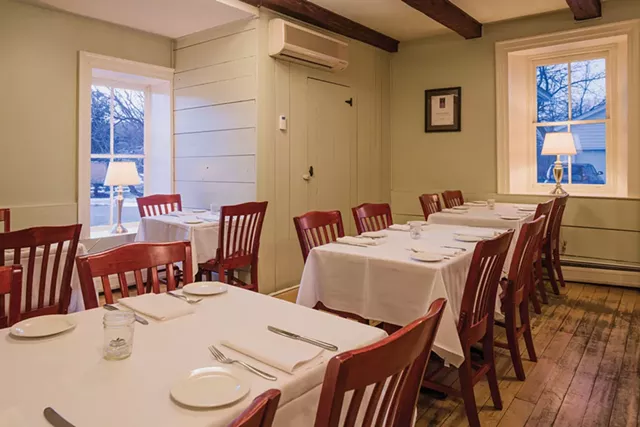 Oliver Parini
The Kitchen Table Bistro's farmhouse dining room
Nés à plus de 1 600 km de distance – Lara au Tennessee et Steve au Vermont –, ils ont eu des parcours étrangement similaires. Tous deux prévoyaient étudier la médecine et ont obtenu un diplôme en biologie avant de s'adonner à leur véritable passion, l'art culinaire. Devant les fourneaux du New England Culinary Institute, au Vermont, ils ont trouvé leur voie et se sont trouvés l'un l'autre.
Les Atkins ont tous les deux été demi-finalistes aux prestigieux prix James Beard, et des articles sur leur bistro de Richmond ont paru dans USA Today, le Yankee Magazine et le New York Times. Dans un article publié en 2008, intitulé « Dazzling Fare Heats Up Backwoods Vermont », le critique culinaire Mark Bittman qualifiait l'établissement de « champêtre, chaleureux et confortable », vantant en particulier le tartare de bœuf, les moules vapeur au bacon et à l'aïoli, ainsi que le jarret de veau tendre à souhait.
Dix ans plus tard, la cuisine continue de servir ces plats. Parmi les nouvelles créations, on retrouve la bisque de homard du Maine à la morue salée de la maison, et l'épaule de porc braisée au lait, accompagnée de purée de patates douces, de brocoli et de salsa verte.
Pour le dessert, Lara réinvente les classiques avec aplomb. Si son gâteau aux pommes est au menu, ne le manquez pour rien au monde.
Nearby Attractions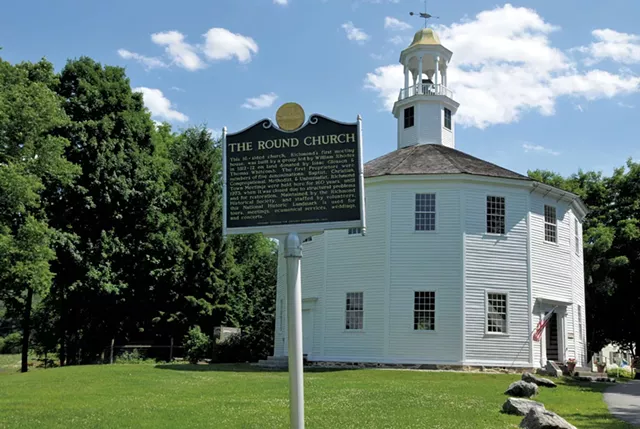 Dévalez les pentes de la station de ski Cochran's (cochranskiarea.com). Pour seulement 25 $, les adultes peuvent profiter du ski de printemps sur une montagne près de laquelle a grandi la médaillée d'or olympique Barbara Ann Cochran.
Prenez une bonne bière à la brasserie Stone Corral (stonecorral.com), aménagée dans un ancien ranch de chevaux. La brasserie propose une douzaine de bières en fût et des spectacles de musique du mercredi au dimanche.
Visitez une ancienne église ronde, la Old Round Church (oldroundchurch.com), une structure polygonale en bois à 16 côtés utilisée à l'époque pour des rencontres et maintenue par la Richmond Historical Society.
Prohibition Pig
File: Jeb Wallace-brodeur
The bar at Prohibition Pig
Depuis près de 20 ans, le 23 South Main Street à Waterbury est l'adresse d'une brasserie. Auparavant, c'est le célèbre Alchemist qui s'y trouvait, mais l'établissement a déménagé après que la tempête tropicale Irene eut ravagé le centre-ville en 2011. La marche était donc très haute quand la brasserie Prohibition Pig, qui sert aussi des grillades au barbecue, s'y est installée.
Dès le premier jour, pourtant, l'accueil réservé à Pro Pig par la communauté a été chaleureux. Les amateurs de viande sont ravis de trouver des grillades dans cet État où les légumes volent souvent la vedette. Le menu fait une place égale à la cuisine du nord et du sud, proposant autant croustilles de couenne de porc épicées que boulettes de fromage et piment doux frites avec confiture de piment chili.
Le porc haché barbecue est joliment servi sur une planche de métal recouverte de papier brun, accompagné de fèves au lard et à l'érable et de macaroni au fromage. Une sauce barbecue vinaigrée de la Caroline et une version vermontoise à saveur d'érable sont servies dans des bouteilles pression.
La brasserie propose un grand nombre de bières, dont des bières pression maison ou provenant de brasseries bien connues telles que Lawson's Finest Liquids et Hill Farmstead Brewery. Parmi les cocktails, mentionnons le rhum chaud au beurre et le Garden Grove, fait avec une vodka locale et du sirop de romarin.
Chez Pro Pig, l'idée est de se faire plaisir... sans culpabilité. Dans les montagnes avoisinantes, on entend souvent les surfeurs des neiges se dire en rigolant, au lieu de « Go big or go home »... « Pro Pig or go home ».
Nearby Attractions
Vermont Artisan Coffee & Tea
Regardez l'artisan Glenn Ziemke fabriquer des objets en verre soufflé au Ziemke Glassblowing Studio.
Rendez-vous à Stowe, non loin de là, pour déguster la célèbre bière IPA Heady Topper à la brasserie Alchemist, qui propose aussi des visites.
Faites une pause au café de style européen Vermont Artisan Coffee & Tea. Le café est torréfié sur place et le propriétaire, Mané Alves, est un expert en café de renommée mondiale.