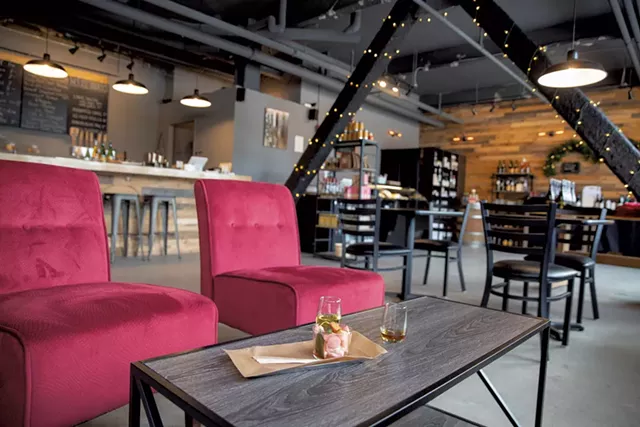 File: James Buck
Eden Specialty Ciders' Winooski taproom
The Winooski traffic circle is no Garden of Eden. After six months in business, Eden Specialty Ciders is uprooting its Onion City boutique taproom and cheese counter this Sunday, February 24.
"Despite overwhelmingly positive feedback from taproom visitors, we've struggled with the challenges of the location and with our limited food program," Eden co-owner Eleanor Leger told Seven Days in an email on Monday. "It's clear now that success requires a better location and investments in marketing and food offerings that would be better spent on our core cider business, where we are seeing significant growth."
The closure comes as Eden prepares to can its 2018 Heritage Cider — look for that in March, Leger said — and on the heels of Leger's election as the eastern chair of the U.S. Association of Cider Makers.
Taproom general manager Adam Goddu will stay with the company as a Vermont brand ambassador, with plans to host tasting events (not unlike those he assembled in Winooski) at area wine bars and restaurants. "Now, we'll be able to do events in a way that promotes our [restaurant] customers' use of our ciders," Leger said, "rather than setting up a place that's competing with them to attract people."
On Sunday, Leger and her staff will say so long to their Winooski lease with "dance music blasting and $4 drafts until the kegs run out." In the interim, taproom visitors will enjoy steep discounts, including 25 percent off mixed cases and 50 percent off cheeses and other food items.