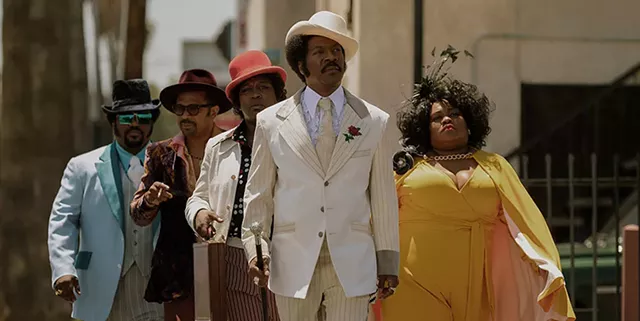 BACK IN BLAX Murphy makes a return to form in the true story of a comic who pimped himself.
The first time I ever heard the name Dolemite, it was uttered by Bill Murray in a riff from Jim Jarmusch's 2005 Broken Flowers. But Jerry Seinfeld is responsible for me finally finding out who Dolemite was. And for bringing a reanimated Eddie Murphy back from wherever he's been nursing his wounded ego for the past decade.
Netflix's unofficial laugh ambassador first brought the comedy legend to the streaming giant in a revelatory episode of "Comedians in Cars Getting Coffee" that debuted in July. That led to a multi-project deal worth $70 million to Murphy. And that in turn led to his critically lauded Netflix debut, which premiered last Friday.
Who was Dolemite? There's no short answer. There is, however, a tremendously entertaining one, and Dolemite Is My Name unspools it beautifully. Murphy stars in the true story of Rudy Ray Moore, a 1970s comic who built a cult following with a succession of jaw-droppingly DIY comedy records and blaxploitation films. What makes Moore's story so engaging is not only the work that brought him success but the innumerable failures preceding it. Moore simply would not take no for an answer in his quest for show-biz glory.
He attempted a career as a preacher. Then as a magician. Later, as a nightclub dancer. He recorded a series of R&B singles in the '60s. The movie opens a bit later, in Los Angeles, with Moore trying unsuccessfully to persuade a DJ played by Snoop Dogg (who has called Moore his "uncle") to put those singles in rotation. That evening, he gets up onstage at the club where he does odd jobs and tries standup. Neither the audience nor his boss is amused.
But then a funny thing happens. A loquacious homeless man walks into Moore's place of work and regales everyone with tall tales of a mythical pimp named Dolemite. Such declamations, often incorporating braggadocio and rhyme, are part of an African American folk tradition with which Moore was familiar. Out of the blue, he finds himself seized by the inspiration to refine and repurpose the material into a comedy act in which he'll play the unfiltered character.
One of the picture's many appealing qualities is its good-heartedness. Scripted by Scott Alexander and Larry Karaszewski (Ed Wood) and directed by Craig Brewer (Hustle & Flow), it tells a story filled with offbeat friendships and unlikely alliances. After a Dolemite comedy album flies up the Billboard charts, Moore sets his improbable sights on movie stardom. Again and again, he hits up the white owners of his label for advances to finance a Dolemite film, and it's undeniably touching when they help him out.
The making of the movie is depicted in both hilarious and fastidious detail. Numerous scenes were shot in the original picture's locations, and many replicate it frame for frame. Wesley Snipes is deliciously bitchy as its slumming director, while Craig Robinson, Chris Rock, Tituss Burgess and Da'Vine Joy Randolph cohere into one of the year's great supporting casts.
For his part, Murphy makes a winning, grinning return to R-rated form. He's wanted to tell this story for nearly 20 years, even pitching Moore several times before his death in 2008. Better late than never. Dolemite Is My Name succeeds as a tribute to a guy who wouldn't give up from a cat who clearly has any number of lives left in him. Stay tuned next for Murphy's long-awaited return to the comedy stage.