Matthew Thorsen
Martin Spaulding
The windows are foggy. The flooring is worn. The heating and electrical systems are jury-rigged. It's impossible for students with disabilities to descend the stairs from the Burlington High School lobby into the school auditorium because there is no ramp, forcing some of them to take a roundabout route outside to get to assemblies and plays.
The raft of issues adds up to a whopping $27 million in renovations needed for Burlington's sole high school, which was built more than 50 years ago. The enormous cost may shock property owners.
Previous spending was "definitely not enough to address the deferred maintenance," said Martin Spaulding, the Burlington School District director of property services. And a new school, instead of piecemeal work, would cost some $50 million to $100 million, according to a consultant hired two years ago — a price tag that many view as unaffordable.
It's not just the aging high school that has physical shortcomings: A new study shows that city schools collectively need $65 million over the next 10 years for repairs and improvements. Attendees at a New North End Neighborhood Planning Assembly gasped when a school board member mentioned that figure at a meeting last week, according to City Councilor Kurt Wright.
The school board, which commissioned the study and watched a presentation on the findings on June 14, may seek to put a bond proposal of approximately $35 million worth of school upgrades and repairs on the November ballot.
Some work would again be delayed. But certain repairs can no longer wait, school board chair Mark Porter said at the board's infrastructure and technology committee meeting on June 21. "It has to be addressed," he said.
If Burlington were to bond the full $65 million all at once, that would add $353 to $381 in annual school property taxes to the bill for a house assessed at $270,000. That's according to Mike Smith, one of the consultants the school board hired to help with the capital-spending study. The former state administration secretary and sometimes a public- and private-sector interim leader, Smith believes it makes sense to break up the bonding, first addressing the most pressing needs.
The school bill is just half of a bigger equation. The November ballot will also likely ask voters to approve a roughly $28 million city capital improvement bond proposed by Mayor Miro Weinberger, as well as a $22 million bond for public infrastructure related to the Burlington Town Center makeover.
Weinberger wants cash to fix streets and sidewalks, continue the rebuild of the Burlington Bike Path, renovate City Hall Park, and replace aging fire engines, among other items identified in a 10-year capital plan. The mall-makeover bond would be repaid under a tax increment financing formula that funnels future property tax revenue from the project to pay down the debt.
So far, the proposals are in the discussion stage. The school board and city council have not voted to put them on the ballot. The mayor has started discussing his proposals at small meetings, and school officials anticipate a round of community meetings to debate the bond questions.
Not everyone thinks it's a good idea to load the November 8 ballot with money questions. Councilor Wright, a Republican, would prefer that the city and school bonds be on the March ballot so that races for president and other offices won't overshadow them.
A March vote would allow for fuller debate, he said. "I do want to have taxpayers fully understand and hear the debate, and, again, that's my concern. It is going to have an impact on taxpayers. I still believe property taxes are a huge issue ... I hear it all the time."
Schools superintendent Yaw Obeng said the board has more work to do before deciding exactly how much money to seek. But the list of repairs to the city's 10 schools, counting the Ira Allen central office building that houses preschool programs, is not going to get smaller, he noted. "If we don't do it, it's going to get worse, and our buildings will be in more dire straits," Obeng said.
Improving handicap access is a big concern and a major expense: It will cost at least $2 million at BHS alone, according to the recent study. The school is technically in compliance with the Americans With Disabilities Act, Spaulding said, but it needs to be more navigable. Several other schools need similar work.
The property tax impact of the bonds, should they all go on the ballot and be approved, is not yet known. Weinberger said private fundraising and proposed new revenue sources will help soften the blow.
Among the mayor's proposals is one that, if it comes to pass, would essentially amount to a head tax on University of Vermont and Champlain College students.
A $125 annual fee would be levied on each student who resides on campus and would generate $1 million a year in new revenues for infrastructure, according to a draft report by the Weinberger administration. The colleges would pay the fees to the city under agreements the mayor is negotiating. They will spell out fees for various services and payments in lieu of taxes because UVM and, to a lesser degree, Champlain College, are exempt from most property taxes.
Weinberger is also proposing an increase in the city gross receipts tax, which includes room and meals, from 2 to 3 percent. That would generate $2 million in new revenue and would be paid mostly by visitors, according to the mayor's report.
If everything panned out in such a scenario, "The impact on the average property taxpayer will be less than $10 a month," Weinberger said of the city bonds. That estimate is preliminary, though, and it's unclear if all the new revenue sources Weinberger is hoping to tap will materialize.
Weinberger, who has been working on the city capital improvement campaign for two years, said he also recognizes the schools' need for bonding. "I think both entities need the money," Weinberger told Seven Days.
Big school bonds have proven controversial in the past. In 2008 the school board proposed an unprecedented $226 million bond issue for a massive makeover of city schools.
The plan bombed. Critics said the price tag was absurd, and the city council blocked the proposal from the ballot. "It was just too much to ask for at once," recalled Wright, who was among the critics.
The school board trimmed the plan by more than half, to $92 million, but most councilors viewed that, too, as excessive. They voted 10-3 against putting the question on the ballot.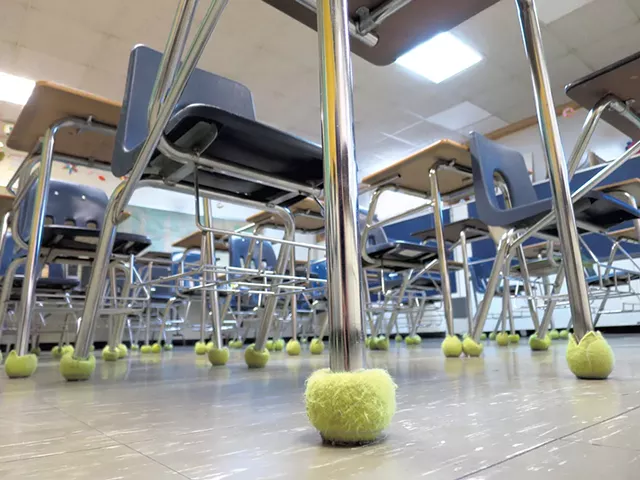 A $9.7 million school repair bond did make it onto the ballot in March 2009. The cash was earmarked for critical repairs at J.J. Flynn Elementary, C.P. Smith Elementary and Lawrence Barnes, now named the Sustainability Academy at Lawrence Barnes.
Voters approved that and also said yes to another important capital investment question on the ballot. They agreed to increase the district's automatic bonding authority, from $750,000 to $2 million annually. That vote allowed the school board to more than double its yearly borrowing — without going to voters for approval.
The board has faithfully tapped the $2 million annually since then and spent the money — along with millions raised under the regular voter-approved budget — on a steady list of school improvements and repairs.
The school district already has a debt that totals $32.4 million. The district pays $3.35 million annually on its debt — including $1.53 million just for interest.
Some of the schools that recently had major renovations, such as the Sustainability Academy, are on the new list for not-so-insignificant funds. That school needs $1.2 million, according to the study.
But the needier facilities are the high school, Edmunds Middle and Edmunds Elementary ($6.2 million), and Lyman C. Hunt Middle ($6 million).
The study does not call for building a new Burlington High School. That's disappointing to Kate Stein, who served on a committee that examined that potential project.
Her son, a BHS sophomore, has cerebral palsy and uses crutches. He has to go outside to get into the auditorium and, when he moves from class to class, faces an obstacle course across steep ramps. "It's just crazy" how students with disabilities have to navigate the building's half dozen structures, Stein said.
"I would love for us not to take a new building off the table," Stein said.
The board is instead likely to go with a rehab that calls for expensive and not-very-sexy improvements: $4.4 million to replace windows and doors, $3.1 million for the heating and ventilation system, and $6.3 million for electrical work.
Looking at a jumble of wires and original fuse boxes in an electrical cubby, Spaulding said tweaks to the current power system can only go so far, and it's becoming more and more difficult to repair.
"There's been very little updating of these things," he said. "And it's time."