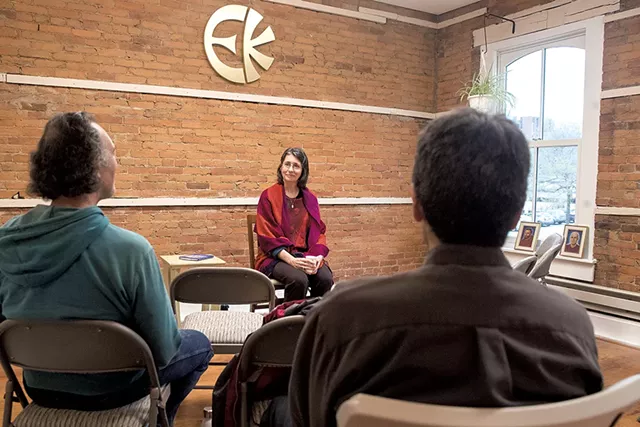 James Buck
Eckankar cleric Amanda Amend (center), leading the group at a community chant
On a Sunday morning in May, in a space decorated with flower arrangements at Burlington's Main Street Landing Performing Arts Center, some 25 people were preparing themselves to chant "hu."
"Just sit comfortably; close your eyes; take a minute to open your hearts," cleric Michelle Josselyn. The mostly middle-aged adherents, who sat in rows of straight-backed chairs, fell into silence.
Then the group began a resonant, musical drone that rose and fell like a melodic swarm of insects: "Huuuuu." The chant lasted about seven minutes before the voices finally trailed off. "May the blessings be," Josselyn concluded.
The attendees, practitioners of the New Age religion Eckankar, had come from as far as Middlebury, Stowe and Alburgh to the monthly Light & Sound worship service. They are some of the 56 practicing Eckists around the state.
Eckankar — "Eck" or "Ek" for short — is a Hinduism-based faith, according to Bill Elberty, head of the Vermont chapter. This coming September, more than 100 Eckists from around the region will flock to Burlington for a weekend conference titled "How to Survive Spiritually in Our Times."
Eck devotees come to meetings and sing the hu to pursue spiritual freedom, Josselyn explained, as souls seeking their true identities and pursuing a deeper awareness of God. "All of us are on a journey, whether or not we understand it, whether or not we like it," she said.
In conversation, the group tosses around phrases such as "soul travel" and "Eck master" and espouses the power of dreams and visions. Members' religious backgrounds differ, as does their degree of involvement; some are recovering atheists or Catholics, while others are practicing Buddhists.
"Everything is acceptable; nothing [is] wrong here," Josselyn said.
Eckankar was founded — or "rediscovered," as practitioners would say — in 1965 by a Kentucky man named Paul Twitchell. A journalist, gym teacher and spiritual seeker, he came upon the faith while studying religion in the Himalayas, according to Eckankar teachings.
Twitchell had considered Catholicism, various Eastern religions and Scientology before he declared himself an Eck master — that is, a man who has "realized" God and can help bridge the gap between human souls and the divine.
And so the practice was born. Twitchell chose the name "Eckankar," a Hindu word that means "coworker with God."
The practice emerged in the midst of the countercultural movement of the 1960s. Scholars have dubbed the surge of interest in Asian religions during that era America's "third great awakening," according to Erica Andrus, a senior lecturer in the religion department at the University of Vermont.
Eck "is still embraced as an alternative to hierarchical, mainstream, church-based religions," she said. "It appeals to people who want to have a kind of religion that they can engage in [in] a physical way, by chanting, meditation, in the way that many Americans look to eastern religions."
Eckists believe that God, or "Sugmad" — considered an "it," not a "he" or "she" — is present in each of us. The Eck, or Holy Spirit, guides us toward "self-realization and God-realization." Adherents also embrace ideas of karma and reincarnation.
Eckankar has evolved over the years. Originally, it was referred to as the "ancient science of soul travel," and later as the "religion of the light and sound of God," explained Ben Callaghan, spokesperson at the Eck world headquarters in Minneapolis. This year, Eck took on the new label "path of spiritual freedom."
"It's a living teaching," Callaghan said. "It's about: How do we present ourselves to meet the consciousness of the day?"
Currently, the group follows, but does not worship, the Minneapolis-based Harold Klemp as the Living Eck Master, one who has achieved "Mahanta," or the "highest state of consciousness," according to the Sunday service program. (The program also advised that Mahanta is one of a litany of words trademarked by Eck.)
Vermont's Eckankar group has been meeting regularly in Burlington for hu chants, worship and scriptural studies since the late 1960s, according to Callaghan. Worldwide, the practice claims "tens of thousands" of adherents, Callaghan said, though the organization doesn't keep track of exact numbers because "growth isn't the focus."
Once followers choose to become members — for a suggested donation of $60 a year — they receive discourses in the mail each month, which they discuss in groups or read on their own.
Vermont is the least religious state in the union, according to a 2017 Gallup poll. Nonetheless, individual spiritual practices can blossom in this climate, Andrus said.
"[Religions like Eckankar] can really thrive in a place like Vermont, or Burlington particularly," she said. "Burlington has this history of being countercultural on one hand, but also that New England sense of 'you do your thing, I'll do my thing,' 'live and let live.'"
Eckists say they've found a receptive audience for their message. Although they don't proselytize, the local group has grown over the past decades, approximately doubling in the last 20 years, according to Elberty. Last week, a woman approached Josselyn in the supermarket, she recalled during her Sunday remarks. The stranger asked Josselyn which vitamins to buy, then broke down sobbing.
"I don't know what is attracting me to you; I just had to talk to you," Josselyn recalled the woman saying. That attraction, Josselyn added, "was not me. Somehow the spiritual forces touched her for a reason."
For Elberty, head of the Vermont group, Eck provides a chance to find spiritual fulfillment on his own terms.
The Woodstock-based lacrosse coach and educator grew up as the son of mostly agnostic academics, a "hyperactive boy" who craved spiritual connection. At 14, he started visiting churches on his own. "I've never been satisfied with someone else's explanation of the truth," Elberty said.
After college, while living in upstate New York, he dreamt he had to read a book by Paul Twitchell, The Tiger's Fang. While he'd never heard the title until it appeared in his dream, he said, a housemate had the book on hand. Intrigued by what he read, Elberty hitchhiked two hours to Rochester, N.Y., to attend an Eck service.
He's been practicing ever since.
For him, Elberty said, Eck serves as an "exploration of spiritual freedom and truth in whatever shape the individual needs."
On a Tuesday in May, eight Eckists gathered in a small room up a curving flight of stairs on College Street for a spiritual discussion. The room was brightly lit and cheery, as if compensating for the topic of the evening — death.
Eck clergy member Molly Orshoff, who sported a mass of blond ringlets and a mellifluous voice, facilitated the hour-long discussion of "what lies beyond the veil."
The group setting fostered intimacy; attendees shared stories about the loss of a spouse, a friend's suicide, the imminent death of a parent.
"Embrace the mystery," one woman urged.
Eckists hold to teachings of karma and reincarnation, though it's not taught dogmatically. "We all need to address these questions about death or life after death," Orshoff said. "No one's going to be able to answer it for us."
Eck retains traces of Hinduism and eastern spirituality; contemplation and meditation are embraced. Pictures of bearded spiritual leaders with names such as Fubbi Quantz and Shamus-i-Tabriz hang on the walls. According to Eck teachings, these were the forerunners of the current Living Eck Master.
After the discussion came the requisite hu chant — "a sacred sound," Orshoff explained, most likely for the benefit of a baffled-looking reporter. "It's a spiritual exercise that can help us in the process of looking within."
Orshoff came to Eck after growing disillusioned with her Catholic upbringing, she said. As a child, she asked a nun how she could become a saint like the ones she had read about. The nun replied, "That's for the saints; that's not for us," Orshoff remembered, adding, "There was always a spiritual need in me."
Eckankar is not without controversy. In the past, detractors have claimed that Twitchell plagiarized some of his religious writings and fabricated some of his experiences. David Lane, a professor at Mt. San Antonio College in California, has asserted that Twitchell copied large portions of his books from Sant Mat teacher Julian Johnson and other religious teachers without attribution. In his 1983 book The Making of a Spiritual Movement: The Untold Story of Paul Twitchell and Eckankar, Lane disputes that Twitchell visited India and points to instances where the Eck founder fabricated teachings and embellished his own biography.
The accuracy of historical accounts of the Eck religion may not be what matters most to the faithful, Andrus said. "Whatever they're doing is clearly meeting some people's needs in the community in a way that they feel is authentically fulfilling," she added.
Nancy Fuller, a 64-year-old from Alburgh, has found contentment in the practice, she said. She met her husband, Fred, at an Eck seminar and now practices daily spiritual exercises in addition to attending Eck services.
After nearly 40 years of practicing, Fuller said she can't imagine life without Eck.
"I've found a lot of people who take comfort in it," she said. "It provides a lot of comfort and solace."