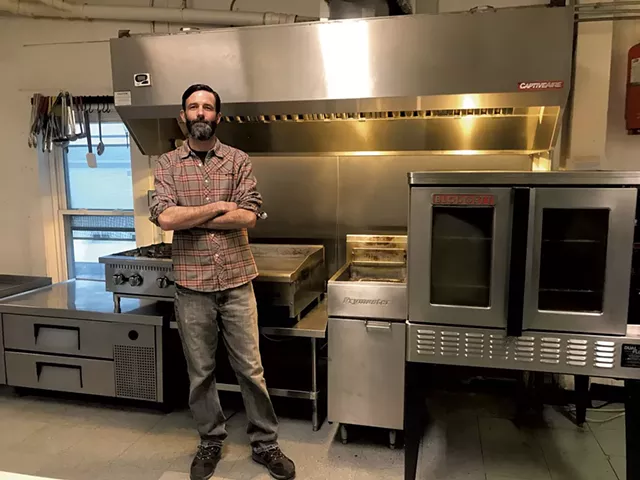 Photos Courtesy Of The Drake
Eben Hill
After decades of work in the restaurant business, St. Albans resident Eben Hill will open his own restaurant, the Drake, in late April at 30 South Main Street in St. Albans, he told Seven Days. Hill will run the 25-seat restaurant and bar with his wife, Tessa Hill, in the space that was previously home to La Casa Burrito. That restaurant is moving to 50 Kingman Street in St. Albans and changing its name to La Casa Loco Bar & Grill.
Hill, 45, got his first restaurant job at Shore Acres in North Hero when he was a teenager. It was the start of a career that would come to include owning the Broken Arrow, a mobile food business the Hills operated in South Hero and on the road for six years.
"I'm slowly growing my business," Hill said. He sees the Drake as a logical development from his former eatery: "The Broken Arrow grew up and got a brick-and-mortar [space]."
In a nod to the name of the restaurant, the Drake's signature dish will be duck-fat gravy poutine, to which diners can add duck confit or pulled pork. Other menu items include Waldorf salad, steak frites and three varieties of tacos — carnitas, fish and veggie.
Tessa, who is also a sculptor, will manage the front of the house; Hill will work in the kitchen. Local diners might know him from bartending jobs in Burlington, where he's worked at the (since-closed) Green Room, the Daily Planet and Hotel Vermont.
"When I was 20, I got a bartending job, and I got absolutely hooked and obsessed, and I've never looked back," Hill said. "My folks were bewildered: 'You're gonna be a bartender as a profession?' They're both educators. I've won them over."
Opening his own restaurant "means the world to me," he said. "It's my biggest dream. And we've picked a community that could use some fresh food. And it's already on that track."
The Drake will serve lunch and dinner Tuesday through Saturday.