Stock your meat case with unusual cuts. Treat your farm like a business. Keep in mind that "whole carcass channels make a lot of sense."
Ag- and flesh-related wisdom was plentiful at last weekend's New England Meat Conference, which drew roughly 400 farmers, butchers, smokers, packagers, researchers and others to a hotel conference center in Concord, N.H., for two days of livestock talk. It was the second such regional meat conference and one with a palpable buzz, fed by the growing market for local meat. "There's clearly a demand. Probably every one of us in this room is as busy as we can be," said Jay Smucker, owner of Pennsylvania's Smucker's Meats, during a packed panel on smoked meats.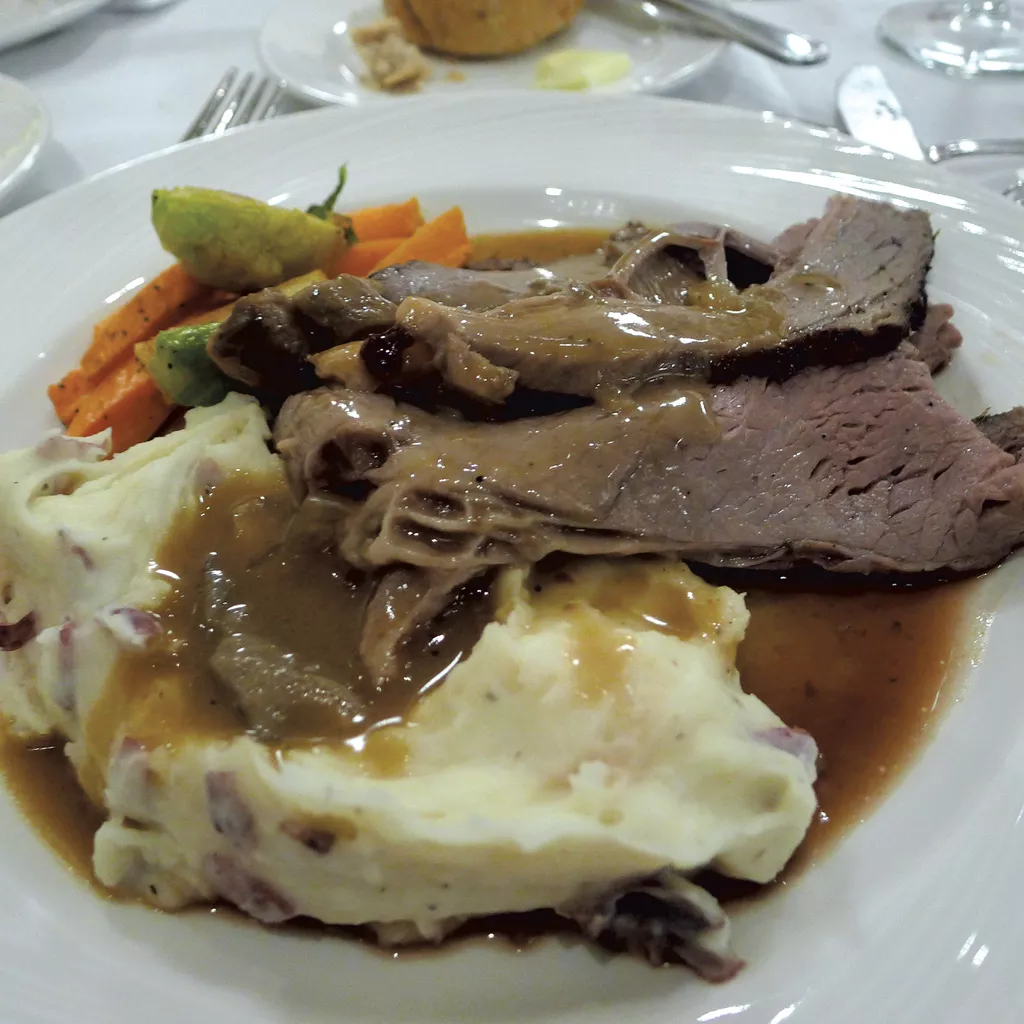 That demand for local, ethically and sustainably produced meat — and a desire to strengthen the food system — is what compelled Vermont's senior agricultural development coordinator, Chelsea Bardot Lewis, to spearhead the inaugural conference in 2013. Along with Sam Fuller of the Northeast Organic Farming Association of Vermont, among others, she built a program designed to assemble various tendrils of the region's local-meat scene, from curers and inspectors to hotshot butchers and seasoned farmers.
"The magic of the event is the energy that results from bringing together meat producers, processors, butchers, distributors, chefs, retailers and consumers," wrote Bardot Lewis in an email. "Attendees tell us that there is no other event that brings together all of these key industry professionals."
Last year's inaugural conference was such a success that the second was a foregone conclusion. Panelists from as far away as Germany traveled to Concord for 30 workshops on subjects as wide ranging as butchering lambs, crafting display cases and managing waste.
The diverse, mellow crowd definitely had its own vernacular. Clutches of graying producers talked HACCP (Hazard Analysis and Critical Control Points) plans with younger, sometimes heavily inked farmers. One producer announced that he was "here for the BQA" (beef quality assurance). A rosy-cheeked twentysomething hoped to open a Massachusetts slaughterhouse.
Those who listened in on "Trends in the Meat Market" (a panel including Black River Produce business development manager Sean Buchanan) learned that consumers are asking more and more for meat raised on "GMO-free and soy-free feeds." Conference-goers who made their way to the ballroom after lunch found master butcher Kari Underly slicing a cow's hindquarter, imploring onlookers to think creatively about new cuts of beef. "This is what I call money," said Underly as she extracted extra cuts from a tenderloin.
In a trade show outside the ballroom, reps from insurance firms, lenders, a casing company, a soon-to-open slaughterhouse and other concerns set up shop at a phalanx of tables. A few Vermonters were among them: Shirley Richardson of Vermont Chevon chatted about goats in front of her table. "I was really looking for a finishing farmer, and I think I found one," she said. Richardson, who collaborates with Vermont Creamery, explained that 50 percent of every goat herd is unmilkable bucks — animals that need farmers willing to raise them. "There are thousands of animals" that need places to graze, she said.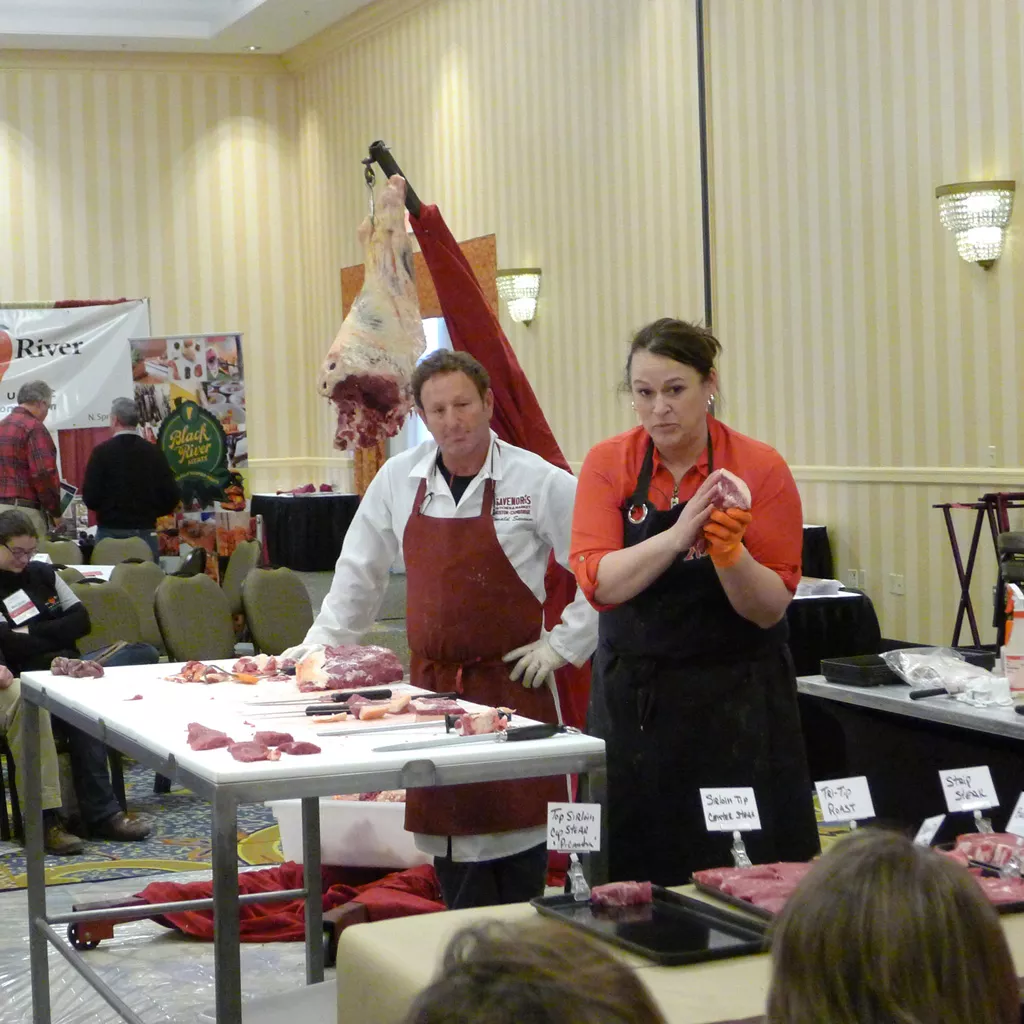 Corin Hirsch
Scenes from the New England Meat Conference
Over lunch, farmers talked shop at round tables. Larry Wagner of Johnson said he'd driven to Concord to learn more about on-farm slaughtering. Soon he plans to move to an old dairy farm in Maine — his native state, where land is cheaper — to raise his cattle. Wagner's story sparked lively discussion about transporting animals across state lines. David Hogan of Massachusetts, who's reviving an old family farm to raise grass-fed beef, talked about clearing pasture for his animals. "Put pigs in there to tear it up, then put in chickens to level it out," suggested Wagner.
They fell silent when Bardot Lewis took the mic to announce a "surprise guest": Chuck Ross, Vermont's secretary of agriculture. He seemed aglow. "I'm incredibly excited by the meat industry," he told the crowd. "I believe what we're doing in the Northeast will change the face of food systems nationwide."
As the afternoon sessions waned, organizers got ready for the Meat Ball, an evening fête where flannel was more abundant than heels or ties. For his role as MC, Black River Meats' Buchanan paired a black blazer with a green Black River trucker's cap, then loosened up the crowd with jokes along the lines of "A man walks into a butcher shop..."
Keynote speaker Mike Satzow also offered some salty humor — and a long view. His company, North Country Smokehouse, does $15 million of business per year from its 18,000-square-foot facility in Claremont, N.H. The business' roots stretch back nearly 100 years, to a time when Satzow's grandfather, Abraham Satzow, sold sausages from a horse-drawn wagon. He urged his colleagues to unearth long-abandoned cuts and preparations, such as cottage bacon, a leaner cut that comes from the pork butt. "How many of you people make smoked shoulders today?" Satzow asked.
When a recorded address from New Hampshire Congresswoman Ann McLane Kuster was beamed onto the big screen above the stage, some celebrants kept eating, perhaps expecting her to be a lackluster talking head. Instead, Kuster — the first New Hampshire member of the House Agriculture Committee in more than 70 years — sounded off about the most recent farm bill, which she described as a good compromise between the two parties. "We're chipping away at the dominance of agribusiness," she insisted.
As we feasted on roast top round from New Hampshire's Miles Smith Farm and Black River Meats — served over a heap of garlicky mashed potatoes — I floated the idea to my dinner companions that I thought goose was "the next big thing." This incited debate on the perils of raising geese — "They're mean." "Ever tried to pluck one?" — and reminders of a ballyhooed meat trend of the early 1990s over which some farmers bled money. "So many people lost their shirts in emu!" cried one farmer.
After a trio of awards was given out, the Meat Ball revelers ate DIY ice cream sundaes and got ready for heated games of cornhole. These habitual early risers had a late night in store — but not so late they'd miss Vermont butcher Cole Ward, Vermont Salumi owner Pete Colman or meat consultant Jeff Roberts speaking the next day.
The original print version of this article was headlined "Eavesdropping at the New England Meat Conference"