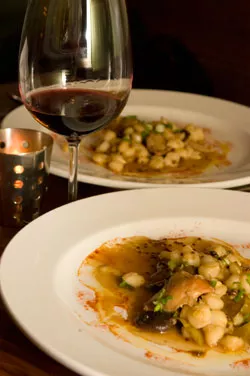 Stroll into Shelburne's Bistro Sauce on a Thursday night, and the feast you get won't be just for your belly. Since last spring, owner Emily Betz has been inviting area musicians to take over a corner of the restaurant for an evening of tastes and tunes.
Beginning next week, Monday nights will feature music, too, starting with

target="_blank">Lowell Thompson

and Bill Mullins. Folk and Americana groups are frequent visitors, and John Rivers and Betz's uncle, Alex Betz, occasionally play classic jazz.
When we visit, the cheery crowd seems to be composed mainly of locals, some of whom greet Betz with hugs and kisses. Kevin Clayton, owner of Village Wine and Coffee down the road and a musician himself, is one of the early arrivals.
The group du jour — Queen City Hot Club, a gypsy-jazz ensemble — is playing to a full restaurant. But Betz isn't sure if the entertainment can take responsibility for all of the business. Asked if she has a crowd of Thursday regulars, she responds, "The reality is probably that the people who happen to be here enjoy [the music] immensely."
Those people who "happen" to be at Sauce were probably enticed by the food. Around the same time she started the music series, Betz hired head chef Chris Hechanova, formerly of the much-lauded but short-lived Big Chile Republic.
Sauce has always served localvore fare, but Hechanova is bringing a new edge to the cuisine. Crisp slivers of guanciale — a bacon-like cured-meat product made from pork jowls — grace the earthy beet salad, also augmented with bits of Boucher Blue cheese. Shreds of oxtail and slices of braised beef tongue might show up in miniature sliders, or accompanied by toothsome herbed spaetzle.
The ever-changing menu of local meats, produce and cheeses is supplemented with seafood and exotica such as snails, Spanish smoked paprika and Medjool dates. Whole Greek sardines and baby octopi — both dipped in tempura batter and fried — come with smoked lemon aioli, a condiment that once laced Hechanova's fish tacos at Big Chile.
Our server describes a suckling pig that's just emerged from the oven and is still curled up in its roasting pan in the kitchen. Once the meat is on the plate, minus viscera, its exterior is a crisp, crackly brown. Like the other pork products — seared fatty belly and an aromatic sausage that also includes quail — that meat came from a whole animal, purchased from nearby New Village Farm.
Luckily, the less adventurous aren't out of luck at Sauce: They can dine on towers of crisp fish 'n' chips, cheeseburgers on challah or grilled skirt steaks with mashed potatoes and red-wine sauce.
This evening, the flawlessly prepared halibut is the pièce de résistance. Sitting atop tender butter beans speckled with herbs, with foie gras butter dribbling down its golden top, the fish is well worth its $26 price tag. The juicy Riesling Betz served alongside it is a refreshing counterpoint to the rich fats.
Later, spooning up a mouthful of cooling hibiscus sorbet, I admit aloud that my uneducated ears can't detect the Romani influence in the jazz. My more sonically inclined husband says the tunes make him picture beret-clad street musicians in front of pastel buildings on a sunny day.
As we leave, I'm still thinking about our moment in the sun — and my piece of perfect halibut.