Jeb Wallace-brodeur
Slice case at Pizza on Main
Utter the word "pizza" to New Yorkers living in Vermont, and they'll wax poetic about the thin-crusted, orange-grease-dripping, foldable slices of paradise of their hometown. There, they'll tell you, a typical lunch means two slices and a soda for about $5. Usually they'll lament the lack of comparable fare farther north.
In the first six months of 2015, central Vermont welcomed at least three new Italian spots, all run by New York-area natives who spent years longing for a taste of home. The new business owners decided to take matters into their own hands, hoping to fill a hole in the local market. Their outposts include an Italian specialty shop in Stowe, a downtown pizzeria in Morrisville and a homey café a stone's throw from the Statehouse.
Each location melds New York technique and style with Vermont's homespun locavore charm, while offering a taste of its owner's personal history — traceable, in no small way, to the history of the city itself.
Around the turn of the last century, a wave of Italian immigrants arrived in New York City. They settled on Pleasant Avenue and Mulberry Street in Manhattan, Dyker Heights and Bensonhurst in Brooklyn, and along Arthur Avenue in the Bronx, among other neighborhoods. As families grew, many decamped to the suburbs. The exodus intensified as the city turned violent with crack-driven crime in the 1980s. On Long Island and in Westchester County, N.Y., and in Connecticut and New Jersey, Italian food took root, then evolved in the postwar era along with the modern pantry's canned goods and imports.
A uniquely Italian American cookery was born. At its heart was red sauce — usually made with canned tomatoes, which were often imported from Italy. That sauce is indispensable to any good pizza, and to entrées such as lasagna, baked ziti, penne alla vodka and stuffed shells. It's as essential to eating in New York as bagels, bacon-egg-and-cheeses and cheap Chinese food.
Red sauce marries the ingredients on a sub (aka hero or wedge) that is brimming with eggplant, chicken or meatballs and smothered in cheese. It forms the basis of delivery dinner or the late-night slice one snarfs while stumbling into the subway or a cab. And it flows like water through pizzerias, Italian delis and butcher shops, which often prepare sauces, meatballs, salads and entrées and sell them by the pound.
Until recently, the Green Mountains suffered from a notable lack of such fare, though some fans of Italian (without the specifically New York inflection) swear by Costello's Market in Middlebury. But now, from pizza by the slice to meatballs, Italian eats have, quite suddenly, arrived. Last week, Seven Days set out to sample the new cuisine.
Breakfast at Nonna's
Philamena's, 41 Elm Street, Montpelier, 223-5217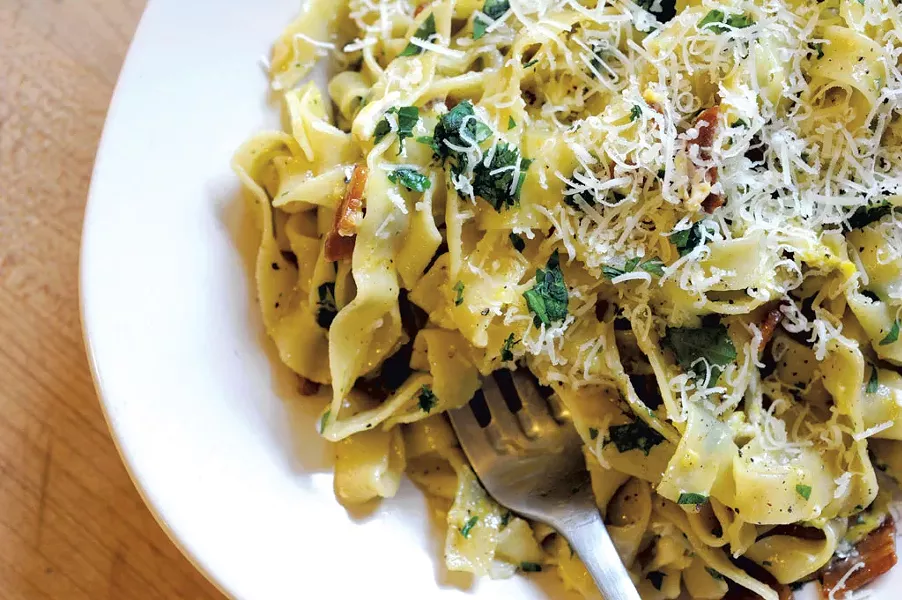 Jeb Wallace-brodeur
Philamena's carbonara
Provenance: Glen Cove, N.Y.
Pedigree: Chef-owner Todd Whitehead worked at Kismet, Bethel Village Sandwich Shop and Park Row Café.
On the menu: Pastas, sauces, meatballs, soups, risottos, hot-pressed sandwiches.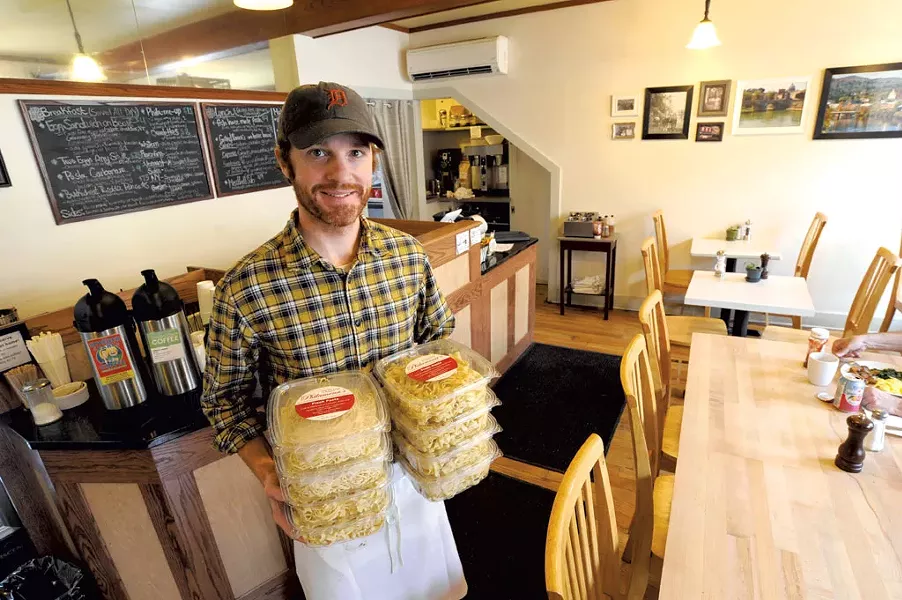 Jeb Wallace-brodeur
Todd Whitehead
Tasting notes: Inside Philamena's, a side-street café with just a handful of tables, just one server is on duty. A curtain separates the dining room from the kitchen, where a cook pushes pasta dough into an extruder, from which it emerges in wobbly tails.
Owner Todd Whitehead grew up working in his family's deli on Long Island. His grandmother, Philamena, made pasta, sauce, meatballs and other dishes for patrons to take away, per the local custom. There, "every town has a shop that sells fresh pasta and sauce," the chef told Seven Days.
Not so here in Vermont.
Whitehead, who opened his Montpelier café in January, offers his family tomato sauce and a second one flambéed with vodka in the traditional New York style, spicy with red pepper flakes and just a splash of cream. For $25, customers can leave with a pound of pasta, two quarts of sauce and eight meatballs — enough to feed a family of four.
But the bulk of Philamena's business consists of simple breakfasts and lunches served on-site, such as buckwheat-ricotta pancakes, omelettes and egg sandwiches, which come on house-baked biscuits with local eggs and from-scratch sausage.
On my visit, classic carbonara (good for either meal) was studded with crunchy bacon and tossed with parsley in a yolky, cheesy sauce. "[The menu is] a marriage of tradition and my experience growing up in an Italian family," Whitehead said, "but on the Vermont side of things, we have all these great local ingredients." A griddled panini came stuffed with thick slices of ham slathered with apricot and local chèvre.
Sandwiches are available on gluten-free bread, and weekly-changing soups and risottos (last week's featured roasted corn and basil) are all vegan.
A cool puréed carrot soup flooded my sinuses with cumin, underscored with onion and garlic. It's served by the bowl, but when I asked for a cup, Whitehead's gracious staff offered me a half-bowl without missing a beat ... just like Nonna might, if you asked sweetly enough.
Grab a Slice
Pizza on Main, 53 Lower Main Street, Morrisville, 888-4155
Jeb Wallace-brodeur
Michael Jansen and Marisa Menendez
Provenance: Westchester County, N.Y.
Pedigree: Co-owners Marisa Menendez and Michael Jansen spent a year apprenticing at Pleasantville, N.Y., landmark Lucio's Pizzeria.
On the Menu: Pizza (slices and whole pies), "wedges" and wraps, Stromboli, calzones, carrot cake, filled-to-order cannoli.
Tasting Notes: Until recently, Morrisville's newest pizzeria offered mostly variations on a dough-and-cheese theme. Calzones, Stromboli and bruschetta, along with a handful of other basics such as wings, mozzarella sticks (cut in-house from whole blocks of cheese) and salads, shared the menu with the shop's namesake pies. Though co-owners Michael Jansen and Marisa Menendez just expanded their menu to include pastas and other entrées, the pizza alone is worth the trip.
"Leftovers are good!" Menendez said, standing at the register beside a glass case holding 20-inch pies reserved for slices. Dining solo, I'd ordered an 18-inch pie, fried ravioli and a chicken parm hero to go, in addition to a white slice and spinach Stromboli for lunch. I knew even before I tasted the food, as Menendez ladled marinara from a steaming crock, that this place was the real deal.
The slices aren't a buck like they can be in NYC, but the veggies are fresh, and the cheeses are grated from whole wheels and blocks. The dough? Just flour, water, salt and yeast.
Meatballs are made from a family recipe. They're available swaddled in mozzarella on sandwiches, as is the stellar chicken Parmesan, made with fresh cutlets breaded and fried in-house. Because the right bread couldn't be found locally, the shop sources its rolls from the Bronx.
In the chicken Parm, the airy, richly browned puffs somehow managed to soak up sauce without getting soggy, melding seamlessly with the cheese and meat into one neat, beautiful package.
The fried ravioli were crisp and moist, dipped in piquant marinara without a touch of sweetness. The pizza? On my visit, it represented the downstate ideal, its crust thin and crisp but chewy, the toppings ample and well distributed.
Menendez moved to the area after 9/11, and both she and Jansen seem to care deeply for their regulars and their adopted community. In June, the shop launched a new Feed a Friend program after Jansen learned that thousands of Lamoille County residents are food insecure. The system works on a pay-it-forward model: Patrons purchase a slice (discounted to $2 from the usual $2.50), write a brief message to the unknown recipient on a Post-it and tack the note to the wall. When a hungry "friend" comes in, he or she removes a note from the wall and redeems it for a slice.
That thoughtfulness is evident in the everyday dining experience at Pizza on Main, too: Menendez's friendly parlance felt instantly familiar, even though she'd never served me before. She offered easy laughs and recommended things to do in the area. "There's a great band playing down at the park tonight," she said. "You should go check it out. It's going to be a great night."
Get Sauced
Sauce Italian Specialties, 407 Mountain Road, Stowe, 760-6151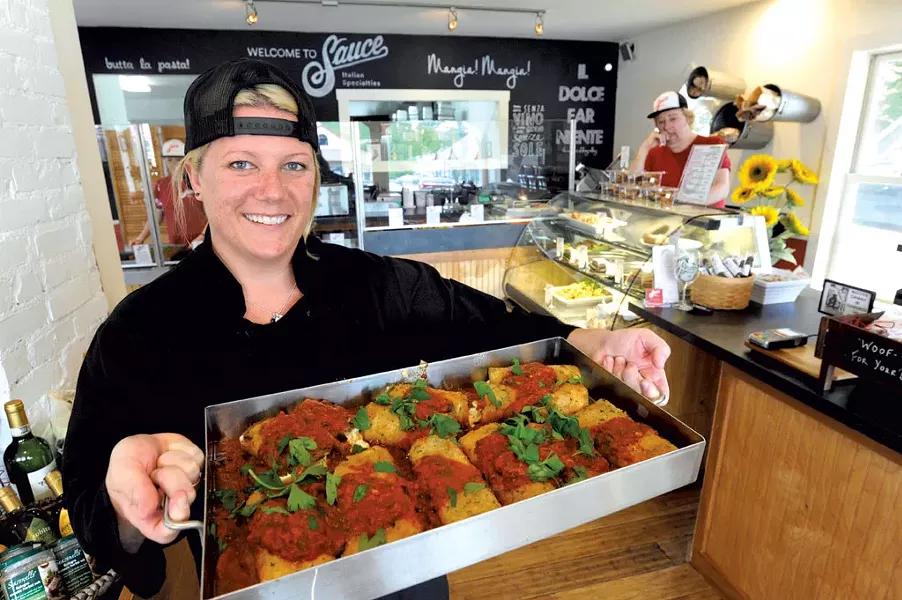 Jeb Wallace-brodeur
Sharon Herbert with eggplant rollatini
Provenance: Point Pleasant Beach, N.J.
Pedigree: Owner Sharon Herbert is a New England Culinary Institute graduate; chef Jimmy Kalp used to work at Stowe's Blue Moon Café.
On the menu: Pastas, sauces, sandwiches, eggplant rollatini, seasonal pastas and entrées, grilled marinated vegetables.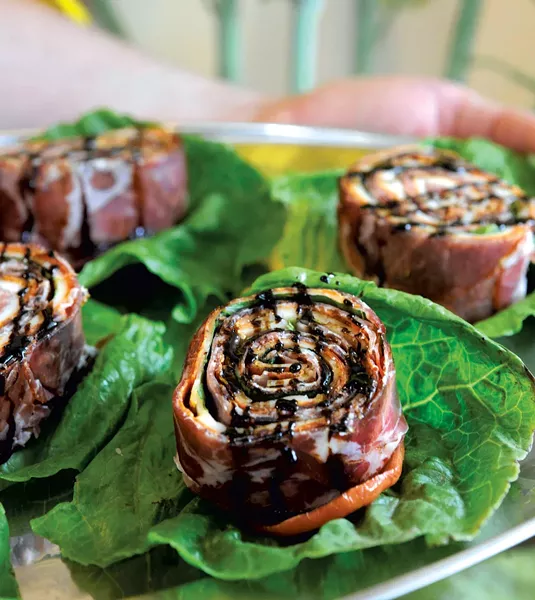 Jeb Wallace-brodeur
Prosciutto at Sauce Italian Specialties4t
Tasting notes: By day, Sauce Italian Specialties offers sandwiches layered with imported meats and housemade mozzarella. At 4 p.m., the kitchen starts serving hot pastas and entrées.
But since Sauce opened a month ago, locals have flocked there primarily for housemade pastas, sauces and prepared foods, which are available to go. With those and a dozen well-selected Italian wines and antipasti — such as cured meats, Castelvetrano olives and caper berries — patrons can easily put together a no-fuss meal to enjoy at home. That is exactly what I did when I stopped by last week.
The eggplant rollatini — breaded, fried aubergine stuffed with ricotta, hard cheeses and herbs, then smothered in marinara — was identical to the last one I had on Long Island, except it felt firmer, fresher and better.
And the "Sunday gravy" was a proper meat-soaked sauce, long-simmered with hearty hunks of pork and beef braciole and sausages so tender I barely had to chew them. I'd almost eat it on its own, but why not serve it over pasta — made with eggs from chef Kalp's home chickens — and fresh-grated pecorino? With some notice, these can be ordered for catered affairs, as can lasagna and other pastas.
Herbert is not Italian, but she learned Italian cooking by osmosis in her formative years on the Jersey Shore. For her first decade in Vermont, she regularly schlepped coolers of Italian food back from her visits to her family in Jersey. After Herbert finished NECI's hospitality management program, she decided to start a business modeled on Joe Leone's Italian Specialties in her hometown — and brought Leone in to consult on the menu.
"I finally got tired of [bringing food back]" Herbert said. "And I was like, We need this up here."