Rachael Young has been getting a lot of attention for her culinary explorations. But the founder of the pro-entomophagy organization Eat Yummy Bugs is, more than anything, a conservationist. "It informs everything I do," she says.
Much of what Young does these days is spread the word that not only are insects delicious, but eating them on a large scale could have huge health and environmental benefits and open up profitable, sustainable avenues of commercial agriculture. The first step, she says, is to get past the cultural stigma attached to eating insects — a task for which she is well prepared.
Young, 33, knows that the revolution of insect eating will never arrive unless bugs can be prepared in tasty, non-icky ways. Which is why she teamed up with chef Mark Olofson and the adventurous spirits at Burlington's ArtsRiot to host a "bug dinner": a showcase of just how tasty bugs can be.
A resident of Montpelier, Young grew up in Vermont and went to Prescott College in Arizona, a school known for its focus on environmentalism. It was there, she says, that "it really became clear to me that the way to save the world was to diversify our global protein." She realized that the use of large land animals as protein sources was hugely resource-intensive, she says. So she turned to far smaller critters.
Matthew Thorsen
a bug dinner
Helix aspersa, the common garden snail, is the species most commonly used to prepare escargot. This invasive species flourishes out west, yet, as Young learned, most of the snails in the domestic escargot market are actually imported. So she started raising them herself. "They're high in protein and have negligible cholesterol," Young says. "They're a health food, and they reproduce exponentially. It's an amazing agricultural model."
Then she learned of David Gracer, a Rhode Islander who runs an organization called Small Stock Foods. Gracer had taken Young's model to its logical end: not one slimy foot, but six chitinous legs. Entomophagy. Bug eating. After contacting Gracer, Young knew that she'd found the ideal channel for her passion for conservation.
Young is passionate about the ways in which entomophagy can improve personal and global health. "When humans and livestock compete for landscape and eat the same types of crops," she says, "food prices go way up. We want corn and they want corn." She comes across as not outraged so much as astonished at the stupid decisions that have made factory farming disastrous.
Commercial fishing practices are just as bad, Young claims. She reviles in particular the most commonly eaten crustaceans. "Shrimp suck," she declares. "For every pound of shrimp, 10 pounds of nontarget species are hauled up and fed to the seagulls." Still, consumers continue to demand shrimp, and consumer demand drives the market.
So it's not without a sense of ironic purpose that Young refers to crickets, one of the mainstays of her menus, as "land shrimp." And it's true that, once they're roasted and salted, crickets really do possess a briny snap similar to that of shrimp.
I know this because, when I sat down at ArtsRiot's bar on Sunday night, Young popped out of the kitchen to offer me a small bowl of salty roasted crickets. I'd watched her earlier, rolling the dried insects between her hands. It's her own method for removing their legs, which are just as edible as the rest of the bug, but which she finds texturally objectionable. Think of it like deboning a teeny-tiny chicken. The crickets were the first course in a meal that was both highly unusual and surprisingly ... normal.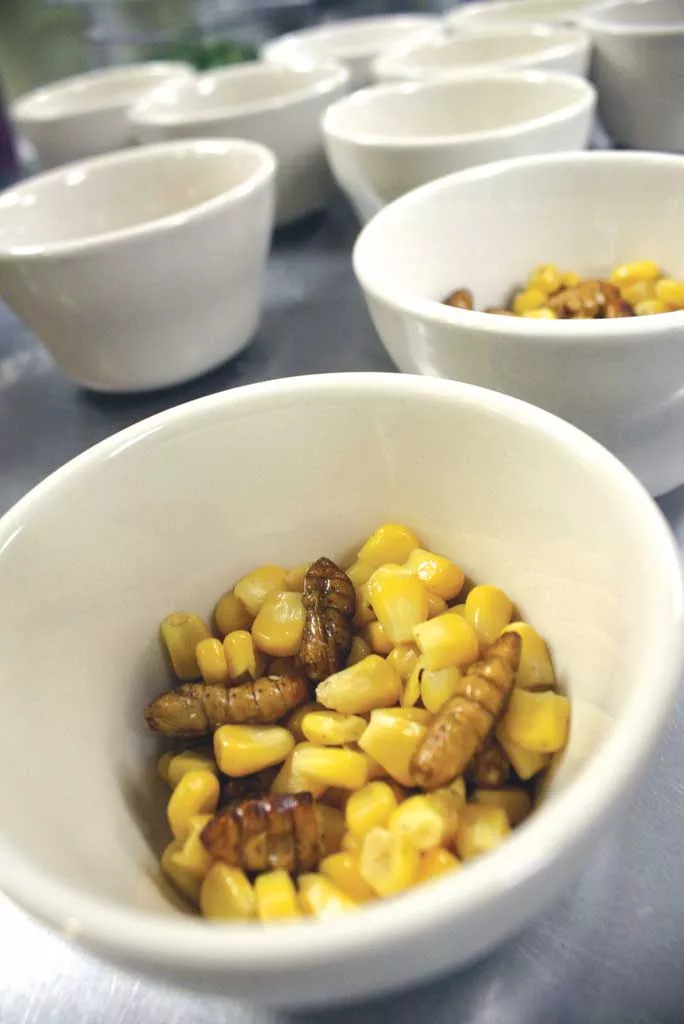 The 35 attendees of the bug dinner were prepared for an unconventional bill of fare. Gabby Puma, 21, a University of Vermont student, had eaten bugs before, in the form of a friend's homemade "cricket trail mix," and was ready to chow down on insects. Before the meal, she said, "[The menu] looks really good. It looks like there's a lot of things with really strong flavors, which is good, but I'm just hoping that you can really taste the bug aspects of it."
Burlington residents Lisa Malmgren and Chris Radey, both 24, were intrigued by the growing popularity of entomophagy. Radey admitted that he shares with many Western eaters a bias against eating bugs, but he finds that bias "unjustified." "If I didn't try this food tonight, I'd feel like I'd be letting myself down," he said.
Young was a constant presence during the meal, serving dishes, clearing plates and introducing each dish. Before the 35 novice entomophages tucked in, she announced that the purpose of the dinner — and indeed of her entire Eat Yummy Bugs project — was "to normalize insect protein here in my community." This proved an important context, because it discouraged the "OMG I'M EATING BUGS" reaction (to which diners were already largely disinclined) and encouraged a consideration of the food qua food.
In fact, probably the weirdest thing about the bug dinner was how nonweird it was. While much of the conversation concerned, say, the fact that the salad dressing we had just consumed was made with puréed silkworm pupae, we mostly talked about the food's flavors and freshness.
That mustardy vinaigrette possessed no discernibly "buggy" taste, but, then again, I'm not sure I could pinpoint the flavor components of bugginess. A certain starchy richness, for which I presume we can credit the silkworms, gave the dressing body, which enlivened the simple lettuce, carrot, onion and avocado salad.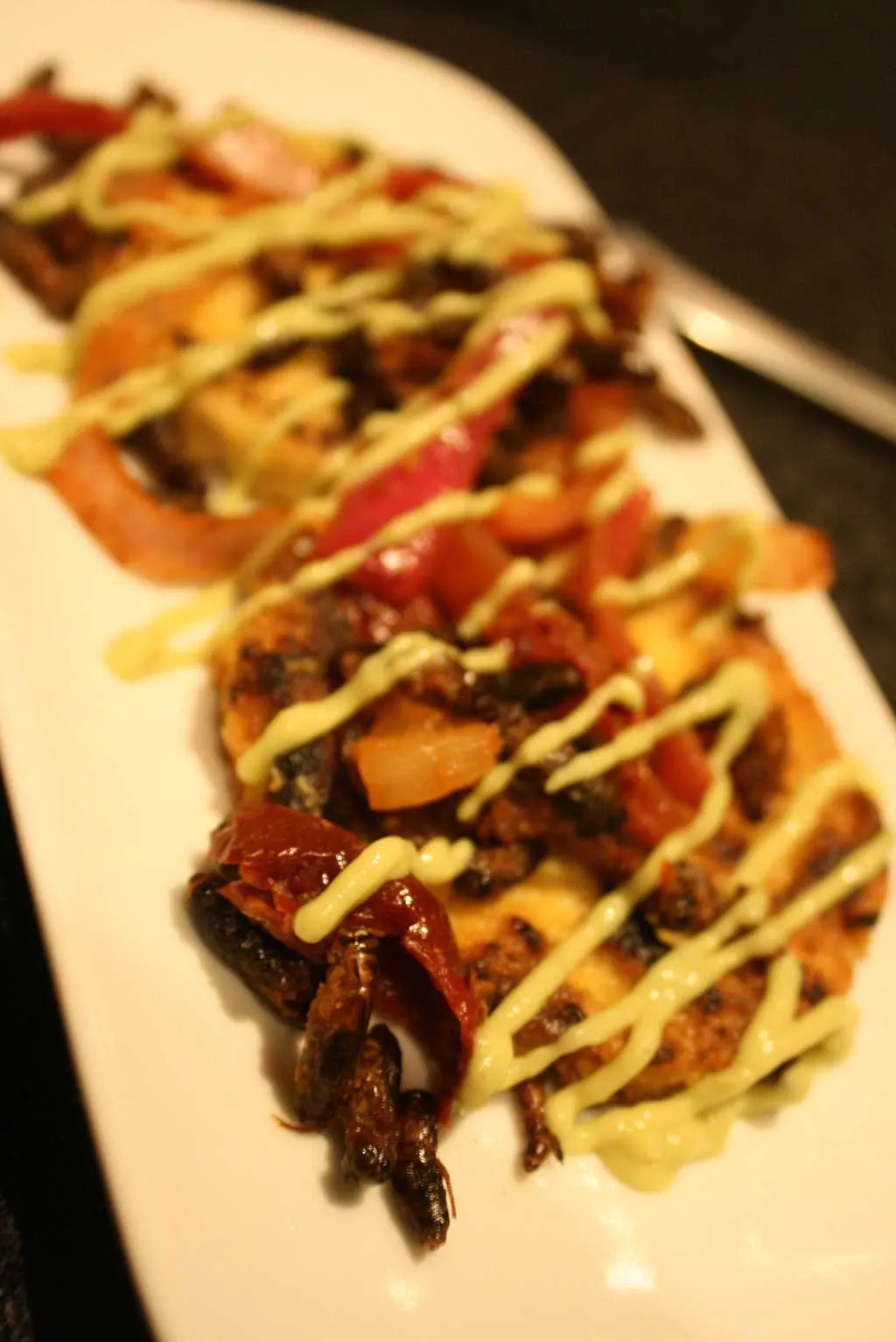 Courtesy Of John James
Mealworm polenta
They may have assumed a supporting role in the salad dressing, but those silkworms announced themselves with viscous fanfare in the next dish, a butternut soup with corn and green onions. In each bowl were about 20 soft pupae, which in their ringed plumpness looked like little Michelin Men. These were most assuredly bugs. And they were right there in the soup, just like in the old joke with the waiter.
Young informed the crowd that the Vietnamese term for the pupae is "ground cucumbers," and, though they didn't taste specifically cucumbery to me, they surely imparted a vegetable flavor. Texturally, they were indistinguishable from the plump kernels of corn that floated beside them in the mild, creamy butternut purée. A dash of cricket salt — the same stuff on the rims of the bar's bug-salt margaritas — was not vital, but did brighten up the soup a bit.
Earlier in the day, I had mused aloud about whether a dinner of insects would actually fill me up. My wife thought this was a ridiculous concern, but, hey, I like to feel satisfied by my meals. The "bug pocket pie," the third and heartiest course, put those worries to rest. Even had it not contained protein-rich mealworms, this muffin-size pot pie — stuffed with cabbage and turmeric-blasted potatoes and accompanied by two types of salty homemade (bugless) cabbage slaw — would have satisfied a hungry guy like me. But the mealworms and the cricket-flour crust really amped up this dish's heartiness.
For me, that cricket-flour dough, smooth but not flaky, was the ingredient with the greatest game-changing potential. Even though Olofson had cut it with regular unbleached flour, the cricket flour was rich, with a nutty, pleasant taste.
"It's a good, high-protein flour, so you can do a lot of things with it, and it acts pretty darn normal in recipes," Olofson said. It's no surprise that a number of start-ups have recently hopped on the cricket-flour bandwagon. It has the potential to be the product that makes entomophagy palatable to a wide audience.
The final savory course of the night was dubbed "Cricks 'n Grits": mealworm-studded, cashew-cream grit cakes garnished with spicy roasted crickets ("Chirp-otle") and an avocado-tomatillo-lime dressing. This one was just damned delicious. The creamy, mild cakes were balanced by the spicy, crunchy crickets, and the dressing tied everything together. I ate every last bug. Looking around, I saw most other diners' plates clean, too.
The cricket-garnished, mealworm-laced dark chocolate truffles, provided by Nutty Steph's of Middlesex, were all about the chocolate, not the bugs. The crunchy cricket atop each truffle could have just as easily (and tastily) been a roasted almond. No matter. It's just as well that the little six-legged guy atop my truffle was more a symbol than a vital element in the dessert's flavor profile. This dinner was as much concerned with opening minds as it was with waking up taste buds.
The original print version of this article was headlined "Six-Legged Supper"