Chances are, your parents deserve much of the credit for keeping you fed, watered and clothed to date. Now, as a college student, that's all up to you. It may finally be time for that Call of Duty tattoo you always wanted. Or not.
Yep, you've got some choices to make. We scoured the city to help you find satisfying but good-for-you options that will keep your body running in tip-top shape.
Those virtuous recommendations are paired with more devilish ones — for when you're battling a hangover, for example, or in the mood to celebrate your independence. Such indulgences have consequences, but don't worry; we've got that covered, too. Find a guide to area health clubs here.
Tacos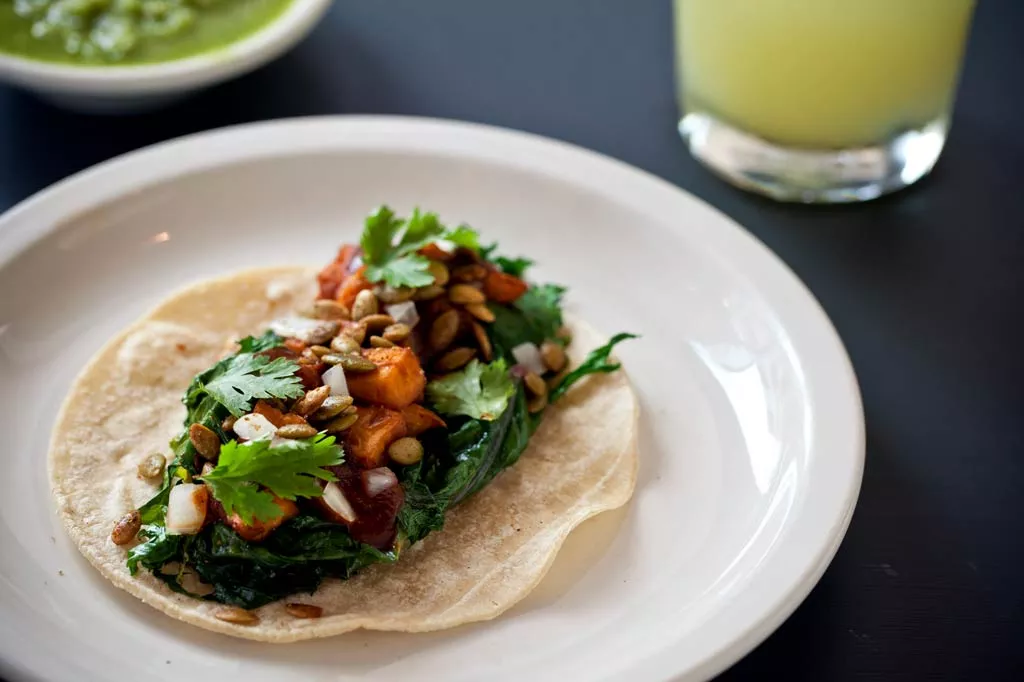 Courtesy Of El Cortijo Taqueria Y Cantina
Camote tacos
Saintly: Camote tacos
There's not much to complicate this most pristine of tacos — just organic sweet potatoes, braised kale, pumpkin seeds and tons of flavor. Guajillo salsa lends a hint of heat to the roasted sweet spuds. Don't want to eat more kale? Try the smoked quinoa taco with corn salsa instead.
Sinful: Pork taco
Pickled veggies, avocado, cucumber and cilantro: Sounds kind of light, right? But pile on sriracha, basil aioli and hoisin sauce with a base of crispy fried pork, and you've got a serious lunch that hits every flavor note. Get ready for spicy, sweet, fatty goodness.
Burgers
Alice Levitt
Wagyu burger
Saintly: Hemp seed, whole grain burger
Think veggie burgers are boring? Even bloodthirsty carnivores will devour this delicious burger made from irresistibly spiced grains. The patty is crispy on the outside and soft on the inside. Radishes and radish sprouts contribute satisfying crunch, while carrot ketchup adds flavor and dyes the soft roll bright orange.
Sinful: Wagyu burger
You might wonder if this burger ate another burger to earn its price tag. But for a whopping $16, you get pure, beefy pleasure. Local cheddar, fried pickles and bacon aioli dress an ultra-juicy Wagyu beef patty with truffle fries on the side. Bring a buddy to share, and it'll cost you half as much.
Sandwich
Matthew Thorsen
Banh mi
Saintly: Banh mi
Got $3.99? You can afford a filling, balanced lunch at this Asian market. Your crispy baguette is filled with cilantro, pickled veggies, chiles and a choice of beef, pork loaf or tofu. Take it to go with a jelly-speckled smoothie or settle down at a table for some mealtime viewing of Vietnamese TV.
Sinful: The Bad Idea
The cheeky name is false advertising. Tangy, homemade breakfast sausage, Vermont cheddar and an over-easy egg all piled on a fluffy house maple doughnut is a very good idea, indeed. And it's small enough that you won't feel like a hog after eating one. Unless, of course, you follow it up with a slice of Guild's perfect chocolate-stout cake.
Pizza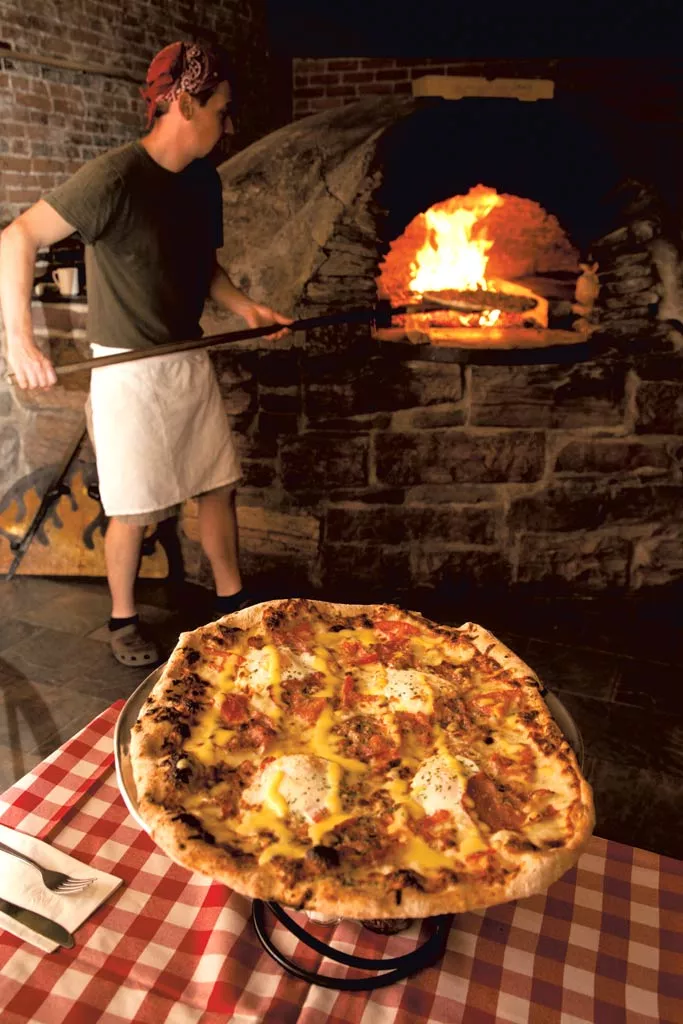 Matthew Thorsen
Eggs Benedict flatbread
Saintly: Brussels sprouts pizza
OK, there's no such thing as a truly healthy pizza, but Mom always told you to eat your Brussels sprouts, right? You won't mind getting some incidental vitamins when the crisp veggie leaves are mixed with Italian bacon and homemade mozzarella on a classic Neapolitan crust. A $16 pie feeds two.
Sinful: Eggs Benedict Flatbread
There's no question: You will need a nap after eating breakfast in pizza form. But it's only available at weekend brunch, so why not? The over-medium eggs and tangy Hollandaise are just what we look for in a great Benedict. The bonus tomatoes, herbs and capicola come from local sources.
Asian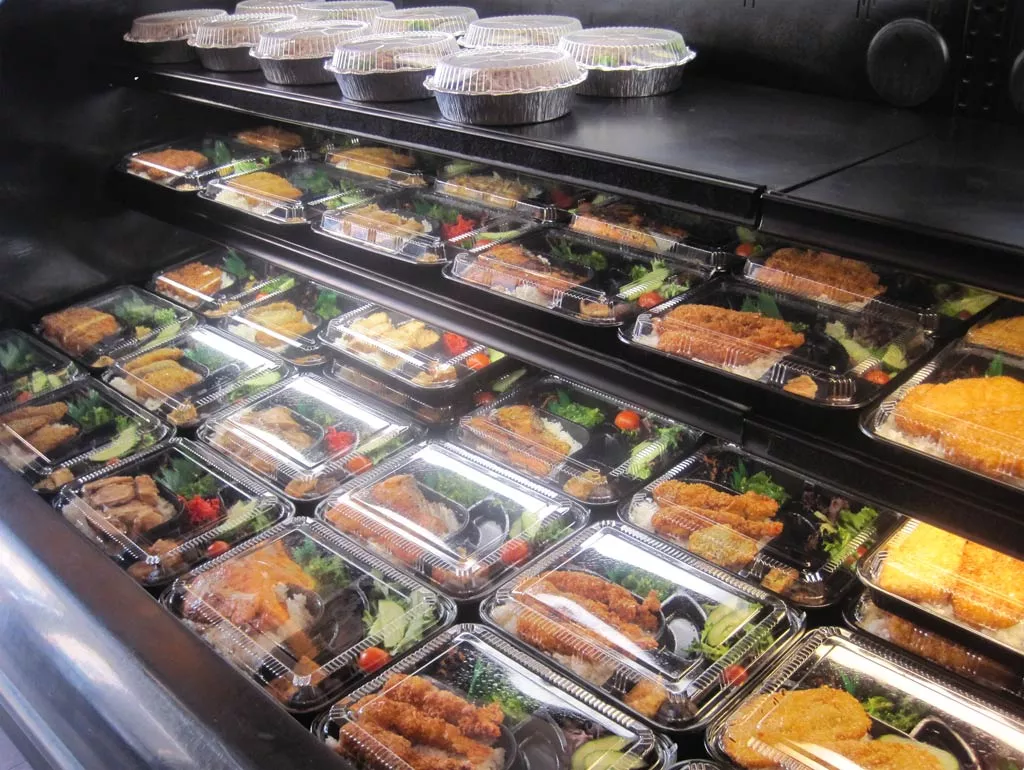 Alice Levitt
Grab-and-go at Bento
Saintly: Sushi
Looking for great grab-and-go sushi? At Bento, the fish and vegetables are admirably fresh; the rice is sweet, fluffy and perfectly cooked. Veggie rolls are $3, while a spicy salmon-avocado roll tops out at $6. Not in the mood to go raw? Try a bento box filled with varied Japanese salads, a heaping helping of rice and your choice of protein, from teriyaki and tsukune to hamachi collar.
Sinful: Dim sum
Why waste calories on General Tso's chicken when you can taste the rainbow via tons of small plates? Here servers make their way through the room with delicious treats as soon as each emerges from the kitchen. Fluffy buns filled with pork? Why, thank you. Stop whenever you're full — each costs a few dollars. We bet you'll keep going.
Sweet Treat
Matthew Thorsen
Cinnamon bun
Saintly: Mint chip smoothie
Picture the best mint-chocolate-chip shake you've ever had. Now imagine it with made with all-natural ingredients. Not as good, right? Wrong! This healthy smoothie will satisfy your sweet tooth with a base of mint — you won't taste the spinach — mixed with banana, raw honey and almond milk. The chips are tiny pieces of cacao — chocolate in its purest form.
Sinful: Cinnamon bun
Maglianero is no Starbucks. The high-quality, ethical roasts are reason enough to love this hipster haven. But even if you skip the caffeine, you'll want to glory in the sugar high of the cinnamon bun sold at the counter. Made by Little Sweets, of fine dining restaurant Hen of the Wood, this is everything that you love about Cinnabon, multiplied a billion times. You can also find Little Sweets pastries at Hotel Vermont and the Courtyard Marriott.
Food Truck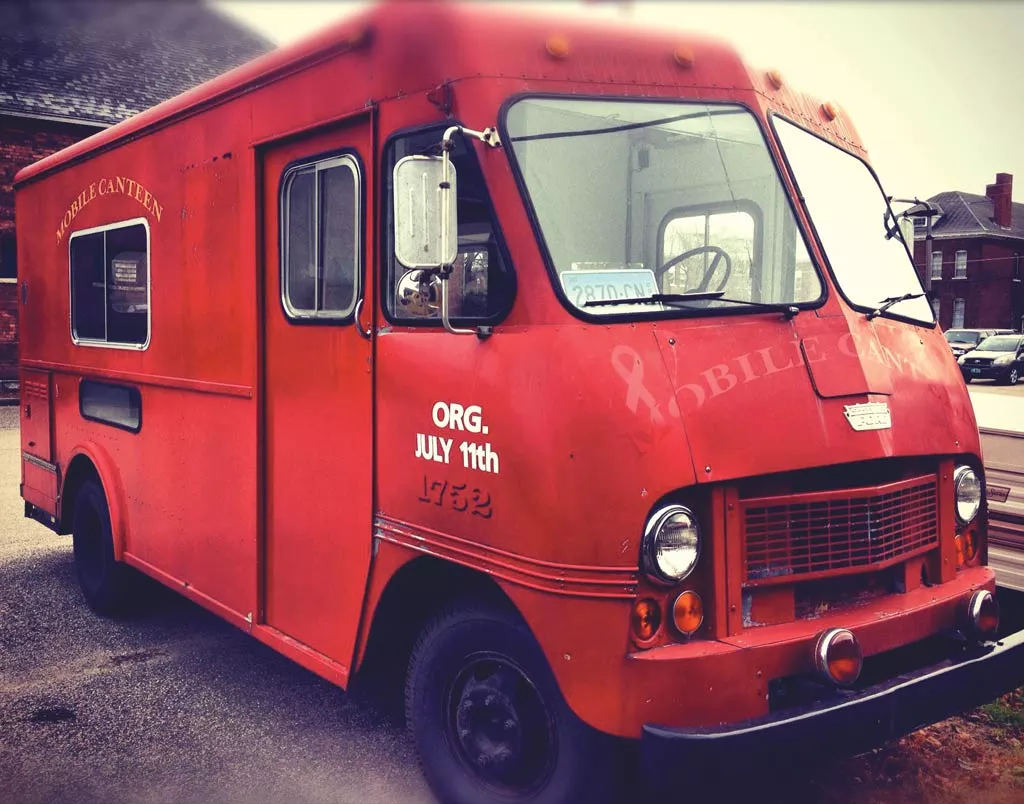 Alice Levitt
The Hindquarter
Saintly: Asian noodle bowl
The name says it all. When chef Chris Simard doesn't use ingredients he grows himself, they come from local farmer friends. You'll taste every bit of freshness in this noodle dish. Made with slippery mung bean noodles, it's even Paleo Diet-friendly. Simard cooks up your choice of marinated local protein and serves it with noodles in a tangy fish sauce accompanied by a salad of tiny tomatoes and herbs.
Sinful: Crispy duck sandwich with ham and cheese croquettes
How do you make duck even fattier — read: more delicious? Fry it up! While chef Luke Stone has been known to stretch his legs with upscale fare such as Indian-spiced monkfish with pickled cauliflower and mushrooms, beluga lentils and cucumber raita, most of the sammies on his food truck are gratifyingly unhealthy. No duck? No problem. Try the house-cured pastrami, banh mi or any of Stone's other from-scratch delicacies.