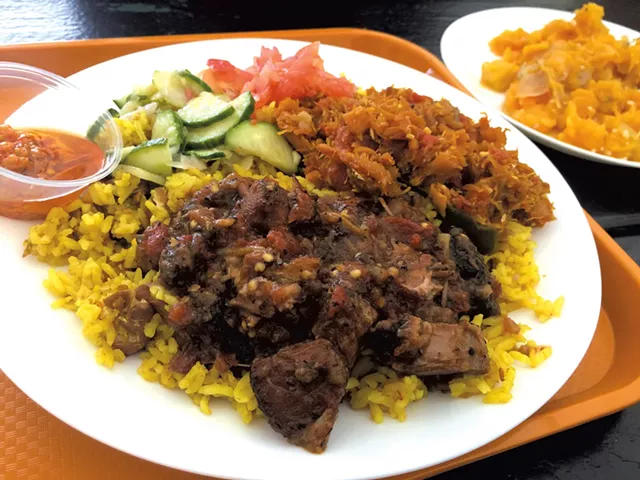 Molly Zapp
Pork boucané and salt cod cari at Marmite Su'l Feu
When my friends and I set off for Montréal's Saint-Henri neighborhood, we had three goals. The first was to eat well with no reservations. The second was to spend as much time as possible outside. And the third? To keep our eyes open for signs of change.
Located in southwest Montréal to the west of haute cuisine-laden Little Burgundy, Saint-Henri has historically been a working-class neighborhood. Over the past 10 years, however, it's changed significantly: Developers have built condos and upscale restaurants, and hipster spots have moved in.
While welcomed by some, these transformations have met serious resistance: In 2016, a group of masked self-branded anti-gentrificationists smashed windows and vandalized 3734, a boutique grocery store. A year later, vandalism befell Ludger, a now-closed restaurant.
Hence that third goal: to experience this neighborhood with an awareness of its history. The resulting itinerary made for a delicious and deeply enjoyable daytrip.
Creole Cuisine at Atwater Market
Marmite Su'l Feu, 138 avenue Atwater, 514-652-6581
The starting point for exploring Saint-Henri is Atwater Market, located near Métro Lionel-Groulx. Open since 1933, the partially enclosed market has dozens of food vendors and a lively food court. (Satay Brothers, whose full restaurant on rue Notre-Dame Ouest I've reviewed, has a popular food stand there.) Our destination was a stand called Marmite Su'l Feu ("pot on the fire"), which serves the cuisine of Réunion, an island near Madagascar that is an overseas department of France.
We started with dumplings (90 cents Canadian each) stuffed with pork and combava — kaffir lime zests — that were so tangy and flavorful we cursed with pleasure. My friend Laurence, who grew up in Réunion, said she ate dumplings like this after school in the '90s, sold from food trucks well before food trucks were popular in the West.
We also tried the bonbon piment, dubbed "Creole falafel" and refried per order, as well as a comforting starter of daube (stew), made from stewed pumpkin, shallots, garlic, turmeric and thyme and served slightly warm. Laurence said all of the dishes were typical of her small native island, which has a Créole population and dramatic natural beauty.
The mains, called caris and boucanés, were served from large, heated pots, offering eaters the joy of peeking under the lids and saying, "Yes, please, a scoop of that." We paid Can$17.50 for two meat dishes and turmeric rice.
Barbecue lovers would swoon for the smoked pork boucané, which was stewed with tomatoes, eggplant, pintos and black pepper. I could taste the freshness of the housemade sausages in one of the caris, which likewise featured tomatoes and loads of black pepper.
The rougail of salt cod, onions and tomatoes had a hint of heat, which was easy to dial up with a side of housemade bird's-eye-chile hot sauce. For dessert, I had a warm, sticky cake of grated yucca, vanilla, rum and butter, crispy on the outside and chewy inside.
After lunch, it was time to explore the market itself. La Fromagerie Atwater has an impressive selection of cheeses. (Travelers crossing by land can bring packaged cheese and up to 50 pounds of most meats back across the U.S. border.) Terrines & Pâtés sells a dazzling array of charcuterie, including some made from bison and sanglier (wild boar). Boucherie Saint-Vincent offers organic meats; its blood sausage and fresh hot Italian sausage have graced many meals chez moi.
Drinks at Lachine Canal
Canal Lounge, 22 avenue Atwater, 514-451-2665
Molly Zapp
Drinks at Canal Lounge
Just outside Atwater Market is the Lachine Canal, complete with a bike path, small parks and plenty of space to relax à l'extérieur. The park beside the market has a dozen or so chess tables, where a handful of players were intent on their games.
Wandering along the water, we stumbled on Canal Lounge, a floating bar on a docked boat. Open during the warm season, it serves coffee, beachy cocktails and cheap wine amid charming, relaxed décor. I sipped on Québec-made St.-Laurent gin with pineapple juice (Can$9.50) while we tried to figure out which 20th-century hit had been transformed into the smooth jazz cover we were hearing ("'Another Brick in the Wall' ... and I think that's Cyndi Lauper?"). Paco, a chubby muffin of a boat dog, wandered around and occasionally allowed guests to pet him.
Sweet Treats on Rue Notre-Dame
Crèmerie Dalla Rose, 4609 rue Notre-Dame Ouest, 514-846-1555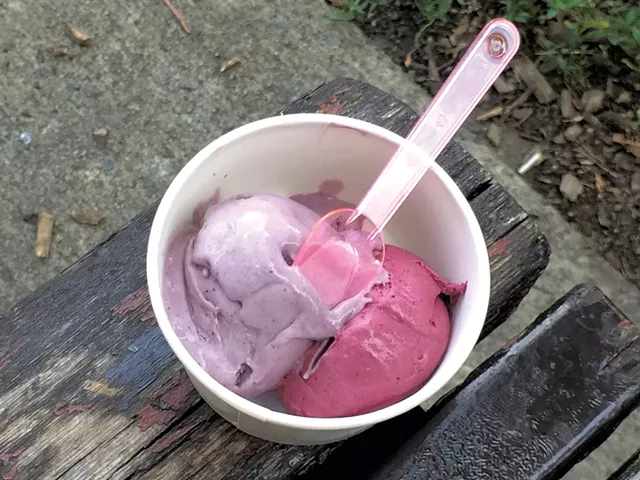 Molly Zapp
Blueberry and haksap berry ice cream from Dalla Rose
Many of the shops and restaurants in Saint-Henri are concentrated along rue Notre-Dame. We stopped at Crèmerie Dalla Rose, which offered about a dozen flavors of housemade ice creams and sorbets, along with cookies and pints for takeout.
Run by two alumni of upscale restaurant Nora Gray, Dalla Rose emphasizes organic and Québec-sourced ingredients. Blueberries from Saguenay flavored a rich ice cream, and the rhubarb sorbet was tart and refreshing. I loved the fuchsia-colored, coconut milk-based ice cream featuring camerise — known in English as haskap or honeyberry, the fruit of a variety of honeysuckle. Shaped like overstuffed Chiclets, haskap berries grow in Québec and resemble blueberries in color and taste; it was a treat to find them in ice cream form.
Dalla Rose has a fine terrace out front, but we walked over to nearby Parc Émile Berliner, named for the inventor of the Gramophone, who opened a factory in the neighborhood in the early 1900s. We savored our scoops by the fountain, then meandered through the park to the Lachine Canal and crossed a footbridge to relax in a broad field.
There we beheld the panorama of a changing neighborhood: construction materials from sites on the canal banks, an abandoned factory, a rundown brick building adorned with graffiti, newly built generic condos. On the near horizon stood a rusted water tower; on the far one, the towering buildings of the downtown financial district.
Dinner at Club Social P.S.
Club Social P.S., 5090 rue Notre-Dame Ouest, 514-379-4883
Off an alley farther down Notre-Dame, Club Social P.S. serves natural wines and pizzas and salads from its adjoining upscale pizza restaurant, Elena. We walked down the stairs to its nestled outdoor patio full of nooks, wooden benches and small tables. More casual than Elena and its other restaurant sibling, Nora Gray, P.S. is a place where you order at the marble counter.
It's also a great place to try the biodynamic wines of Québec. Our sizable group began with a bottle of Les Pervenches Macpel, a unique macerated blend of white and red grapes that drank like a rosé. Grassy on the nose, it tasted of rhubarb with a nice summer funk.
Our knowledgeable and attentive bartender told us that she and other P.S. and Elena workers had helped harvest the Chardonnay and Zweigelt grapes for the second wine we sampled — Les Pervenches Bonbonbulles. It was dry and delicately bubbly, an elevated deck sipper. The third, Pinard & Filles Frangine, was a funky, dry orange wine made with la crescent grapes.
Under strings of Edison lights, we sampled them with a hearty kale Caesar and a salad featuring radicchio and fennel. A friend who eats gluten-free said she was more than sated by P.S.'s salad and vegetable offerings — a rare experience for her at pizza places.
As the sky deepened to indigo and the stars appeared, we realized we were experiencing one of the most relaxing and beautiful patios in Montréal. It closes at 10, though, so we moved inside before our three pizzas came.
Inside, the bartender was playing vinyl — on this night, a bumping mix of Beyoncé and Kanye West's The College Dropout. Sacks of Le Moulin des Cèdres organic flour, used for pizza crusts, rested against the wall.
The worth of a pizza joint is best measured by its Margherita, and P.S.'s was like a Simone Biles floor routine: a brilliantly executed crowd-pleaser. The naturally leavened crust was chewy, almost naan-like, with crispy, deeply browned bubbles. The tomatoes and whole basil were fresh and unfussy, and the mozzarella was made from buffalo milk.
Less broadly appealing, but still memorable, was the Fiore! Fiore! Powerfully flavored with slippery marinated anchovies, whose bouquet permeated its zucchini flowers and slices, it rewarded eaters whose palates sought intensity. The M. Fun-guy was scattered with a variety of Québec mushrooms, including hedgehog and oyster. Its earthy savor allowed the sourdough crust to shine in contrast. Every bite I had at P.S. was excellent.
I tried a sip of a friend's rosé from Germany's Weingut Schmitt, which smelled shockingly like the apartment of someone who hasn't cleaned their litter box in a month. I declined a glass of my own but thoroughly enjoyed the moment of unexpected humor, well suited to P.S.'s low-key cool vibe.
There's more to explore in Saint-Henri. Sumac is excellent for upscale-casual Middle Eastern food; Pandan Creamery has intriguing rolled, Thai-style ice cream. And my next old-school poutine spot? Restaurant A.A., which has stood on Notre-Dame Ouest for 30 years, comes enthusiastically recommended by a Saint-Henri condo-owning friend.