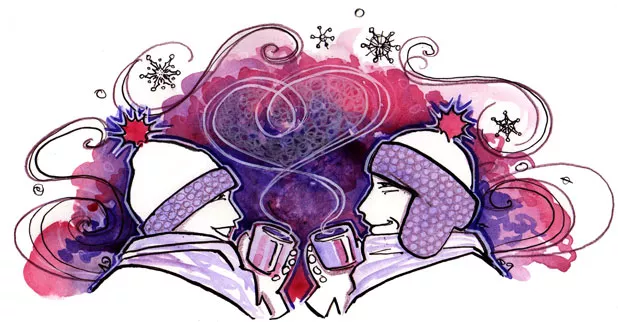 Love don't cost a thing — but celebrating it does. For some, Valentine's Day is a joyous time to orchestrate a symphony of amore. For others, trying to pick presents year after year — to satisfy an exacting or jaded significant other — is pure torture.
But lovers who find themselves dithering over the choice between a box of bonbons and a bouquet of crimson roses may want to broaden their perspective. There's no better time than a recession to get creative.
In search of alternatives, we quizzed local foodie folk on their favorite ways of fêting the big day. We learned that, while some people still court Cupid with fancy foods and bubbly, others prefer to tote thermoses full of hot cocoa with them on wintry hikes. Some even get risqué with their sugar cookies . . .
******
Janet Ballantyne, Shelburne
Consumer science teacher at Essex Junction Educational Center and author of the Joy of Gardening Cookbook and Desserts from the Garden.
While Ballantyne loves dining out, she has a tip for V-Day diners who feel compelled to get a reservation at the fanciest resto in town: Wait a day or jump the gun. "Someone should not feel compelled to do something on Valentine's Day. It's just as good — if not better — to go out the day before or the day after." Because many eateries celebrate February 14 with pricey prix-fixe menus, setting your own special date "could cost you less," Ballantyne points out.
She also thinks the pressure to have a perfect evening can cause more stress than it's worth. "Maybe go out with friends," Ballantyne suggests. "Valentine's Day is not just about romantic love — it's about all kinds of love."
But on the traditional side, what would brighten up her V-Day? Bright blooms. "Tropical flowers sent over from Hawaii last a long time, and they're a shocking color burst in this white environment. If I want to do something really extravagant for somebody, that's what I do," says Ballantyne.
******
Marialisa Calta, Calais
Freelance food writer for publications such as The New York Times and Vermont Life, spokesperson for Circus Smirkus, and author of Barbarians at the Plate: Taming and Feeding the Modern American Family.
Calta says the essence of a love token is personalization. "This is going to sound so corny, but what really makes something romantic is that you're taking care of another person . . . If your spouse is on a diet, it's not a romantic gift to give them a génoise [cake] or truffles," she points out. "Make them feel cared for and understood: That's the essence of romance."
One classic way to show you care is to feed them something you cooked yourself. "If you take the time to make something [by hand], especially if you're not a cook or baker, I think that means something," Calta says.
And why not involve the whole family? "Once you have children, it's a whole different thing. It's all about conversation hearts and glitter between the floorboards," says Calta. In her household, a special V-Day breakfast, highlighted by chocolate and whipped cream, was a tradition that lasted until the kids were out of high school.
Practical ideas all, but what about passionate splurges? One glam option that tempts Calta is "our Vermont cheeses that require a second mortgage," she says. She also wouldn't mind marking the occasion by indulging in a few P.E.I. oysters with "a really nice sparkling wine," a slab of foie gras, or "real caviar."
******
Jason Frishman and Shana Witkin, Burlington
Owners of FolkFoods
Makers of hot sauce, fermented foods and savory "meat substitutes," this couple always has food on the brain. On their first date, they shopped for fresh ingredients at City Market and turned them into a meal.
Now, when they attend weddings, they invariably give tasteful — and tasty — presents. "The last three wedding gifts we gave were pizza stones," Frishman says. For Christmas, they gave good friends homemade coasters paired with bottles of their own maple mead.
"I like to squirrel away little details about people and turn them into something special," says Witkin. Because she knew her husband liked "fruit and chocolate together, which is not my favorite thing," she once made him a Black Forest cake to celebrate a special occasion. "He's all for adventure in the kitchen. If I go through the process of creating something, that means a lot to him."
The hardy pair also suggests taking a hike and packing a picnic — yes, in mid-February. "You plan ahead, put everything in a backpack, and go out to one of your favorite hiking places," Frishman says. When you stop to rest, surprise your sweetheart with "a thermos of hot chocolate and a bunch of little goodies to eat." Only in Vermont . . .
******
Deborah Schapiro, South Burlington
Publisher of edible Green Mountains
When it comes to lovey-dovey presents, Schapiro is a firm believer in "focusing in on what's really distinctive and unique about a person and would fit for them." Don't just grab chocolates or wine — find out whether your beloved prefers super-dark truffles or creamy milky ones, Barolo or Cabernet. If you're not sure, a bundle of Vermont's "great artisanal food product" will never go awry, she says.
One of "the best surprises" Schapiro ever had was when her husband brought a chef to prepare dinner at their home, she recalls. If that sounds too extravagant, one of the many "customized classes and courses" offered by local chefs might hit the spot. Or beg the pastry chef at your favorite restaurant to share the recipe for a dessert you've enjoyed with your honey, and whip it up yourself.
For someone who's had it with the commercial hoopla surrounding V-Day, the best gift might be to make "a donation to COTS or the food bank and share . . . that it was given in their honor and as a celebration of your love for them," Schapiro says. But, commercialized or not, she avers that "it's important to me that the day be acknowledged . . . It's a great day to let a lot of people in your life know that you care about them."
******
Linda Hagens, Warren
Manager of community relations at Hunger Mountain Co-op and member of Slow Food USA
Want a lover with a slow hand . . . in the kitchen? Hagens suggests buying your sweetie a membership in Slow Food, an international nonprofit dedicated to preserving local food traditions amid the rising tide of convenience eateries. Packaged with a "beautiful" quarterly publication, it makes a great gift for the localvore in your life — especially when followed by a meal at a restaurant that buys heirloom vegetable varieties and heritage animal breeds from local suppliers.
Lest that sound "too unromantic," Hagens offers a way to sex up the membership: Pair it with a delicious candle from Way Out Wax of Morrisville. The "sensual aroma" of their Escentual Love candle "can turn even your worst day around," she enthuses. Her other pick is a "beautifully packaged" artisan chocolate bar from Blackflower Chocolate of Charlotte, which offers "blends like hibiscus or lavender and blueberry."
******
Paul Bonelli, Burlington
Co-owner of Nunyuns
Bonelli likes to keep Valentine's Day casual — for his wife, Kristine Harbour, he might grab flowers or Green & Black organic chocolate bars. "I'll pick them up because I know she likes them," he says. "I think there are things that people ought to do for each other throughout the year, and not isolate it to a single day."
Bonelli doesn't ask for much, either: "I think a nice hug is great, really."
But he still celebrates the holiday. At the couple's Old North End eatery, Nunyuns, Bonelli whips up special cookies in honor of St. Valentine. Alongside the typical decorated hearts, their display case boasts a "funny little treat" called "nudies."
The tradition began when Bonelli worked at Lilydale Bakery, and a coworker "would put penises on gingerbread people and laugh about it," he recalls. He's been making his own version of the naughty sweets — sugar cookies with royal icing — ever since.
The cookie people aren't shy about showing their assets, and there's no Playboy-style airbrushing here, says Bonelli. "They have blue hair and green hair. We'll have a girl with pit hair, or old people who are bald."
Bonelli likes to see how people respond. "It's either, 'These are the funniest things I've ever seen,' or people are uptight about it," he observes. "You either get a kick out of it or you're offended. It kind of tells you where their heads are at."
Are the cookies really, um, detailed? "They have 3-D genitalia. We're not playing around," he says, laughing.