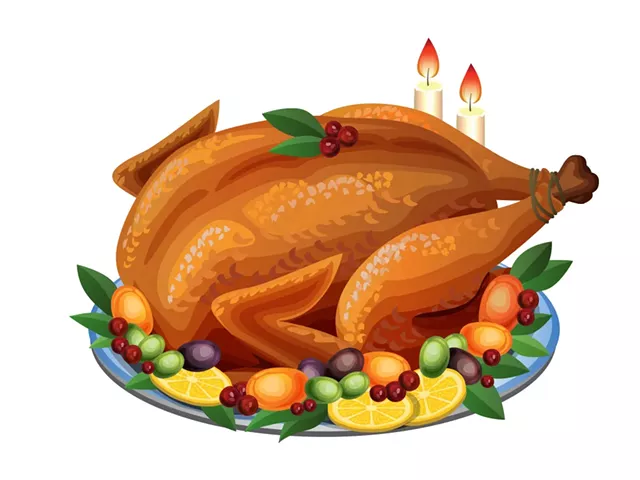 For the 28th time, Sweetwaters, on Church Street in Burlington, will host anyone who shows up for a Thanksgiving meal with all the fixings. How does the restaurant pull it off? With the help of more than 100 dedicated volunteers. During the event, the restaurant also gives away donated coats to those in need.
Sweetwaters Thanksgiving: Thursday, November 23; coat giveaway, 8 a.m.; meal, 10 a.m.-4 p.m., Sweetwaters American Bistro in Burlington. Free. Info, 864-9800, sweetwatersvt.com.
More food events
Mad River Distillers Hopscotch launch Party: The Mad River Taste Place hosts a party to celebrate the release of the second annual edition of Hopscotch, a booze that its makers dubbed "the first (legal) Vermont Single Malt." This year's spirit is a collaboration of Mad River Distillers and Stone Corral Brewery. It began with the brewery's Scotch Ale — made with peated malt — which was distilled and aged for 18 months. Only 452 bottles will be sold in Vermont. Friday, November 24, noon-6 p.m., Mad River Taste Place, Waitsfield. Free. Info, 496-3165, madrivertaste.com.
Murder Mystery Dinner: 'Picking Patsy Cline': Singers come to a Vermont inn to audition for a special tour honoring Patsy Cline, but, before the evening ends, somebody has been murdered! Amateur sleuths nibble on slow-roasted prime rib or cider-brined pork as they watch the story unfold. Saturday, November 25, 6-8:30 p.m., North Hero House. $75. Info, 372-4732, northherohouse.com.
Chocolate Tasting: Drop by any time during the tasting hours to embark on a guided tour through the flavors of four sweets from Lake Champlain Chocolates. A guide will discuss the profiles of the various confections and answer any questions. Participants can enter a drawing to win a basket of sweet treats. Saturday and Sunday, November 25 and 26, 11 a.m.-4 p.m., Lake Champlain Chocolates Factory Store & Café, Burlington. Free. Info, 864-1807, lakechamplainchocolates.com.