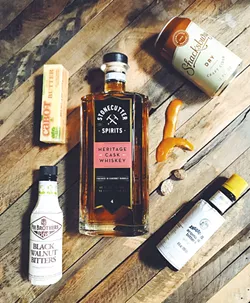 Ingredients for the Flew the Coop cocktail
Stonecutter Spirits teams up with Mary's Restaurant chef-owner Doug Mack and host Laura Mack to regale visitors with a quirky, film-inspired fête. Start with chicken-and-apple dumplings and a tree-fruit gin fizz, courtesy of Fantastic Mr. Fox. Then take a red-capped seafaring adventure featuring ceviche and tropical, tiki-like tipples inspired by The Life Aquatic With Steve Zissou. In the third course, celebrate Moonrise Kingdom's young and angsty summer love with hazelnut halibut and a bittersweet whiskey beverage. Usher in the credits with an indulgent chocolate finish, like those served in the heyday of The Grand Budapest Hotel.
Wes Anderson Cocktail Dinner: Saturday, March 4, 6:30-8:30 p.m., Mary's at the Inn at Baldwin Creek, Bristol. $65 plus tax and tip; preregister.
More food events
Rosie Schaap: A Barstool of One's Own — Making a Place for Women in the Pub:
The
New York Times
drinks columnist finds warmth, culture and community in bars — and discusses the experience of visiting them, from a female perspective. Thursday, March 2, 6 p.m., Fleming Museum of Art, University of Vermont, Burlington. Regular museum admission, $3-5.

Basque Dinner: Misery Loves Co. and Shacksbury celebrate Vermont Cider Week by pairing five apple tipples with chorizo and chocolate, croquettes and cured hams, olives, octopus, cheeses, and quince in a feast inspired by Spain's fiercely independent northern terminus. Thursday, March 2, 6-9 p.m., Misery Loves Co., Winooski. $100, preregister.
Capital City Farmers Market: Stock up on winter produce, meats and cheeses, honey, maple syrup and more at Montpelier's cold-season market. Saturday, March 4, 10 a.m.-2 p.m., City Center, Montpelier. Free.