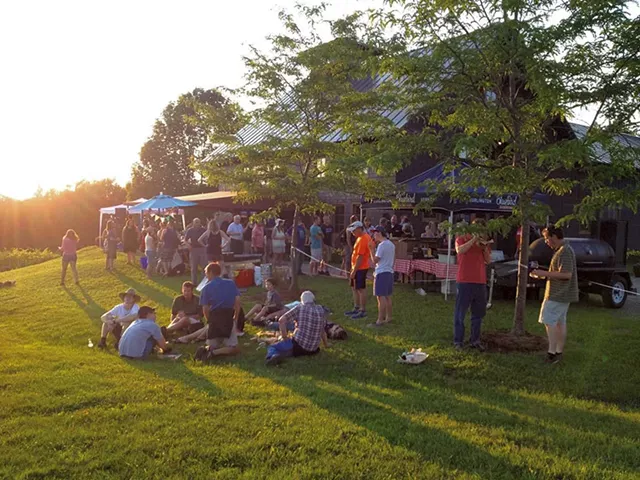 Courtesy Of Shelburne Vineyard
Bluegrass and Barbecue
On Friday, oenophiles gather at Shelburne Vineyard's airy tasting room for sips of winemaker Ethan Joseph's award-winning cold-climate wines. If it's hot, a glass of crisp, mineral-driven Louise Swenson might fit the bill, while a round-bodied, purple-red glass of Marquette will warm bellies if the weather is cooler. Regardless of the beverage choice, folks from Bluebird Barbecue will dish smoke-laced meats and sides, Dave Rielly and Hardscrabble will pick tunes, and Fisher Brothers Farm will be scooping handmade ice cream. It's hard to imagine an evening more summery than that.
Bluegrass and Barbecue: Friday, May 25, 6-9:30 p.m., Shelburne Vineyard. Cost of food and drink. Info, 985-8222, shelburnevineyard.com.
More food events
Wild Edibles of the Northeast: Ari Rockland-Miller of the Mushroom Forager offers tips on wildcrafting safety, strategy and ethics, then leads students on a woodsy wander in search of spring's tender wild greens and mushrooms. Saturday, May 26, 9 a.m.-12:30 p.m., Green Mountain Club, Waterbury Center. $32-40; preregister. Info, greenmountainclub.org.
Green Drinks With the Intervale Center: Local nonprofits and the eco-conscious gather for drinks and snacks celebrating the Intervale's three-decade agricultural revival. Tuesday, May 29, 6-8 p.m., the Skinny Pancake, Burlington. Cost of food and drink. Info, 540-0188, skinnypancake.com.
Sweet and Savory Pâte à Choux: Students learn to prepare the beloved French pastry dough used for éclairs, cream puffs, and other sweet and savory treats. Wednesday, May 30, 6-8:30 p.m., Richmond Community Kitchen. $50. Info, 434-3445, richmondcommunitykitchen.com.