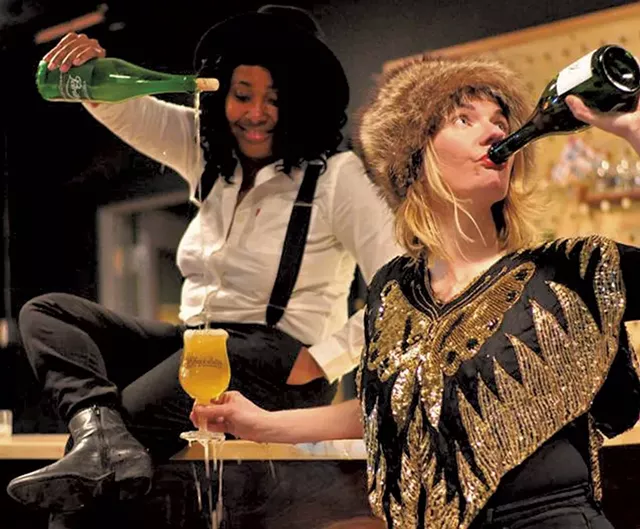 Courtesy Of Co Cellars
The bar at CO Cellars
Tastemakers from Burlington's South End food and arts community host a party with music from Mal Maiz. Tour the businesses in the renovated building, with stops at Alice & the Magician for aromatic tipples with Barr Hill Gin and at CO Cellars for sparkling natural wines and ciders. Peruse the baubles at Rackk & Ruin and Jennifer Kahn Jewelry, and take in the fine art at studios and galleries on the premises. If you begin to flag, find fresh-roasted joe at Brio Coffeeworks and vegetable-forward sustenance from Tomgirl Juice and Pitchfork Farm and Pickle.
Soda Plant Grand Opening: Saturday, March 9, 4-8 p.m., the Soda Plant, Burlington. Cost of food and drink. Info, thesodaplant.com.
More food events
'A Fine Line: A Woman's Place Is in the Kitchen': Food and film fans gather for a screening, panel discussion and hors d'oeuvres from local chefs to benefit the Vermont Women's Fund. Thursday, March 7, 5:30-9 p.m., Main Street Landing Performing Arts Center, Burlington. $15-20. Info, 540-3018.
Sugar on Snow: Kids of all ages head to the sugarhouse to twirl molten maple around forks and other implements. Fridays through Sundays, 11 a.m.-4 p.m., through March 31, Morse Farm Sugarworks, Montpelier. Free. Info, 800-242-2740, morsefarm.com.
Cheesemaking Workshop: Award-winning cheesemaker Maria Schumann schools creamery visitors on making sheep's-milk tomme and kefiretta. Saturday, March 9, 10 a.m.-3 p.m., Cate Hill Orchard & Sheep Dairy, Greensboro. $70-120 (sliding scale). Info, catehillorchard.com.