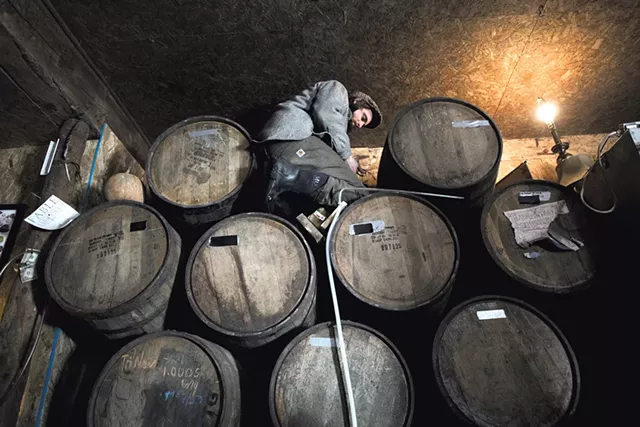 Courtesy of Fable Farm Fermentory
Fable Farm Fermentory
To celebrate its move from a farmhouse basement in Barnard village to expansive new digs on the Royalton Turnpike, Fable Farm Fermentory invites friends and cider fans for an afternoon tasting. Sample apple wines — some blended, others steeped in herbs or cellared since 2014 — along with brick-oven flatbreads, crostini, prosciutto and cheeses. All are composed with ingredients from partner farms in the historic Clark Farm basin. If you're still hungry after flights and snacks, wander downstairs to the lower hall for a suppertime feast of organic meats, winter vegetables and more ferments. Ciders available in retail bottles and cases.
The Fabled Table: Saturday, March 25, 3 to 5 p.m., dinner to follow, Fable Farm Fermentory, Barnard. Cost of food and drink; reservations required for supper only. Info, 234-5667.

More Food Events
Introduction to Sourdough: Learn to make naturally leavened loaves using a fermented culture with Brotbakery's Heike Meyer. Wednesday, March 22, 6-7:30 p.m., City Market/Onion River Co-op, Burlington. $5-10; preregister.
[event-1]
Pranzi in Fattoria: Farm-fresh flavors shine in a farmhouse lunch modeled in the traditional Italian style. Sunday, March 26, 11 a.m.-3 p.m., Agricola Farm, Panton. $39.
[event-2]
Mad River Valley Maple Festival:From sap to syrup, Vermont's famous flavor steals the show at this family-friendly fête complete with flatbread pizza. Saturday, March 25, and Sunday, March 26, 11 a.m.-4 p.m., Hartshorn Farm, Waitsfield. Free.
[event-3]