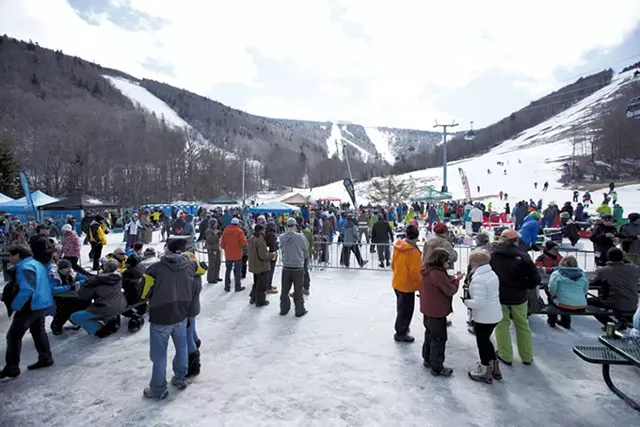 Courtesy Of Vermont Brewers Festival
For the first time, the Vermont Brewers Association takes its show to the snow with a winter brewfest. Visitors are invited to ski — ticket packages can include Killington lift passes for the vertically inclined — and sip pours from more than 30 local breweries. Sample a hop-forward pale from Frost Beer Works or perhaps a foudre-aged sour from Hermit Thrush Brewery, or check in with the folks at Lawson's Finest Liquids for a taste of a special brewfest cask. Live music and eats from Bluebird Barbecue, Woodbelly Pizza, Worthy Burger and more. Not imbibing? $10 designated driver tickets bequeath access to all but the beer.
Vermont Brewers Festival: Saturday, March 24, noon-3 p.m.; 4-7 p.m., K1 Base Area, Killington Resort. $10-111. Info, 448-3045, vermontbrewers.com.
More food events
Caturday! The Cat Wine Tasting You've Always Wanted: Friends of felines and the cat-curious sample German Riesling from cat-shaped novelty bottles. Saturday, March 24, noon-4 p.m., Beverage Warehouse of Vermont, Winooski. Free. Info, 655-2620, beveragewarehousevt.com.
Vermont Maple Open House Weekend: Maple fans partake in sugar on snow and boiler-side chatter in celebration of spring's beloved sweetener. Saturday, March 24, and Sunday, March 25. Various locations, statewide. Free. Info, vermontmaple.org.
Transcendental Inebriation: The Magic of Herbs in Booze: Gin: Students learn the history of gin — and then partake in a blind tasting. Sunday, March 25, 6-8:30 p.m., Railyard Apothecary, Burlington. $25-30, preregister. Info, 540-0595, railyardapothecary.com.