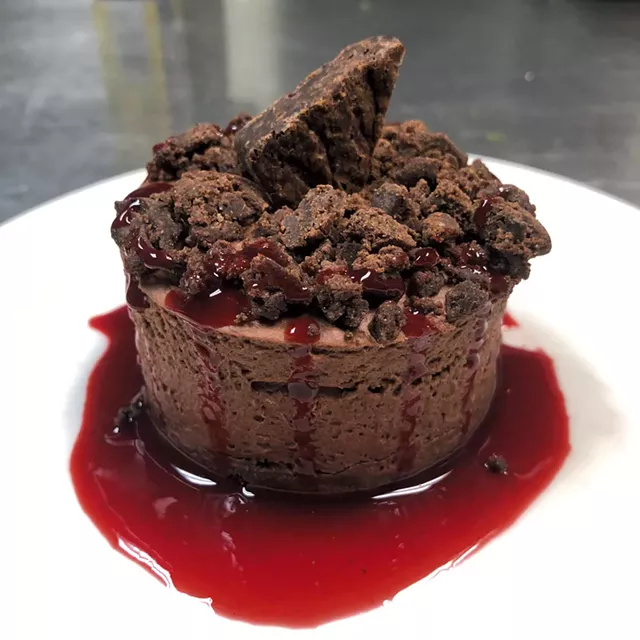 Courtesy Of Hatchet Tap And Table
Brownie chocolate mousse pie
Richmond's friendly downtown pub celebrates math's favorite irrational number with handmade pastries and world-famous beer. With Grassroots Distribution taking over the tap lines, visitors can sample hop-centered Hill Farmstead Brewery beers such has Double Galaxy and Amarillo IPA, along with named brews including Florence, Susan, Abner and Anna. Nibble on savory Québécois tourtière between heady sips of nitro bourbon-barrel-aged péché mortel from Montréal's Brasserie Dieu du Ciel! Or match a cheesy artichoke-and-pepper pie with a crisp pilsner. And save room for dessert: The kitchen's sweet spread will include pies brimming with Key lime custard, Vermont maple cream, chocolate brownie mousse and fresh fruits.
Pi Day: Thursday, March 14, 4:30 p.m.-close, Hatchet Tap and Table, Richmond. Cost of food and drink. Info, 434-3663; hatchetvermont.com.
More food events
Wing Fest 2019: Chef Dan Miele puts a bird on it with specialty wing deals and souped-up specials, plus a clucky tasting party with Zero Gravity Craft Brewery on March 21. Thursday, March 14-Saturday, March 23, 4:30 p.m.-close, Bluebird Barbecue, Burlington. Cost of food and drink. Info, 448-3070, bluebirdbbq.com.
Pruning and Grafting Workshop for Backyard Fruit Growers: Orchardist Zeke Goodband takes students into the apple trees for a how-to lesson on tree trimming and cultivation. Saturday, March 16, 9 a.m.-noon, Scott Farm Orchard, Dummerston. $50. Info, 254-6868, scottfarmvermont.com.
Chick Chat!: The poultry pros at Guy's Farm and Yard advise the chicken-curious on best practices for establishing a healthy home-scale flock. Saturday, March 16, 10-11 a.m., Guy's Farm and Yard, St. Albans; and Monday, March 18, 6-7 p.m., Guy's Farm and Yard, Montpelier. Free. Info, guysfarmandyard.com.