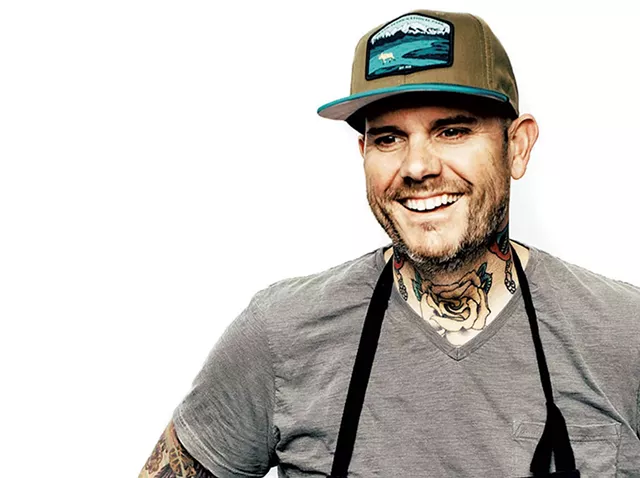 Courtesy Of Matt Jennings
Chef Matt Jennings
Acclaimed chef Matt Jennings teams up with the Essex Culinary Resort & Spa for a two-part cooking demonstration and supper. During the chef's afternoon workshop, Jennings — a four-time James Beard Award nominee and New England Culinary Institute grad — will walk students through recipes from his recent book, Homegrown: Cooking From My New England Roots. He'll also share tips for coaxing flavor from healthy, everyday foods. At the sit-down dinner that evening, he'll put his words to work on several plated courses crafted from regional ingredients in the Essex's restaurant.
Cooking Demonstration & Dinner with Matthew Jennings: Saturday, January 26, demonstration, 1-3 p.m., $50; dinner, 6:30-10 p.m., $98, the Essex Culinary Resort & Spa. Info, 878-1100, essexresort.com.
More food events
Hot Chocolate Bar: Chocolate factory visitors warm up with free cups of sipping chocolate. Feeling boozy? Add a shot of Mad River Distillers whiskey for $5. Friday, January 25, 5-7 p.m., Lake Champlain Chocolates, Pine St., Burlington. Free. Info, lakechamplainchocolates.com.
We Are Open AF Tuxedo Gala: The makers behind ZAFA Wines and Shacksbury ciders don "interpretative" tuxedos for a grand-opening bash pairing paella with local beverages and tunes from DJ Disco Phantom. Saturday, January 26, 5-10 p.m., CO Cellars, Burlington. Cost of food and drink. Info, cocellarsvt.com.
Ice Carving Competition & Ice Bar: Stowe Winter Carnival's pro ice sculptors show off their skills in a live carving competition; hopheads gather for fresh brews and snacks to boot. Saturday, January 26, noon-7 p.m., the Alchemist Brewery & Visitor Center, Stowe. Cost of food and drink. Info, 882-8165, stowewintercarnival.com.