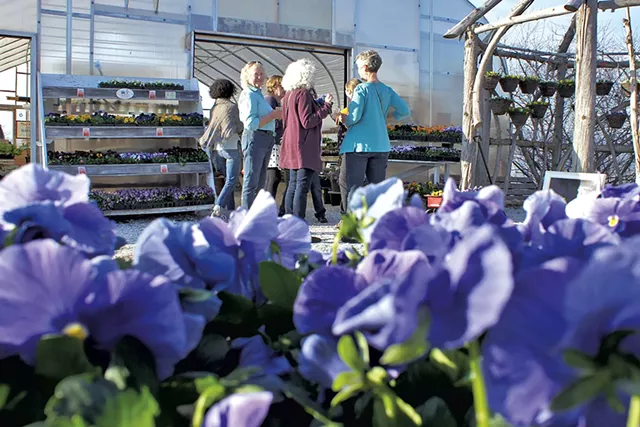 For its fourth annual spring-season kickoff party, Red Wagon Plants invites green thumbs and the greenhouse-curious on a sunset hoop-house wander. Peruse pansies, potted herbs and veggies while taking a backstage look at how the pros handle early-season planting. Since it's Friday afternoon, sip a boozy beverage made with Red Wagon herbs and tipples by Caledonia Spirits. If the garden dreaming and greenhouse chatting keep you out past suppertime, fear not: Farmers & Foragers food truck will dish out Vermont beef cheesesteaks, veggie poutine, perch po'boys and avocado tacos. Spring bonus: According to the weatherman, temperatures are forecast to be in the mid-50s — and our dear old friend sunshine is scheduled to appear.
Opening Day Cocktail Party: Friday, April 14, 6:30-8:30 p.m., Red Wagon Plants, Hinesburg. Cocktails, $5. Info, redwagonplants.com.
More food events
Backyard Composting Basics:
Tired of trashing banana peels and apple cores? Learn how, where and why to convert kitchen waste and other organic matter into food-growing fertilizer. Saturday, April 15, 10-11 a.m., Waterbury Public Library. Free; preregister. Info, 244-7036.
Pop-Up Easter Brunch: Middle Eastern and French flavors thread through a menu of biscuits, cured ham, coconut chicken and banana-fig tea cakes, presented by V Smiley of V Smiley Preserves. Sunday, April 16, 10 a.m.-2 p.m., Tandem, Bristol. Cost of food and drink. Info, 734-4236.
Bill Mares & Todd Haire: Journey through the craft-beer revolution with the brewers' book Making Beer: From Homebrew to the House of Fermentology. Tuesday, April 18, 7 p.m., Phoenix Books, Burlington. $3. Info, phoenixbooks.biz.