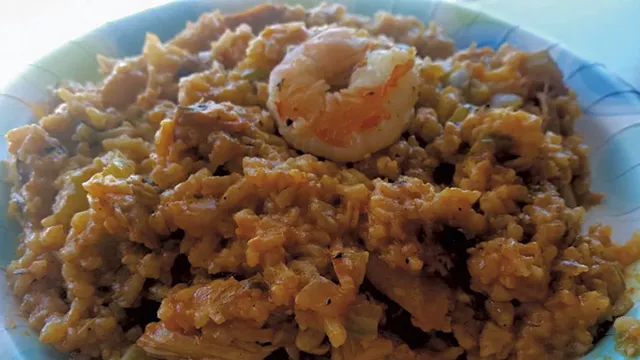 Courtesy Of Brian Stefan
Jambalaya at Southern Smoke BBQ
For the latest installment of his intermittent weekend residency at Four Quarters Brewing, Brian Stefan of Southern Smoke BBQ brings the Big Easy to the Onion City — just in time for Mardi Gras. On Sunday, March 3, brewery visitors can warm their cold Yankee hearts with chicken gumbo, pork grillades with crawfish gravy, and shrimp-and-sausage jambalaya. Sides including braised greens, biscuits and pickled okra — and handcrafted Belgian- and Flemish-style brews — round out the feast. For dessert? King cake, of course.
Sunday Dinners at Four Quarters Brewing: Sunday, March 3, 6-9 p.m., Four Quarters Brewing, Winooski. $10-20; free for kids under 6; RSVP online. Info, 391-9120, fourquartersbrewing.com.
More food events
Taste of the Kingdom: Green Mountain Farm-to-School teams assemble local chefs and farmers for an evening of small plates to benefit food-related children's programming. Wednesday, February 27, 6-8:30 p.m., Jay Peak Resort. $25-85. Info, 334-2044.
Bread Baking 101: Introduction to Baking With Sourdough: Amateur bakers learn the ins and outs of caring for starter along with mixing, fermenting, shaping and baking from-scratch loaves using natural culture. Sunday, March 3, 11 a.m.-3:30 p.m., Brot Bakehouse School and Kitchen, Fairfax. $120. Info, 370-4077, brotbakery.com.
Wild Edibles IX: Diners get weird with unusual plates such as monkfish liver, pigskin noodles, sweetbreads and more. Wednesday, March 6, 5-10 p.m., the Farmhouse Tap & Grill, Burlington. Cost of food and drink. Info, 859-0888, farmhousetg.com.