Courtesy of Miss Weinerz
A Miss Weinerz doughnut
Sip holiday-themed cocktails and snack on free treats from Miss Weinerz and Sneakers Bistro while shopping for gifts all around the Winooski roundabout. Vendors offer craft foods, clothing, jewelry and everybody's favorite stocking stuffer: goodies infused with CBD. Don't forget to leave some out for Santa. He'll need it.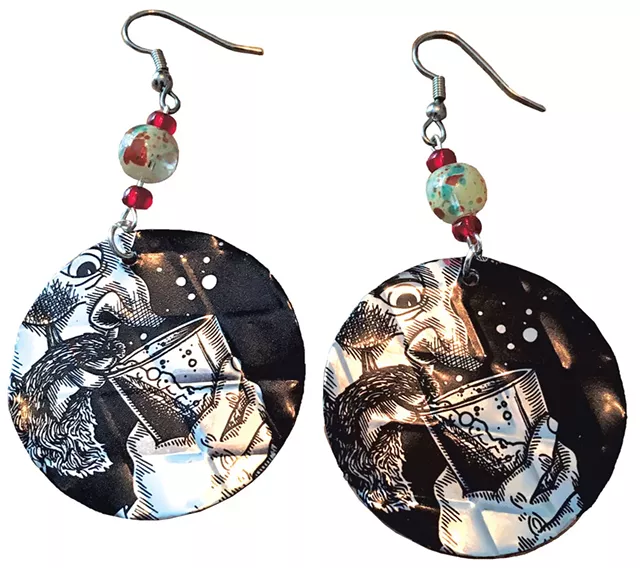 Courtesy of Vermont Beerings
Heady Topper jewelry from Vermont Beerings
Winooski Holiday Pop-Up Shop: Thursday, December 7, 4-8:30 p.m., various locations, Winooski. Free. Info on Facebook.
More food events
Full Barrel Cooperative Brewery & Taproom Holiday Homebrew Social: The Full Barrel Coop — a group that's striving to establish a cooperative brewery and pub in Burlington — invites the public to stop by and sample some suds. Beers will abound, along with appetizers, sweet treats and tunes. Saturday, December 9, 6-8 p.m., 12-22 North Street, Burlington. Free. Info, 365-4142, fullbarrel.coop.
Midwinter Fest: Where on Earth can a modern-day wayfarer feast on ox shoulder by a bonfire while sipping from a flagon of craft mead? Right behind Costco, of course! The fest is put on by the same wacky folks who gave us Thirsty Thorsday and the upcoming Viking Hanukkah Dinner. Saturday, December 9, 11:30 a.m.-9 p.m., Colchester's Mead Hall. Free. Info, 497-2345, colchestersmeadhall.com.
Happy, Healthy Holidays With Food as Medicine: Join Lisa Mase, an expert in the healing power of food, for a session on nourishing ways to handle the holidays. Tuesday, December 12, 5-6 p.m., Hunger Mountain Co-op, Montpelier. $3-5. Info, 223-8000, harmonizedcookery.com.