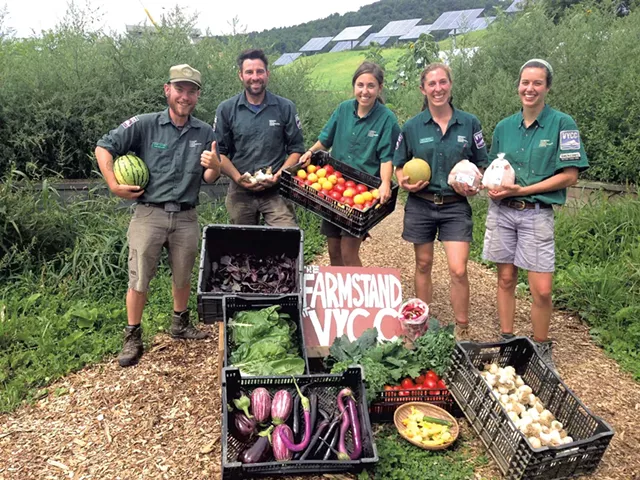 Tour the Vermont Youth Conservation Corps farm fields with youthful corps members, then return to the historic West Monitor Barn for cocktails and snacks. During the dinner hour, sup on five courses from chef Mike Kennedy, beginning with seared sea scallops and fresh green salads crowned with poached Asian pears and local chèvre, roasted tomato bisque dotted with basil oil, and Vermont-raised Berkshire pork braised in pinot noir, with sumptuous sweets to finish. If all that eating makes you feel like dancing, shake a leg to tunes by the Microfixers and friends. All proceeds benefit Health Care Share, a food assistance collaboration of VYCC and the Universitiy of Vermont Health Network.
Farm to Table Benefit Dinner: Saturday, August 12, 5:30-9:30 p.m., West Monitor Barn, Richmond, $50 per person; $90 for two. Info, 434-3969.
More food events
Fly Fishing Festival: Hook, line and sinker, anglers are all in for a day of casting workshops, fly-tying demos, vendors, Back Road BBQ bites and country music by Kelly Ravin. Saturday, August 12, 10 a.m.-4 p.m., American Museum of Fly Fishing, Manchester Center. Free. Info, 362-3300, amff.org.
Summer Reading Series: Cooking With Fire: Author Paula Marcoux shares her know-how during a flame-fueled cooking demonstration and preps dishes for a communal dinner with fire-roasted meats, wines and local cheeses. Sunday, August 13, 5-8 p.m., BigTown Gallery, Rochester. $25. Info, 767-9670, bigtowngallery.com.
Whiskey & Wilderness: Artist Rob Mullen whisks listeners away with stories of adventure and wildlife. Spirit tastings with Mad River Distillers, cocktails, s'mores and songs by Mayfly round out the evening. Thursday, August 10, 5-7 p.m., Shelburne Museum. Museum admission, $7-24, free for members, military and kids under 5; preregister; cash bar. Info, 985-3346, shelburnemuseum.org.