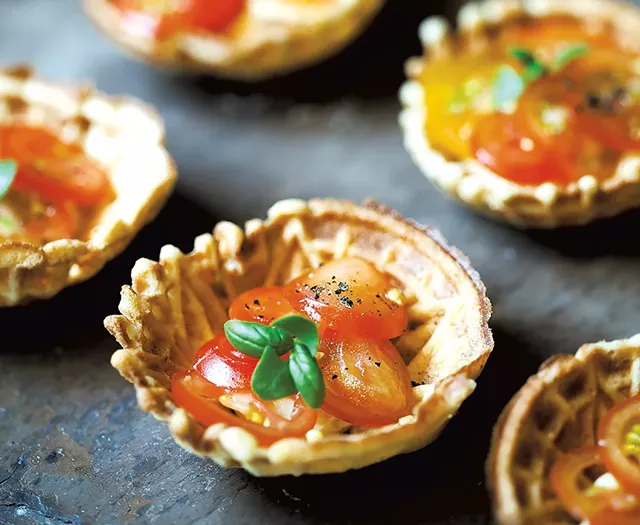 Courtesy Of Brent Harrewyn
As the Vermont Fresh Network celebrates its 21st birthday, it's uncorking some of Vermont's finest local spirits for its annual fundraiser. Graze baked treats, local cheeses, wines, and just-picked heirloom fruits and vegetables during the cocktail hour, then tuck in for a "farm-to-bar" dinner: You'll pair plates from the chefs at Bistro de Margot, Bar Antidote, Pascolo Ristorante, Bleu Northeast Seafood and others while tipping back sips from Caledonia Spirits, Shacksbury Cider, Eden Specialty Ciders, Lincoln Peak Vineyards and many more. An ice cream social and live music follow.
Vermont Fresh Network Forum Dinner: Sunday, August 6, 5-8 p.m., Shelburne Farms Coach Barn. $60-75. Info, vermontfresh.net.
More food events
Cai's Dim Sum Buffet: Gather with friends at Cai Xi's intimate parlor teahouse for handmade dumplings, steaming stir-fries, unusual desserts and rare exotic teas. Sunday, August 6, 5-9 p.m., Cai's Dim Sum Teahouse, Brattleboro. $28; reservations required. Info, 257-7898.
Bluegrass and BBQ: After a day hiking or biking the mountain, chow down on pulled-pork tacos, broccoli-and-bean salad, cornbread, and baked beans. Tunes by Granite Junction and Beg, Steal or Borrow. Saturday, August 5, 5-8 p.m., Bike Park, Burke Mountain Resort, East Burke. Buffet: adults, $22; children, $12. Info, 626-7300.
La Garagista Ci Confonde Release: Dedalus celebrates one of Vermont's most coveted homegrown wines with an evening of sparkling pours and fresh-shucked oysters on the lawn. Wednesday, August 2, 4-8 p.m., Dedalus Wine Shop, Market & Wine Bar, Burlington. Free. Info, 865-2368.