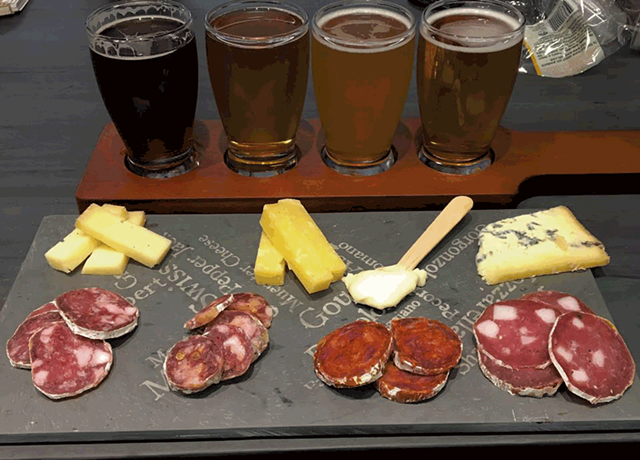 Courtesy Of Mad River Taste Week
Cheese Charcuterie Beer Tasting
In honor of all things fun and edible, the forces behind Mad River Food Hub and Mad River Taste Place have organized an eight-day foodie foray exploring the makers and shakers that give flavor to central Vermont's Mad River Valley. To open the festivities on Saturday, August 4, Erika Lynch of Babette's Table teams up with von Trapp Farmstead to spit-roast a pig on the Mad River Green. The next day, Knoll Farm celebrates with blueberries and from-scratch cinnamon buns. The week carries on with an array of opportunities to sample the local terroir. On Monday, August 6, herbalist Helen Ward schools Taste Place visitors on remedies from teas to tinctures; on Thursday, August 9, folks from Lawson's Finest Liquids sample brews at the Warren Store while Tin Hat Cider hosts a tasting in Waitsfield. Lactose lovers can sit for an elaborate cheese-forward dinner at the Inn at Round Barn Farm on Saturday, August 11 — and cap off the week with the Vermont Cheesemakers Festival on Sunday, August 12, at Shelburne Farms.
Mad River Taste Week: Saturday, August 4, through Sunday, August 12, various locations, Mad River Valley and Shelburne Farms. Prices vary by event. Info, madrivertaste.com.
More food events
Stowe Brewers Festival: Hop heads sip adult beverages from more than 40 breweries, cidermakers and distilleries, while enjoying snacks from food trucks. Live tunes keep the mood light. Friday, August 3, and Saturday, August 4, Mayo Events Field, Stowe. $20-45. Info, stowebrewersfestival.com.
Hunting Wild Mushrooms: Ari Rockland-Miller leads fungi fans into the hills in search of midsummer bounty such as chanterelles, black trumpet mushrooms, porcini and chicken of the woods. Saturday, August 4, 9 a.m.- 12:30 p.m., Green Mountain Club, Waterbury Center. $32-40. Info, greenmountainclub.org.
Will Bonsall: Radical Seedsman, Farmer & Visionary: Plant conservationist Will Bonsall talks self-reliant gardening and looks back on a lifetime spent working to preserve biodiversity in seed form. Tuesday, August 7, 6:15-7:15 p.m., Sterling College, Craftsbury Common. Free. Info, sterlingcollege.edu.