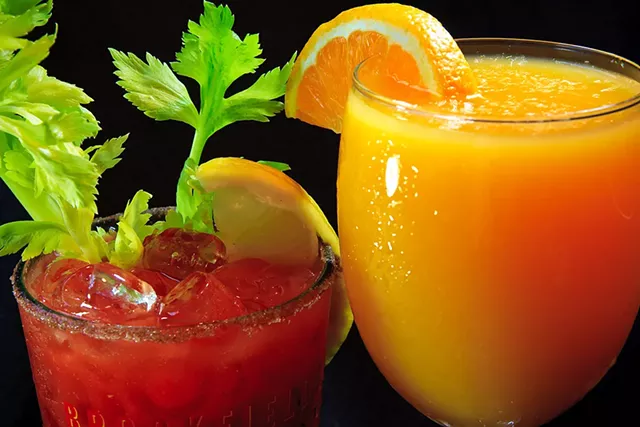 For some, a boozy brunch sets the groundwork for a solid Sunday Fun-day; for others, the midday meal can become a daylong activity. This weekend, Seven Days and the Essex Resort & Spa will host an eggy capstone event for Vermont Restaurant Week. Eight restaurants will convene at the Essex for a feast awash in vodka and mimosas. Build your own Bloody, then sample shakshuka, courtesy of Burlington's forthcoming Honey Road Restaurant; gingerbread pudding with rum and pecans from August First Bakery & Café; and biscuits and gravy, fried chicken with waffles, Benedicts, dim sum, and other treats made with love by some of Vermont's finest brunch chefs. What's more, Dwight & Nicole will bring swingin' soul tunes, and ticket sales benefit the Vermont Foodbank.
Bottomless Brunch Bash: Sunday, April 30, 9-11 a.m. and noon-2 p.m., the Essex Resort & Spa in Essex Junction. $35 for designated drivers; $45 with drinks. Info, vermontrestaurantweek.com.
More Food Events
53 Stations of the Tokaido Road Tea Dinner: For April's Isolé Dinner Club meal, chef Richard Witting and tea master Ben Youngbaer team up for a meal that draws connections between traditional Japanese dishes, teas and culture. Saturday, April 29, and Sunday, April 30, 4-9 p.m., Setting Sun Teahut, Plainfield. $60. Info, Facebook or 233-8604.
Earth Gardens & the Seeds of Life: Planting a Traditional Family Garden: Learn to plan, plant and tend a historically accurate native plot in a family-friendly workshop with Michael Caduto. Sunday, April 30, 1-2:15 p.m., Justin Morrill Homestead in Strafford, $5 per individual; $10 per family. Info, morrillhomestead.org.
Herbal Chocolates: A Sensory Culinary Adventure: From lavender hot cocoa to Aztec cacao bark, sweets lovers create their own custom chocolates in a hands-on workshop. Tuesday, April 25, 6:30-7:30 p.m., Railyard Apothecary in Burlington. $25. Info, 540-0595.