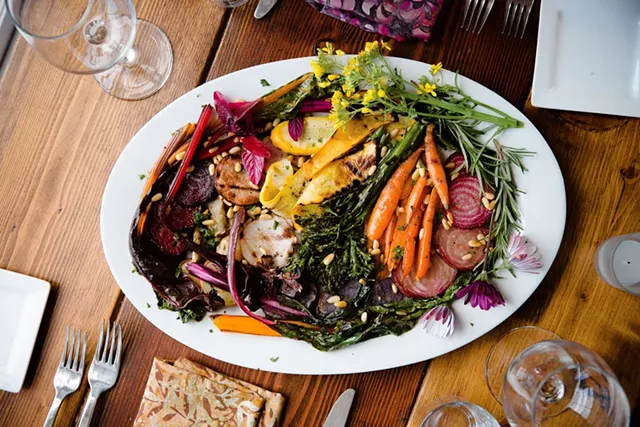 If the past week's weather has you wanting to duck under the covers, we get it. Maybe a three-course meal would help? The ninth annual Vermont Restaurant Week kicks off on Friday. Notable plates from this year's 115 participating restaurants include Korean-barbecue steamed buns with smoked pork belly (Hired Hand Brewing, Vergennes); handmade pasta with braised lamb, preserved lemon and feta (duo, Brattleboro); Brazilian truffles (the Bearded Frog, Shelburne); and an entire menu inspired by fairy tales (the Daily Planet, Burlington). Events include a cheese tasting and food-writing class, a panel discussion on the agricultural and culinary potential of hemp and CBD products, and a foodie trivia night. The weeklong feeding frenzy finishes with a boozy brunch at the Essex Culinary Resort & Spa on Sunday, April 29.
Vermont Restaurant Week: Friday, April 20 through Sunday, April 29, various locations, statewide. Cost of food and drink. Info, vermontrestaurantweek.com.
More food events
Brewhop Brewery Tour: Bottoms up! Imbibers board a bus for a tour of five Chittenden County craft breweries. Saturday, April 21, noon-6 p.m., Foam Brewers, Burlington. $49. Info, bestinvt.com.
Community Storytelling at Bread and Butter Farm: Friends and family gather to share and enjoy true tales of notable "firsts." Dinner by the folks at All Souls Tortilleria will include ample meat, vegetarian and gluten-free options. Saturday, April 21, 5-8 p.m., Bread & Butter Farm, Shelburne, $10-15, preregister. Info, 985-9200, breadandbutterfarm.com.
Cured Meats Apericena: In a how-to crash course, Salted and Cured author Jeff Roberts and Italian butcher Zazie Micheletta discuss the culture and creation of specialty cured meats. Includes edible examples from Agricola Farm and Babette's Table. Sunday, April 22, 4-7 p.m., Agricola Farm, Panton. $54-60, preregister. Info, agricolavermont.com.