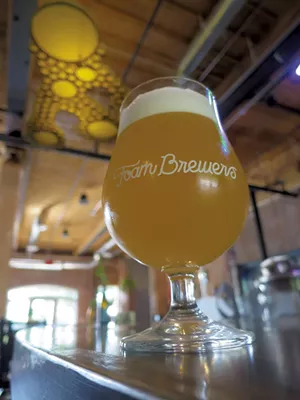 For its fifth annual celebration of the farmhouse-style ale, Maine's Allagash Brewing is teaming up with Burlington's Foam Brewers for a waterfront tasting extravaganza. The sudsy soirée starts at 11 a.m. with a can release — visitors can snag tall-boys of Foam's Like Clockwork and Experimental Jet Set — followed by a saison tap takeover. Beers on draft include a dry-hopped Foam-Allagash collaboration fermented in the French style, along with an aged draft from Foam's sister brewery, House of Fermentology. Six other brews will also be on tap. Street eats from Caja Madera taco truck accompany beats by DJ Disco Phantom.
Saison Day: Saturday, April 14, 11 a.m.-9 p.m., Foam Brewers, Burlington. Cost of food and beverage. Info, 399-2511, foambrewers.com.
More food events
Opening Day Cocktail Party: Green thumbs and the horticulturally curious celebrate springtime with greenhouse tours, Caledonia Spirits cocktails and snacks from the Farmers & Foragers food truck. Friday, April 13, 6-8:30 p.m., Red Wagon Plants, Hinesburg. Cost of food and drink. Info, 842-4060, redwagonplants.com.
Introduction to Greenhouse Design and Construction: During a two-day course, small-scale growers examine design elements for siting, installation and maintenance of high tunnels, greenhouses and low tunnels, with an eye toward four-season food production. Saturday, April 14, and Sunday, April 15, 9 a.m., Eleven Acre Farm, Charlotte, $100-180 sliding fee; reservations required. Info, burlingtonpermaculture.weebly.com.
Origin Stories: A Tasting With Allison Hooper of Vermont Creamery: Vermont Creamery cofounder Allison Hooper teams up with award-winning cheesemonger Rory Stamp for storytelling and a guided wine-and-cheese pairing. Sunday, April 15, 1-3 p.m., Dedalus Wine Shop, Market & Wine Bar, Burlington. $65. Info, 865-2368, dedaluswine.com.