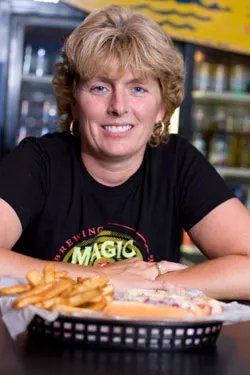 Wednesday, September 17, 2:30 p.m.: In four hours, leather-clad ladies and gents will line up their chrome, two-wheeled babies outside of Harley D's and stroll in for cold beer and hot eats. The Nobby Reed Project will blast head-boppin' blues in a dimly lit corner. An attorney will sit near a table of Mexican farmhands. Drinks will flow. Wings will fly.
But for now, Harley D's co-owner Staci Grenon is savoring the afternoon quiet at her St. Albans Town restaurant. She knows it's short-lived. After all, this is Biker Night, held every third Wednesday of the month. So she takes the moment to discuss why Harley D's is more than a biker bar, though she doesn't exactly discourage the label.
"I call this a family restaurant and tavern," Grenon says from a Harley Davidson barstool. "I want to keep this a family-type establishment. I don't want it to be a bar bar. A lot of people think it's a biker bar, but some people come here to be part of biker culture. If that makes them feel better, I don't mind."
Not all of Grenon's regulars are bikers; actually, more than half are not. She says they're attracted by all three components of the Harley D's motto: "Good food. Cold beer. Casual family dining." She could have added "great people." More on that in a bit. But first, how did Staci Grenon and her husband Kurt happen to build one of Franklin County's most popular — and enduring — eateries?
It started in 2006, when the Grenons — both Vermont natives in their mid-forties — decided to move their heating and ventilation business, MIT Insulation, out of their South Hero home, where they'd been operating it since 1999. Seeking new digs, they found a 2800-square-foot former car dealership on Lake Road in St. Albans. The printing business that had bought the property never opened, so the building went to a foreclosure sale. At auction, the Grenons had to put down $25,000 cash.
"We cut a check," Staci recalls. "In 10 minutes, we spent an outrageous amount of money on this building."
Months later, the Grenons wanted to hold their MIT holiday party at The Docks Pub & Grill, across the road, but it closed. Instead, they sizzled steaks and served drinks in their shop.
"You know?" Staci recalls their thinking. "Why don't we just open our own place?" Though neither had restaurant experience, they decided to run an eatery out of the same building that housed their business.
******
Work began that January. The Grenons and friends personally renovated the whole space to seat and serve 86 people, right down to the eye-catching orange-and-black-checkered floor — Harley Davidson colors. They opened on April 21, 2007.
Since then, St. Albans has been a revolving door for restaurateurs, due to the faltering economy. Some lowlights: The Docks became Lucy's, which became a Thai-food house. McGuel's Irish Burro closed on Lake Street. Il Panino stopped serving (but may reopen with Tex-Mex fare). The Old Foundry closed. And, most recently, the Always '80s Restaurant shut down (after it succeeded a Vietnamese restaurant). Never mind the closings of a Quiznos, a Wendy's and a Pizza Putt-type joint named Pizzarena.
Staci Grenon says Harley D's will survive, because her menu doesn't pretend to be something it isn't. It's laden with appetizers, soups, salads, burgers, wraps and sandwiches. There are entrées and pasta dishes, but people go to Harley D's for bar food. Good bar food, served on cookie-sheet-sized platters. The Grenons have three full-time cooks and one part-time prep cook.
Harley D's is renowned for its wings, 9-ounce Angus burgers and vast array of bottled, canned, draught and flavored beers — from Pabst Blue Ribbon and Rolling Rock to Red Stripe and Guinness. (Sorry — no hard liquor.)
The daily happy hour features wings for $4.50 a dozen. Thursday is all-you-can-eat wings night from 4 to 6 p.m. for $7.99. There are 25-cent wings and $1.50 Bud pints on Sunday. And children eat for half price on Tuesday.
"I feel we can make it, because people love it here," Staci says. "There are few complaints. If there are any, they're taken care of. We're not perfect. No one is."
The Grenons decorated Harley D's with memorabilia from long-time biker Kurt's personal collection. Bike-rally flags cover the walls, along with bike seats and parts. An antique gas pump Kurt secured from a former MIT customer stands in a corner. Metal signs — sold at the Harley D's gift shop — adorn various doors. (Examples: "3 Things I Don't Like: Hot Beer, Cold Women, Assholes" and "John Wayne Will Always Live.")
Over the bar, an eerie steer's skull hangs beside a child's drawing of Harley D's — a reminder of the place's family orientation. (Harley D's skirts major lawsuits by not selling Harley Davidson merchandise or parts and avoiding any use of the company's famous logo.)
Harley D's has never had a fight or an issue with drug use, says Staci. Yet cops circle the parking lot, she says, perhaps assuming her place is filled with gangs, dope and the kind of outlaws who nearly ripped Pee-wee Herman apart before he wowed them with his dance routine to The Champs' "Tequila."
"Once you've been in real biker culture, you see it's not like that at all," Staci says. "They're real teddy bears."
She has biked since 2005 and bought her first new Harley this year, a Rocker "with a big fat tire on it." She parks it outside Harley D's near a sign that says "Madame Commissioner." Her husband started riding as a youth, on dirt bikes. He bought his first Harley in 2003 and owns a 2008 Fat Boy. They just returned from a 2-and-a-half-week, 3000-mile road trip to South Dakota.
"I just like the freedom out there," Staci says. "You get a lot of respect when you're on a Harley. And when you go to a bike rally, you're the same as anybody else. I haven't met unfriendly people yet."
Generous ones, certainly. In April, Harley D's hosted a Tuesday Kids' Night fundraiser for a new playground at the St. Albans City School. A combination of silent auction proceeds, donations and 10 percent of meal purchases pumped $1500 into the playground fund. Since then, Harley D's has held charitable events for the St. Albans Town Fire Department and other organizations.
"It's for the community," Staci says. "To me, offering that kind of help is like buying local."
She pauses and smiles. "You know," she adds, "I don't have two children now. I have a family of 200 in this place. This experience has been the most rewarding I've had, other than those two children."
She laughs. "But it's also a pain in the ass. It's a ton of work. But it's worth it for me and the people here."
Locals flood Harley D's on Biker Night, but groups also ride in from Canada, New York, Milton and Burlington. Kevin "Lurch" Malloy — who describes himself as "5 feet, 19 inches" tall — and Dennis Deloy, both of Georgia, attend Biker Night regularly.
"A lot of people think bikers are a bunch of hardcore people who don't give a shit about anybody," Malloy says on September 17, perched at the bar with Deloy. "They think we're a bunch of Hell's Angels that are always beating up Rolling Stones fans."
"Or," Deloy adds, "they think you're elitist."
Neither is true, they say. Deloy, a 56-year-old plumber, has been riding for 41 years and owns a BMW motorcycle. Malloy, a 49-year-old mechanical engineer, moved to St. Albans from Chicago a year ago, for a job with New England Central Railroad. He's seen many biker bars in his years as a Harley enthusiast and says Harley D's stands out, because it offers an eclectic mix of bikers and townspeople. Deloy likes that.
"Here," he says, "it doesn't matter if you drive a Harley Davidson or a Honda. Everybody gets along."
"It's 'ride,'" Malloy says.
"What?"
"It's 'ride.' You always say 'drive.' Ride, ride, ride. We 'ride!' We don't 'drive!'" He grins at Deloy.
"See?" Deloy says. "We all look after each other."
Camaraderie keeps them coming back to Harley D's — but there's more.
"The food is excellent," Malloy says, after he lifts a honey barbecue wing from a buddy's plate and sucks meat off the bone in one jaw-dropping motion. "I'm the unofficial wing king here. I've eaten 82 wings in one sitting, on wing night. I only stopped because they had to close."