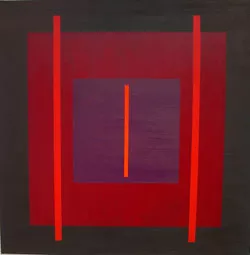 "Untitled 2008 #19" by Paul Gruhler
Two different kinds of vibrant abstraction, produced by two supremely confident, mature painters, appear this month at 215 College Street Artists' Cooperative Gallery in Burlington. Wolcott artist Lois Eby presents 12 energetic works on paper and linen that employ a limited range of hues but a wide array of shapes and visual textures. Paul Gruhler's eight canvasses and two works on paper are hard-edged abstractions. Like Eby, the Mont-pelier artist limits his palette, but, unlike her, he reduces form to broad rectangles, squares and straight lines. Despite the differences between the two bodies of work, both creators are indebted to Asian art.
That influence is most evident in Eby's work. "Rhythms From a Moment of Joy" is a 44-by-33-inch ink and acrylic on paper that includes broad circles and black brush strokes up to 2 inches wide. In her artist's statement, Eby says, "When I paint, I pursue energy, a rhythmic vitality that moves through space and into and out of forms." She cites Zen brush painting and jazz as resources. Eby's forms are isolated, like individual notes in a Charlie Parker solo, and her colors are all variations of the primary hues red, yellow and blue. The white space of the picture plane is left intact.
"Song in Three Parts" is a triptych in ink and acrylic on paper, and each of its 30-by-22-inch pieces is a burst of mark making. Eby creates a sense of weightlessness in her pictures by refraining from bringing the brushwork to the edge of the paper or overlapping her chromatic utterances. The primary hues surrounding calligraphic dark brush strokes border on completely raw, as if the three colors have no time to blend as they dance across the paper's surface.
Gruhler comes from the mid-20th-century tradition of geometric abstraction exemplified by Kenneth Noland, Ad Reinhardt and Josef Albers. But he cites other influences in his artist's statement, including the more gestural Mark Rothko and Clyfford Still. Gruhler also describes being inspired by an artist by the name of Bing Gee, whose studio in New York City's Chinatown was the first he ever visited.
Gruhler's images, however, have none of the expressive brushwork associated with Asian painting. Instead, he writes, "I'm in awe of the refinement of form that I find in the Sung and later dynasties."
Raw beige linen surrounds a matrix of four large squares, like a four-paned window, in the 40-by-40-inch "Untitled 2007 #23." The squares are varieties of red oxide, and a pair of parallel brown vertical lines crosses them at right and left. The image is in perfect linear balance, but Gruhler's extremely subtle colors impart tension.
The 40-by-40-inch "Untitled 2008 #19" is a group of concentric squares — purple in the center, surrounded by magenta, which is surrounded by brown — overlaid with three red vertical lines. A red-orange line perhaps an inch wide bisects the inner purple square, and broader, longer red lines flank it. It's a minimal image, yet Gruhler's perfectly calibrated masses and colors create drama. This might be seen as a somber painting, with the red verticals receding into a brown and purple mineshaft. But the imposition of such a narrative would not do the image justice. Gruhler's works are abstract to the core; their true drama is found in an exploration of proportion and hue.
As we proceed into the 21st century, narrative content seems to be ascendant in the newest generation of visual artists. Yet the nonobjective abstractions of Eby and Gruhler demonstrate that the purity of formalism remains a vital force, even if — for the time being — paintings free of narrative constraints are swimming against the tide.