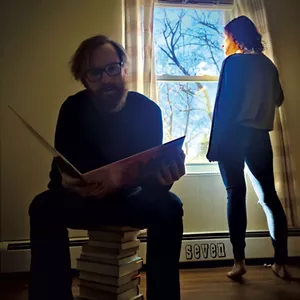 (Self-released, digital)
Vermont's music scene is not impervious to the fallout of the COVID-19 pandemic. With large public gatherings off-limits, Eastern Mountain Time, the Burlington alt-country band fronted by guitarist and singer Sean Hood, pivoted from a planned Northeastern tour supporting its new LP, Seven, to a quickie digital release on April 7. "I didn't want to wait for who-knows-how-long to share these recordings with my friends and family," Hood wrote on Bandcamp.
Fresh listening material couldn't have come at a better time. Seven serves a certain emotional need that may be particularly pervasive during quarantine: You know those days when it actually feels good to be a little sad? Next time one of those rolls around, Seven is your soundtrack. Eastern Mountain Time's third full-length album maintains the melancholy mood of their previous releases.
Lyrically, Hood is all kinds of self-effacing. Example: The dude wrote a song called "(If You're Missing Me) You Ain't Missing Much" for the band's 2017 album Mountain Country.
On Seven's first cut, "Dolores Park," Hood broods over past failures: "How could I return with all I did not learn? / Just this scar on my cheek / Not one penny earned, few more bridges burned / And a month with no sleep."
If Hood's narrator has made mistakes, at least he's self-aware. On "Marlboro '99," he seems to acknowledge that a guy can only play the role of endearing fuckup for so long: "Lonesome like a just-quit smoke / Washed up like some '80s joke / Sleeping one off in the sand / And I don't know if it was funny then / But, man, it's breaking me now." A valuable realization, indeed.
The record isn't all doom and gloom, though. "All We Need" is a buoyant honky-tonk number made for swigging cheap beer in sticky-floored establishments with your partner in crime.
Maddy Hejna and Gena Zollman bolster Hood's adequate singing with shadowy background vocals throughout most of the album's seven songs. On "Darker Now," just after Hood warbles, "And now my mother on the phone / She says her new couch is a fold-out / And I could still come home," the women pipe up with ghostly "Oooh, ooohs." It's almost comical how perfectly the sound reinforces the horror of crashing at your parents' house as an adult.
Other players include bassist Alex Bigelow (who also rips a heartbreaking guitar solo on "Marlboro '99"), drummer and guitarist Danny LeFrancois, pedal steel whiz Anthony Naples, and Sam Buck on synth. (Hood says Buck also served as the album's de facto coproducer.)
Alt-country fans will surely be crying into their beer when Hood and company can finally take these songs on the road. And when will that be? As he sings in "On the Carolina Wind," "Only time will tell if the times will change."
Seven is available at Bandcamp.