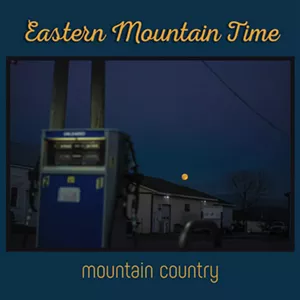 Eastern Mountain Time, Mountain Country
(Macadam Blight Records, digital download, vinyl)
Sean Hood is consumed with inevitability. Throughout the 10 tracks of his band Eastern Mountain Time's latest album, Mountain Country, he writes and sings with a leery and foreboding self-awareness. Losing, he seems to suggest, is as habitual as the vices evidenced by the empty bottles and cigarette butts that litter his songs. The tracks are not entirely defeatist. But if Bob Seger's "beautiful loser" were to write a shambling, low-key country album, it might sound a lot like Mountain Country. And that's a compliment.
On the surface, the Burlington band's second full-length — a follow-up to 2016's Back Home — checks all the thematic boxes that a classically rooted country record should: bad choices, broken hearts, regret — and booze. But throughout, our not-always-reliable narrator navigates a minefield of human frailty and failure with equal parts cynicism and empathy.
This is shuffling, 1970s-style country music as much by way of urban poet Charles Bukowski as Gram Parsons. As a result, the album has an edge that saves it from sad-sack navel-gazing.
"Fool That I Am," the record's third cut, is a prime example. Here, Hood excoriates himself for clinging to a bad relationship. "I try to talk like I hate you, then I try to forget / I've been drinking like a bigger man, and it ain't working yet," he sings in plain, unvarnished tones. Then, "'Cause if you came back running / I'd probably let you in / If you told me that you're sorry / I'd probably believe you, fool that I am." But by song's end he understands his lingering heartache isn't noble; it's just another bad habit to be stamped out: "But I meant it when I said it, honey, I'll quit smoking."
Similar revelations occur throughout the record, discovered like crumpled dollar bills in your jeans pocket after a long night out. "I Guess I've Had Enough Too" is a cunning and cutting tale of letting go. On "Same Ways," Hood ruminates on the predestination of family. Cheeky and woozy, "(If You're Missing Me) You Ain't Missing Much" is self-loathing at its finest.
Hood's band matches his unhurried style with taste and restraint. Drummer Danny LeFrançois and bassist Jason Pappas form a perfectly understated rhythm section, colored by pedal steel player Brennan Mangan's ringing, elastic tones. Altogether, Mountain Country could serve as either the soundtrack to wasted nights or to the odd clarity of the hangover that sometimes follows them. Bottoms up.
Mountain Country is available at easternmountaintime.bandcamp.com. Eastern Mountain Time celebrate the release of their new record on Wednesday, November 15, at the Light Club Lamp Shop in Burlington.