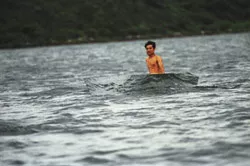 EXHIBIT: "Past in Reverse: Contemporary Art of East Asia" Hood Museum of Art, Dartmouth College, Hanover, N.H. Through March 12
ARTWORK: "Mirrored Boat" by Leung Mee Ping
As globalization makes the Earth seem smaller, global cultural dialogue appears to make the art world larger. Dartmouth's Hood Museum exhibition "Past in Reverse: Contemporary Art of East Asia" features superb works in a broad range of media from Japan, Hong Kong, mainland China, Taiwan, and South Korea -- exemplifying art's internationalism. More than 20 artists appear in the show, and each seems to have seamlessly integrated the contemporary and the traditional in their own, cutting-edge way. As with much contemporary American art, conceptual underpinnings abound in "Past in Reverse."
Good conceptual art isn't important simply because the artist claims a conceptual basis for his or her project. It's good because it's original, visually engaging and intellectually sophisticated. "In Search of Insomnious Sheep" by Hong Kong artist Leung Mee Ping passes muster on all three counts. In Leung's project, a lone shirtless sailor, in a small dinghy encased by reflective material, was towed by a large passenger vessel around Hong Kong's heavily trafficked Sai Kung coast. The mirrored dinghy was invisible on the water, and its passenger was equipped with a wireless microphone he used to verbally reflect upon his visually reflective journey to the distant travelers on the large passenger craft. Leung's subtle, virtually Taoist point was "to construct a kind of 'formless,' reflective space for existence," she writes in her artist's statement? Her intriguing mirrored boat, a projection of the event and a recording of the sailor's reflections are presented at the Hood.
Gunpowder is a 1500-year-old Chinese invention, and international artist Cai Guo-Qiang created a monumental 12-by-18-foot drawing out of gunpowder, entitled "Painting Chinese Landscape Painting" specifically for "Past in Reverse." The image is two abstracted mountain peaks divided by a river, but it also looks somewhat like a crane spreading its wings. But Cai has pushed the idea further by choreographing U.S. military jets to recreate that image in white vapor at an air show. On another occasion, violence and beauty were more fully integrated. "Painting Chinese Landscape Painting" was rendered in fire at a ground-based exposition of military hardware in southern California. Videos of Cai's creation of the drawing, and of his monumental performance events, appear at the Hood. Cai was born in China but now lives in New York.
Japanese artist Hiroshi Fuji's "Vinyl Plastics Connection" project was inspired by a stint of art teaching in New Guinea, where Fuji was amazed by how much plastic litter locals were reusing in that otherwise pristine environment. Back in Japan, he started setting up swap meets for Japanese children to trade plastic toys. Fuji's "Past in Reverse" installation features hundreds of playthings made from cast-off plastics set around a 20-foot-tall Godzilla nemesis known as Ghidrah the Three-Headed Monster, sculpted from bubble wrap and other transparent plastic litter.
Sixty-year-old minimalist Soun-Gui Kim was born in Korea and now resides in Paris. She's an associate of the pioneering video-artist Nam June Paik. In Kim's "Lunes" series of 32-by-23-inch, black-and-white gelatin silver prints, sparse bands of white light are captured on black fields of space. The work originated in paintings of video-test patterns Kim produced in the early 1980s at Paik's behest.
Kim's "Pap-gre" features a simple video projection cast upon a vessel built in the moon vase form. Moon vases date back to Korea's Choson Dynasty and were constructed strictly for beauty, rather than function. Kim projects two flitting butterflies caught in a "dance of emptiness" with two small frogs onto the opalescent white vase -- an allusion to the Buddha's "discovery of reality."
The depth and dynamism of "Past in Reverse" suggests that East Asia is poised to assert global artistic hegemony in the 21st century. While contemporary American and European academic artists seem capable of little more than lampooning, or just plain ignoring, Western cultural identity, the contemporary Asian artists at the Hood Museum are brilliantly assimilating, challenging and, ultimately, redefining their own.
The western shore of the Pacific Rim has much to teach the western shore of the Atlantic.