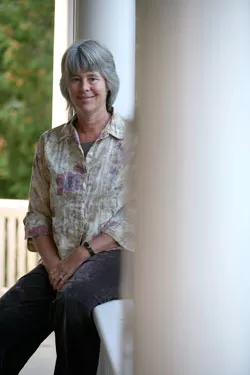 Jordan Silverman
Megan Epler Wood
With November around the corner, Vermont's snowbirds and globetrotters probably already have their tickets booked for their next tropical travels. But just how green are their getaway spots? Are resources being used, or abused? Are local guides being paid, or flayed? And what will the travelers' footprints mean for the future of their destination's environment and economy?
As the Burlington-based founder of The International Ecotourism Society (TIES) and a pioneer of ecotourism, consultant Megan Epler Wood helps answer such questions and more. She's been a Vermonter for nearly 20 years, first living in Bennington, where she founded TIES in 1990, and then relocating to the Queen City in 2000.
Her company, EplerWood International, advises government, private businesses and other entities on how they can develop sustainable tourism and ecotourism. Last month, Condé Nast Traveler named Epler Wood one of 10 "Trail Blazers" in its "World Savers" issue.
Recently, Seven Days sat down with Epler Wood in her Hill Section home office to talk tourism.
SEVEN DAYS: What led you to found the International Ecotourism Society?
MEGAN EPLER WOOD: I was an independent filmmaker doing documentaries on environmental topics, and I pitched [National Audubon and Turner Broadcasting] the idea of tourism as a tool for conservation and sustainability. There was really almost no word for it at the time. That [film] came out in 1991 . . . we shot it in Kenya, Montana and Belize. Through that process — I'm just this assiduous researcher, and I was very excited to have this contract — I contacted hundreds of people, I was so excited. As a result, I started to realize there really was an emerging trend here that needed more organization.
SD: How does tourism affect development pressure?
MEW: It is an industry without smokestacks. Time and again, governmental leaders in developing countries allow tourism to develop without the land-use regulations necessary to protect local landscapes. Generally, even the most sophisticated countries in the tropics have simplistic development regulations.
SD: How has [TIES] grown in the past 18 years?
MEW: A lot! There was no field, no profession, no academic study of any real relevant nature at that point. And now there are all of those. We brought in dozens of universities from all around the world. Also big NGOs like the Nature Conservancy and Conservation International. George Washington University had a big tourism program . . . they jumped on board right away, too. We began to build outreach to all of the private businesses that were working in adventure travel. They'd be getting to these places, from wild rivers to jungles to deserts to the savanna, and thinking, "We can't just be here without helping to save this place."
SD: Now you're an ecotourism consultant. Why is there a growing demand for such people?
MEW: Our world has an ever-growing number of destinations that want to be on the "radar" for travelers who are interested in unique geographic, cultural and ecological amenities. Ecotourism consultants help these destinations to create attractions that bring in commerce from travelers who genuinely appreciate what they have to offer and are willing to pay a fair price for services. Just in the past two weeks, I've dealt with a request for a consultant who can help design tours for mountain climbers in a highland coffee region of Indonesia, a planner who can link tourism on the coast to local organic food producers in northern Montenegro, and an architectural designer who can help conceptualize the appropriate lodge or boardwalk design for a bird-watching location in Rwanda.
SD: What is it like to travel to all these far-flung places from Burlington?
MEW: It's pretty good — better than Bennington!
SD: How many places have you been to?
MEW: I'm not one of those people who just rush around; I tend to focus on certain countries, so I think it's something like 35 where I've actually worked. I'm a partner in NativeEnergy now, which has made me much more conscious of my carbon impact.
SD: Do you have a favorite place that you've worked in?
MEW: I always used to say Ecuador . . . in the '90s I did a lot of projects there. I've always found it to be a very inspiring country. I think the people are unusually oriented toward conservation, and I love the mix. It's a true Latin American country.
SD: What's an example of bad ecotourism?
MEW: Say there is a protected area. Slowly but surely, some local hoteliers or operators will just start bringing people in without any planning, and they can start trampling everything over, scaring away all the wildlife, putting themselves in danger — or putting people on boats without any life vests, and boats can sink, and the animals can be threatened, and the local people can be excluded from the process and get very resentful and angry.
SD: What are some countries where this has happened?
MEW: Well, on my website I talk about going to Angkor Wat in Cambodia right now; that is just shocking, what's going on there. People flood in to see it, and you see this incredibly rapid growth of not just junky hotels but high-end hotels drawing water straight out of the aquifer, absolutely no controls, and polluting every local resource with straight-out sewage from the hotels, and no oversight and control at all, and the local people being given nothing but the lowest-wage jobs.
SD: What about the flip side?
MEW: I've always liked Belize. I think it's a nice example where the protected-area system and all the entrepreneurs and the government itself have really worked hard to partner to try and protect the area, benefit local people.
SD: How can travelers know if they're going to a reputable country?
MEW: There's a long-term effort to try and set up standards for sustainability, and the United Nations Foundation is launching the sustainable-tourism criteria . . . but we have to wait and see what that implementation process will be.
SD: Are there areas overlooked or underestimated by travelers that you would recommend?
MEW: Well, yeah, I think parts of Central America — you can get off the beaten path — like Honduras or Nicaragua.
SD: Do you do any work domestically?
MEW: Very little. I did a really interesting job on the border of Tijuana in this town called Imperial Beach. The city council wanted to put together an ecotourism plan; it was a great project, because they had a huge amount of wetlands in the area.
SD: Is there any need in Vermont for the kind of work that you do?
MEW: We're so well organized here, I don't feel like a consultant like me has that much to offer Vermont — there's so much talent already.