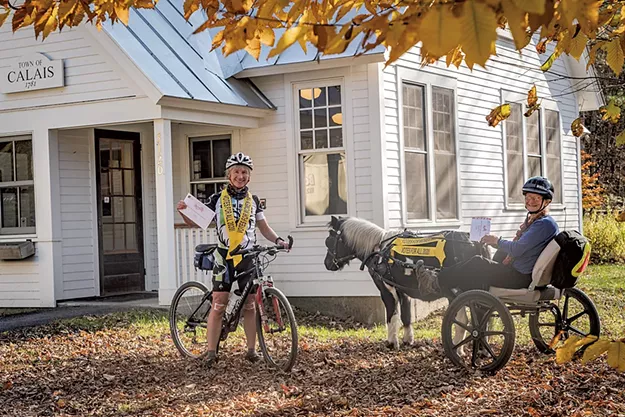 Terry J. Allen
Donna Smyers, Cindy Gardner-Morse and Dolly dropping off ballots in Calais
Terry J. Allen
Joe Martinez working at the Salvation Army in East Montpelier. Martinez, whose father fled to the U.S. from Fidel Castro's Cuba, went for Trump in 2016 but will vote for Biden in 2020.
Terry J. Allen
Karli and Justin Brown supporting Trump and QAnon in Woodbury
Terry J. Allen
Anne Ferguson and Nancy Schulzof Montpelier
Terry J. Allen
Separated by a plastic curtain, Fran Weinbaum is visiting and fi lling out ballots with her mother, Elvira Woodworth, at Heaton Woods Residence in Montpelier
COURTESY OF DANI SMITH
Diagnosed with Ewing's sarcoma, a type of bone cancer, Peyton Smith of Montpelier, who turned 18 this spring and is currently in hospice, was determined to vote. His mother, Dani, took this photo and wrote: "I hope his dedication to voting will inspire others to take the time and vote! It meant the world to him."
Terry J. Allen
Calais resident Aranya Phonjan Azarian, 19, is voting for the first time. Hooligan, 10, will have to wait.
Terry J. Allen
Scott Luscombe, who lives in Hyde Park, is a master forester and a voter.
Terry J. Allen
Larry Bowling and Joe Shadroui on their porch in Barre
Terry J. Allen
Deborah and Jim Lacourse, reunited childhood sweethearts, have a giant Halloween display in their East Montpelier yard, along with the pro-Trump signage.
Terry J. Allen
Dorigen Keeney and Carl Powden down on the farm in Johnson. The piggies, Maybelline and Stella, won't be voting.