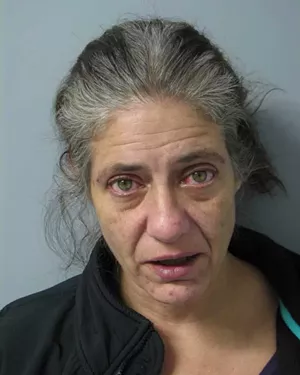 Photos Courtesy Of Winooski Police Department
Deirdre Hey
Around 4 a.m. on March 27, a bright light shone into the homes on Lafountain and Leclair streets in Winooski, sending residents scrambling from their beds to their windows. Looking out, they saw a helicopter whirring overhead. Like something out of a Hollywood thriller, it illuminated a nearby three-story home that was swarming with police.
"It was like a movie," said one neighbor, who declined to give his name. "It was quite a show."
With such a spectacular show of force, who were the authorities targeting that morning? Escaped killers? International fugitives?
Nope. Police say they were chasing criminals who threatened public safety — including one accused of being a conduit for out-of-state heroin dealers.
"We're dealing with dangerous people who commit serious crimes, and any resource available to us to make it safer for the officers and the targets, we'll use," Winooski Police Chief Steve McQueen said. "If they wanted to jump out of a window and take off in a car, I'd rather have a helicopter following them than a bunch of cruisers."
The chopper came from the U.S. Customs and Border Protection office in Plattsburgh, N.Y., McQueen said, and it did not cost Winooski taxpayers a dime. He simply took the federal agency up on its long-standing offer to assist local police departments.
The practice is not without controversy. Critics and civil libertarians fret that federal law-enforcement agencies, especially those operating in border areas, are wasting money by working with local police on cases that don't rank as national priorities.
"This is about the militarization of local police forces," said Allen Gilbert, executive director of Vermont's chapter of the American Civil Liberties Union. "This country has long opposed the use of the military to do internal policing, and what we're starting to see is the seeping of military materials and weapons into local policing. It's something we should all be fighting."
Photos Courtesy Of Winooski Police Department
Joel Griffith
Winooski police counter that the raid shut down a local heroin-trading hub and may well yield additional arrests in an ongoing investigation.
Two of those apprehended face no drug charges. Joel Griffith, 39, and Heather Casey, 38, were arrested on outstanding warrants: Casey for alleged retail theft; Griffith on an assault charge for allegedly fighting with another man outside the apartment, according to court records.
Investigators' primary target that morning, 47-year-old Deirdre Hey, was charged with one felony count of selling heroin. She was issued a citation to appear in court — a process often reserved for less dangerous criminals — for arraignment at a later, unspecified date.
Inside the apartment, police found shell casings and unspecified "drug paraphernalia," but no drugs or weapons, court records show. All three defendants were asleep when officers busted through the door.
"We got the jump on them," McQueen said. "No violence, no weapons. You never know."
Warrants and affidavits filed in Chittenden Superior Court and U.S. District Court give the following account.
Photos Courtesy Of Winooski Police Department
Joel Griffith
The Winooski police and federal agents had been investigating the apartment for possible drug distribution since mid-February. With the help of two cooperating informants — at least one of whom was paid $100 — authorities generated evidence that several people who lived or spent time in the apartment were dealing heroin. Investigators persuaded a Chittenden County judge to grant them a sweeping search warrant.
On February 12, an informant called Hey to order two $20 bags of heroin, the court records allege. At Hey's instruction, the informant met two of her associates at the Gulf station on nearby Main Street and bought the drugs.
The next day, a second confidential informant allegedly purchased heroin from Griffith, described in court papers as Hey's "significant other," at the nearby Shell station, according to the affidavit.
On February 27, the first informant called Hey and bought $40 of heroin inside her apartment.
A fugitive from New York named Tyshawn Mack, who has pleaded not guilty to a federal charge of selling heroin, was allegedly operating out of the apartment, according to federal court papers.
A week or so before the raid, McQueen said he reviewed the layout of the building and decided that his officers could use assistance. He knew just where to turn.
McQueen said that officials at Customs and Border Protection, which operates out of Plattsburgh, N.Y., have offered their aerial power before.
"They go around and let local departments and sheriffs know this is a resource available to you," McQueen said. "It's part of their mission. 'Call us if you need us.'"
Spokespeople for Customs and Border Protection did not respond to requests for comment for this story.
The police used it for this mission because of the physical challenges presented by the Lafountain Street apartment, McQueen said.
Hey's second-floor apartment was hard to reach, accessed only by a steep, covered stairwell in the back of the building. McQueen knew that visibility would be minimal. And, once inside, his officers would be navigating tight quarters.
There were no federal agents on the ground that morning, McQueen said: The helicopter simply hovered, shining its powerful light. Because the suspects didn't flee, it returned to Plattsburgh after being in Winooski for less than an hour. Neither McQueen nor court records identified the helicopter's make or model.
It was the first time that Winooski police worked with the federal agency, McQueen said.
In Burlington, Police Chief Michael Schirling said his department has occasionally used federal helicopters on search-and-rescue missions, but not recently.
Numerous Vermont defense lawyers and the ACLU have criticized the federal government — which claims a right to operate within 100 miles of international borders — for operating immigration checkpoints and working with local police agencies on state criminal cases.
Between 2005 to 2012, the number of border patrol agents doubled nationwide. Customs and Border Protection employs five times more agents on the northern border, which includes Vermont, than it did in 2001, according to the Government Accountability Office. The Department of Homeland Security has given Vermont almost $100 million in grants to deploy surveillance technologies since the September 11 attacks.
A number of Winooski residents said they're happy that the home at the corner of Lafountain and Leclair streets is getting the police attention they believe it deserves. They claim to have seen people arriving at all hours, often in cars with out-of-state license plates.
"We knew this was coming," said a woman who lives within sight of the house. She, like others, declined to provide her name because of lingering safety concerns. "It wasn't a big surprise. Lots of people in and out of that place."
The neighbors said they had no problem with police using the helicopter, even if it interrupted their sleep.
"When I saw where it was, I went back to bed," said a Leclair Street man.
Photos Courtesy Of Winooski Police Department
Heather Casey
Griffith and Casey have pleaded not guilty to their charges and are currently being held in prison.
Hey, who is out pending her arraignment, could not be located for comment, and does not have an attorney on record.
"I don't see it as Big Brother," McQueen said. "We're trying to do the job safely, and that's becoming more and more of a challenge. Our job is to keep people safe — and get the bad guys."