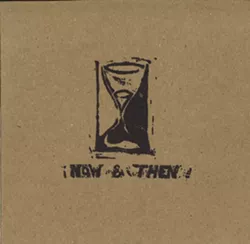 Eames Brothers Band, Now & Then
(Self-released, CD, digital download)
For the past two decades, the Eames Brothers Band have served as Vermont's foremost (only?) purveyors of "mountain blues." Theirs is a hybrid sound, built equally on Delta clay and Green Mountain granite. As forged on the band's 2005 debut, Open Road, and crystallized on subsequent releases, brothers Ralph and Seth Eames have long fused the muddy mood and tone — not to mention chord progressions — of early blues with elements more commonly found in the local bedrock, such as rock, funk and jam.
On its own, that particular stylistic gumbo might not seem terribly innovative, especially in the overly hyphenated, jam-friendly hills of Vermont. But the Eames Brothers have always stood out from the fray. The band's latest album, Now & Then, is a time capsule of sorts that helps us understand why that is.
Now & Then is composed of previously unreleased material that spans the EBB's last eight years. Engineer Bennett Shapiro recorded four of the album's 10 tracks in 2008. Another song, "Honeymoon" was recorded by Dave Snyder of Guilford Sound in 2012. Ryan Power, who also mixed and mastered the album, engineered its remaining five tracks. The result is a record that offers snapshots of the band in various stages over the years but manages to sustain a cohesive feel and tone throughout.
That latter trait is a credit to the band as a whole, but also to the unique songwriting gifts of Seth Eames. A quiet, bordering-on-shy fella, the mercurial tunesmith is a criminally underrated Vermont treasure. And his work on Now & Then ranks with some of his best.
Whether winking over the seductive groove of "Headin' Out," lamenting lost love on "Long Gone" or ambling lazily through "Almost Home," Eames writes and sings with a baleful directness that evokes emotion with stirring efficiency. Deceptive simplicity, both in music and language, is a hallmark of the blues. And few local musicians are as well versed as Eames.
Eames' band is the perfect vehicle for his murky ruminations. Bassist Ralph Eames plumbs the low end with sly restraint, forming a dynamic rhythm section with drummer Phil Carr. Organist Shane Hardiman, ever unpredictable and brilliant, paints in tones and textures as only he can.
The album features a cadre of notable guests. Vocalist Miriam Bernardo appears on all but one track. Bernardo's Steady Betty partner, vocalist Kat Wright, turns up on four tunes. Michael Chorney drops in with baritone sax on album closer "Bringin' Me Back." Jason Sperling adds guitar on "Honeymoon." And PJ Davidian's lively conga work on his three appearances shades those tunes with a welcome upbeat feel.
Given their 20-year tenure, it's hard not to feel like the Eames Brothers have always been around. But that's as much a credit to their longevity as to the timelessness of the band's music. And that last quality is perfectly captured on Now & Then.
Now & Then by the Eames Brothers Band is available at eamesbrothersband.com. The Eames Brothers Band play this Friday, January 20, at Sweet Melissa's in Montpelier.