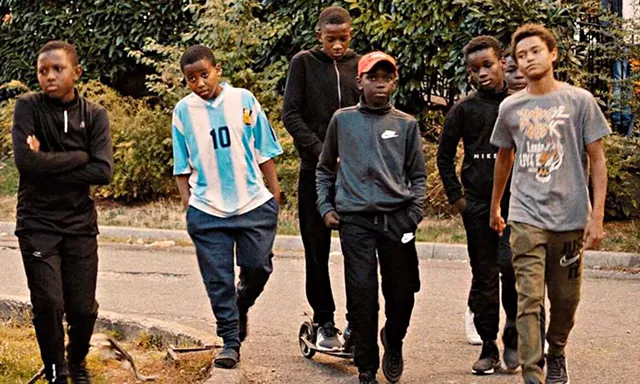 POLICE BRUTALITY Street kids use excessive force against cops they consider corrupt in Ly's arresting feature debut.
My copy of Les Misérables had collected dust in a stack of "for your consideration" DVDs since before the holidays. I'd meant to watch it. But every time I saw that title, all I could think of was the 2012 musical of the same name, with Anne Hathaway looking like she just escaped from a concentration camp and Russell Crowe singing in a way you know his creator never intended him to sing.
But France's Oscar nominee finally made it to Vermont, and all I can say is, what a difference eight years makes. Director Tom Hooper won Oscars with Les Miz the musical. In December, he committed career hara-kiri with Cats.
Currently at the other end of the professional spectrum is director Ladj Ly, whose feature debut catapulted him onto the world stage. Winner of the Jury Prize at the Cannes Film Festival, his Les Miz isn't another Hollywood adaptation of Victor Hugo's 1862 novel. It's a ripped-from-the-headlines riff on race, class and oppression set in the Paris suburb where much of the book's action took place.
Montfermeil is a multiethnic melting pot constantly on the brink of boiling over due to conflict between factions that live in its overcrowded, crumbling projects. Tasked with keeping a lid on things is the Street Crimes Unit; as the film opens, an officer new to the area has just been introduced to his partners. Ruiz (Damien Bonnard) is immediately nicknamed "Greaser" by Chris (Alexis Manenti) and Gwada (Djebril Zonga), who take him on a tour of the district. Think Training Day with street markets.
It quickly becomes apparent that Chris is prone to overstepping his authority. He hassles pretty girls at a bus stop and then smashes a cellphone when one attempts to record him (a savvy bit of foreshadowing by the filmmaker). Just as quickly, it becomes apparent Ly has seen the same police procedurals the rest of us have and means to subvert expectations at every turn.
Viewers ride along as Ruiz meets the neighborhood players. Members of the Muslim Brotherhood; groups of African descent, including a faction led by a figure known as the Mayor; and various criminal crews all vie for power in the impoverished community. Just when it appears the tinderbox of tensions will erupt over petty disagreements between turf holders, something 100 percent unexpected happens. The area erupts over police violence instead.
It all comes out of nowhere. The script by Ly, Manenti and Giordano Gederlini is a marvel of misdirection. One minute, the movie seems headed down mean but familiar streets; the next, it swerves into alien territory.
A small army of Romani from a visiting circus descends on the Mayor and threatens fire and fury unless a lion cub stolen by a local kid is returned. Half a dozen twists and turns later, the unit arrests a boy named Issa (Issa Perica), the cat is reunited with its owner and the case looks all but closed.
Then the kid makes a run for it and is gravely hurt by one of the cops (not the one you think). Overhead, a neighborhood boy's drone documents the tragedy, sending the officers in desperate search of its owner. He's in trouble, you think. The next thing you know, though, it's the cops who are cornered by a mob of armed and angry children led by a wrathful Issa. The final scene is nothing short of breathtaking.
Les Misérables. Watch it once and forget all about Russell Crowe's singing forever.