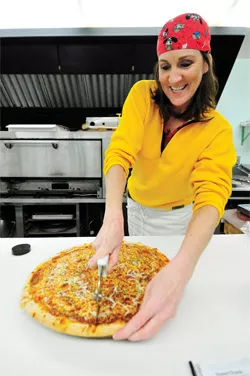 Jeb Wallace-Brodeur
Maggie Zuccardy stabs into a pizza
E.J. Tebbetts straightens his suspenders. He has nearly completed work on his new home overlooking Woodbury Lake in Woodbury, Vt. He takes a pencil from his pocket and writes on the wall of the front room, At work today here on this house. He signs his name and the year, 1884.
One hundred and 25 years later, Tebbetts and Maggie Zuccardy have something of a contentious relationship. He locks her dachshunds, Greta and Hubbard, in bedrooms. He has a rude penchant for slamming doors. The fact that he's been dead for a century does nothing to diminish Tebbetts' irascibility, especially now that Zuccardy is about to expand her restaurant, White Rock Pizza, to include a bar in the room that bears his signature. Maybe he feels like his John Hancock still gives him a claim to the place.
Some restaurateurs cynically tout their resident ghosts as tourist attractions. But Zuccardy is a woman who takes history seriously, living or dead: She makes her pies from yeast strains her grandmother brought from the Old Country. Plus, the business she claims to share with the shade of Tebbetts — and perhaps other spooks — is also her home. Listening to her tale, even a skeptic feels the force of her conviction. But she says she worries that customers, doubting her sanity, will avoid her food.
Zuccardy had plans to open her new bar space with a Halloween masquerade ball on October 31. That is, until Tebbetts had his say. Zuccardy tells Seven Days she was standing in the kitchen recently when "something grabbed my ponytail and yanked me backward." Her mother, sister and two customers were witnesses. Zuccardy fled upstairs, where her boyfriend, Drew McQueeney, helped her calm down enough to return to work. When Zuccardy opened the oven, "the pizza came flying out at me," she says, sounding, well, haunted.
Zuccardy's mother, Carol Huntsinger — a member of her household along with McQueeney and Zuccardy's grown son, John — recalls what happened: "I saw Maggie's head snap back," she says. "She was facing me and she had this startled look on her face. She thought Drew had come down into the kitchen and pulled her ponytail ... It was such a pull that the next day her neck hurt her."
Zuccardy isn't a big skeptic when it comes to the paranormal. Without a nudge from the "other side," in fact, she might not have opened her business.
The 47-year-old former rock singer bought her six-room house two years ago, when she was working as a truck dispatcher in Barre. No one told her the place was haunted, but she recalls that one of the sellers "grabbed me by the arm and said, 'They are so happy you have bought this house.'" They who? Once she started getting the former resident's mail, Zuccardy claims, she discovered the woman was a medium.
Later, when she talked to other previous tenants of the house, Zuccardy learned about Tebbetts. By her account, the Barclay family — who lived there in the 1960s and '70s — routinely saw a strange man wearing dark pants and red suspenders mount the stairs between the kitchen and living room. Elderly members of the nearby Sabin family (for whom Woodbury's Sabin Pond is named) had known Tebbetts in life. They confirmed to the Barclays that the description matched. The Barclays also came across a photograph of Tebbetts chopping wood, which they included in a scrapbook they made for Zuccardy, currently displayed on the counter at White Rock Pizza.
When Zuccardy was suddenly downsized from her job last year, she panicked, she recalls. As she searched for new employment, Huntsinger pointed out to her, "You have this huge kitchen — do something with it!"
Though Zuccardy says she learned to make pizza by trial and error, the native of Mystic, Conn. had plenty of experience with hot ovens. Before moving here, she spent years cooking over a Revolutionary-era hearth at Randall's Ordinary in North Stonington, where she nightly explained to tourists that the second-greatest killer of 18th-century women (after childbirth) was burning alive in the kitchen.
Besides culinary experience, Zuccardy had tradition to draw on — she comes from what she calls "a huge pasta family." Still, with "the economy in the shitter," she worried she might not be able to draw enough business to her home half an hour from Montpelier. A friend recommended she consult a medium by the name of Shawnee. Without prompting or prior knowledge, the psychic told Zuccardy her great-grandmother was saying to her from beyond, "Aren't you glad I taught you how to cook?"
That great-grandmother, Louisa Cerina, had been a successful restaurant owner herself. She wed a chef on an Italian ocean liner, but left the boat for London, where she made enough money cooking at the famous Gray's Inn Restaurant to travel to New York. There Cerina bankrolled her own business by working as a hat-check girl at the brand-new 21 Club — meanwhile stowing her children, including Zuccardy's grandfather, in an orphanage. Situated near Sardi's and Mama Leone's, Cerina's now long-gone establishment served a four-course prix fixe featuring a foie gras starter — for 85 cents. Though Zuccardy describes Cerina as a tyrant, her mother offers, "In Maggie, I can see my grandmother. She just lives to cook."
With her great-grandmother's blessing and the goal of making pizza "that's healthy to eat, but that people in Woodbury can afford," Zuccardy began "experimenting and experimenting and experimenting." (She jokes that, when people ask members of her household when White Rock opened, they respond, "About 15 pounds ago.")
The basement kitchen of White Rock Pizza was once Tebbetts' horse barn. Now it's filled with two pizza ovens — enough to fire up six pies at once. The dough contains two different yeasts, both smuggled to Vermont by Zuccardy's grandmother, Adele Cerina, who lives on the Italian island of Ischia. "It's just kind of something that she just grabbed," says Zuccardy. "It's not supposed to leave the island."
The precious starters grow in a lighted box just up the stairs in the living room. The first is called a crisceto, says Zuccardy, a byproduct of beer fermentation that's said to date back to one of Napoleon's Italian campaigns. The other starter, grown by Cerina herself, has gained pungency through the years as she raised her children and grandchildren. Zuccardy has just started her own strain. "Whether it will be haunted, I don't know," she joshes.
In her girlish voice, Zuccardy describes the starter as if it were a capricious spirit: "I have to be really careful with how much I use," she says. "It can turn on you at any second. My family will eat something and say, 'Can you duplicate it?' and I say, 'No.'"
Around the time Zuccardy started crafting her menu, Tebbetts first raised a fuss — or as she puts it, "This thing just went berserk." In addition to locking and slamming doors, the ghost developed a penchant for mimicking the voices of household members. Tebbetts — or perhaps another ghost — also took to waking the entire household at precisely 3:00 every morning. "It wasn't 2:59 or 3:01," says Zuccardy. "I heard this woman talking, and it sounded like she was at the end of my bed. It was very muffled, and I couldn't understand what she was saying." The first time, Zuccardy recalls, she thought she was half dreaming until her boyfriend mentioned he'd heard it, too.
Huntsinger was more bothered by the voices of babies giggling and crying. She was also troubled by the voice of a young child who would regularly cry, "Mommy!" Zuccardy says the Barclay family told her their mother "constantly heard babies crying. She thought it was a sign from God that she needed to fill this house with children." By the time the Barclays left the house, they had 14 kids, including a slew of special-needs foster children. (The surviving Barclays could not be reached for comment.)
When the ghosts became restless, Zuccardy was worried. Her other son, a 6-foot-5-inch Navy man, refused to sleep upstairs when visiting, fearing "whatever this is or whoever this is," she says.
A friend of Zuccardy's suggested she try to reason with the revenants. Though she initially laughed this off, one day she found herself in her pantry saying, "I know this is your home, but we're not making any major changes; we're just moving things around." Just as Zuccardy told her spectral companion, "We'd like you to be a part of this," a pair of customers walked in. "I just kind of blew it off," she says through heaving giggles. "Maybe they thought I was just talking to my sister."
Spiritual interlopers haven't interfered with White Rock Pizza's business. When it opened in April, says Zuccardy, lines were out the door. Overwhelmed, she sent out some undercooked pies — then apologized and posted a note on her website asking customers to return for a free pie "if you got a shitty pizza, and I'm sure you did." The plan worked. Many folks disappointed the first day have become weekly customers, says Zuccardy.
Besides the ghosts and the ancient yeast, White Rock has a prime location going for it; in summer, guests can sit on the porch overlooking Woodbury Lake in pink Adirondack chairs, surrounded by Huntsinger's multicolored hydrangeas and petunias. The bar, which dates back to a 1980s restaurant called Woodbury Manor, is a dark cherry beauty that evokes an English gentlemen's club.
Zuccardy keeps her pizza toppings on the lighter side so as not to break the delicate, ultra-thin crusts, which are available in white or whole wheat. She serves both traditional favorites and quirkier offerings such as Zante currant and walnut. Specialty pies include the Garlic Love ("You've got to love the person you're eating it with") and Fire in the Hole (homemade Buffalo chicken, cheddar, onion and a drizzle of house blue cheese or Ranch dressing). In summer, most ingredients come straight from Zuccardi's garden. This winter, a friend with a hothouse will grow tomatoes and herbs to supplement her own garlic.
Though Zuccardy says her original goal was just to pay her mortgage, she is awed by the sense of community her restaurant has inspired. Before, she says, she was known as "the flatlander who bought the big house." But her use of local suppliers and her work for nearby charities — such as a recent benefit for High Ledge Farm — have helped her bond with the community.
What about bonding with the spirits in her house? After the flying pizza incident, Zuccardy called the Green Mountain Paranormal Society for assistance. "It's so retarded, I can't even tell you," she moans, saying she's hoping the ghost hunters will show up in November. "I don't want to do anything to piss this thing off," Zuccardy adds. "I don't want a plate going around and hitting someone in the head or something. 'Cause, even though people think it's fun and interesting, I still have to pay my mortgage."