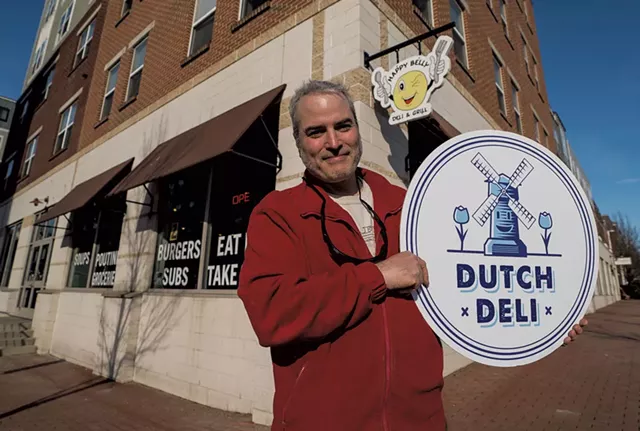 Courtesy Of Dutch Deli
Chris West with the new Dutch Deli sign
When a Dutch expat takes over a deli, things go the way of the windmill. In Winooski, the Happy Belly Deli & Grill at 65 Winooski Falls Way will rechristen itself the Dutch Deli at the end of March.
Don't worry, regulars — the quick-service market will keep its menu of sandwiches and wraps, poutines and salads. It will also start serving an array of Dutch foods. Locals may have noticed that a giant Dutch-style clog has marked the store's entrance since January.
Since purchasing the deli in September 2018, owner Chris West has been reorganizing the 24-seat space to make it more open and welcoming to in-house diners. While he'll continue to stock pantry items, snacks, beer and milk, West said, he'll dial back the shop's retail business to make more space for café service.
"We're making it more pleasant to hang out," West said. "We've got this great view of the mill; [now people can] sit at the window."
West's wife is from the Netherlands, and new menu listings will nod to her homeland, where the couple lived for many years. Saucijzinebroodje, for instance, is a spiced pork sausage baked into puff pastry; handmade rookworst is a smoked link laced with nutmeg and mace. Fried beef croquettes will be served on buns with mustard.
Weekend brunches will feature crêpe-style pancakes (pannekoeken) with brown sugar, molasses or maple syrup, because this is Vermont; buttered poffertjes, similar to American silver-dollar pancakes; and uitsmijter, an open-faced three-egg sandwich with ham and cheese that is typical of Dutch breakfasts.
While West's main mission is to share the northern European cuisine with the Onion City, he's also excited to offer Dutch locals a taste of their homeland. "When we moved here ... [my wife and I] thought we'd be the only people with any connection to the Netherlands," West said. "But, as it turns out, there are, like, 120 people near Burlington who are from there."
West, who grew up in New York City in a musical theater family, plans to liven up the space with events such as poetry readings, live music and Broadway karaoke nights. "I think a restaurant really needs to be a resource for the community," he said, "so I want to make that option available [in Winooski]."
Over time, West said, he plans to incorporate imported Dutch goods such as cheeses, candies and even wooden clogs into his retail stock list. "We're just going to Dutch it up," he said.