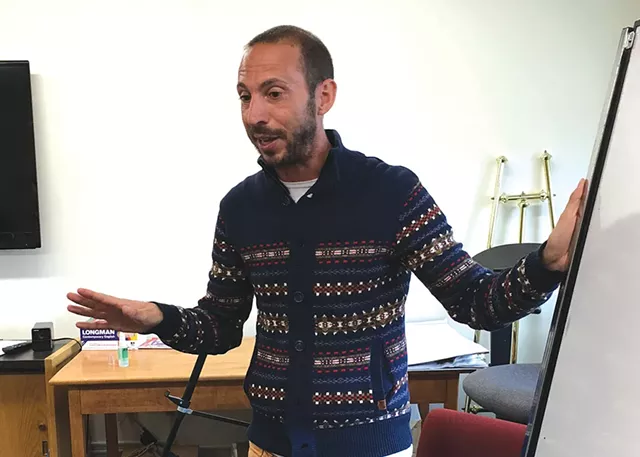 Pamela Polston
Bob van Heeks
Five students straggled into a Fletcher Free Library meeting room on a Saturday morning, unusual peers for an unusual class: Dutch. Over the next hour and a half, they wrapped their minds around a language rarely heard in Vermont, and their tongues around its guttural pronunciation. Comments like "That sentence is hell" and "That's a lot of vowels" punctured the atmosphere of studious concentration. So did laughter. Yes, this language class was fun.
Instructor Bob van Heeks made sure of that, balancing lessons on grammar or parts of speech with games based on, for example, "Wheel of Fortune." (Tip: "Buying" a vowel — including ÿ — is a good idea.)
The affable, 43-year-old Amsterdam native moved to Burlington with his American husband last March. Soon he began using the website Meetup to announce free classes in his native language.
"I wanted to do some volunteer work, kind of paying it forward," van Heeks explained. He looked around at local colleges and did not find any other Dutch offerings.
The sessions began in mid-May with three students; average class size is now six, van Heeks said, and more are welcome. Students may enter at any time, not just at the start of a semester, as in a traditional school setting. In fact, there are no semesters. There are no grades, either — but that doesn't mean van Heeks won't throw in pop quizzes now and again.
His classes are free not just because of altruism but necessity. A longtime flight attendant on KLM Royal Dutch Airlines (if you've ever wondered what that stands for, it's Koninklijke Luchtvaart Maatschaapij), he can't earn income in a foreign country while employed in the Netherlands, for tax reasons.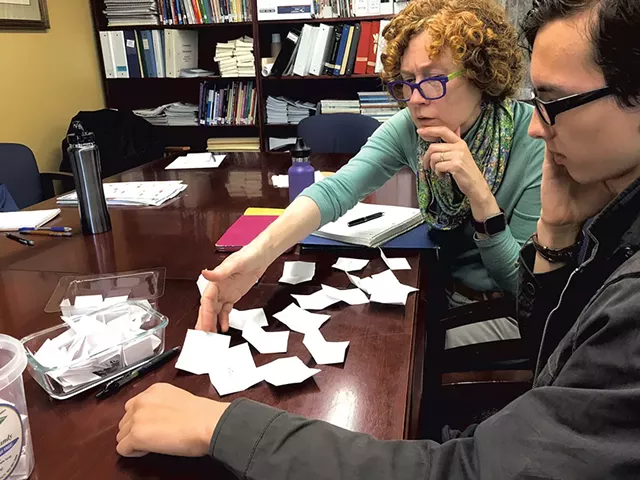 Pamela Polston
Students making sentences with words drawn at random
But van Heeks does have a green card, and offering classes gratis serves his long-range dream of launching a second career in academia. "Doing this after 16 years of flying, it relights my fire," he said. "It's a new reason to get up in the morning, a new passion. Eventually, I'd like to make this my [job]."
Earning a master's degree in Russian gave van Heeks partial preparation to teach. Still, to gear up for Dutch class, he said, "I literally went online and looked up 'how to teach a language.'"
Watching him in class, anyone might think he had years of experience. He's a natural — comfortable, confident and organized, but also endearingly enthusiastic.
"Learning a language can be boring and tedious, so it's important to make it fun," van Heeks said. "I absolutely love this; I look forward to it."
It seems his students do, too, willingly forgoing lazy Saturday mornings for the challenge of tackling a tricky language. Their reasons for studying Dutch vary.
"I already know Spanish and was looking for another language," said Leon Williams, 25, of Colchester. "I found that Dutch was closest to English, and found the class on Meetup."
His partner, Inali Shaw, 24, is also taking the class. She already has three languages to her credit: English, Hindi and Gujarati — "It's the Indian state language," Shah explained. Dutch, in her mind, "is concise, straight to the point and logical," she said. Noting that she and Williams had traveled to Amsterdam in March, Shah said she thought the language "sounded amazing."
Both have nothing but praise for van Heeks. "He's absolutely engaging, a great teacher," said Williams. "Nobody likes to go to class on a Saturday, but we look forward to it!"
Amber van Zuilen, 33 and also a Colchester resident, has a more personal reason for showing up every week: Her husband is Dutch. Like many citizens of the Netherlands, he speaks English, so learning his native tongue has not been a necessity for her. But she wants to improve her "limited ability to communicate with his family," she noted, so, after 10 years of marriage, she took the plunge.
Van Zuilen has previously studied French, Spanish, German and Japanese but modestly said she can only "get by" in the first two. In Dutch class, she admitted with a laugh, her practiced pronunciation of Romance languages can get in the way. Dutch "is so harshly spoken," she observed. "My husband says you just have to commit to it and sound ugly."
Pamela Polston
Dutch homework: prepositions
At Saturday morning Dutch class, van Zuilen is in good company with a small cluster of Americans eager to make the sounds and rules of a foreign language, well, less foreign.
At the head of the class, the Dutch-born instructor not only navigates vowels and consonants, spelling and grammar, but proudly shares details of his heritage. His prizes for in-class games include candies and other souvenirs picked up when he flies back home.
"I can leave behind a little bit of the culture I'm familiar with," said van Heeks. His own reward for the class, he said: "I think I'm evolving into a good teacher."