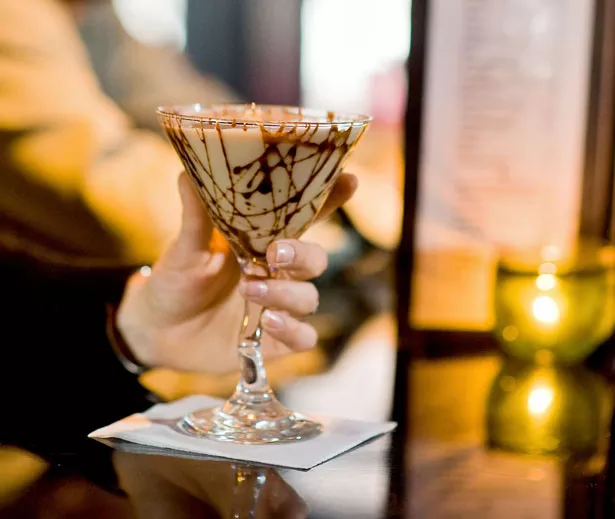 Chocolate Martini at Bangkok Bistro
My first time was transcendent. My first time, that is, with a chocolate martini. Normally I'm loyal to a lively Italian vino rosso, but this drink was worth straying for. Recalling it still gives me a little frisson of pleasure. But memory is all I've got, 'cause I've never had another one exactly like it.
A few years back, while on vacation in Key West, my companion and I found a small, cozy restaurant and had a spectacular dinner. When the dessert menus appeared, both of us were too full to contemplate more food, but one of the liquid options caught my eye: "Chocolate Martini."
At the time, I didn't know such a thing existed. The closest I'd come to a traditional martini was watching James Bond movies, and my only experience negotiating those elegant, conical glasses (thank you, "Sex and the City") involved girly-pink Cosmopolitans. But that balmy night in Key West, a chilled "nightcap" featuring chocolate sounded pretty yummy. We ordered one to share.
And, omigod, "yummy" is too pedestrian a word. Sublime is more like it. The rim of the glass was dusted with unsweetened cocoa, and the initial bitter taste proved a perfect complement to the drink itself, which was clear, dark brown and sweet. It was not, however, too sweet. And, though I'm no connoisseur of vodka, I'd hazard a guess that it was top-shelf. This was a truly sensual drink that inspired savoring in small sips.
The next night, after dining at a different place several blocks away, we decided to return to the scene of the divine chocolate martini. We sat at the bar so we could watch the bartender make the drinks - one each this time.
We watched her expertly roll the glass rims in a saucer of cocoa powder. Somehow it drifted delicately down the sides (a trick I've not been able to duplicate so prettily at home). Then she explained the ingredients: Van Gogh regular vodka and vanilla vodka, and a chocolate liqueur. I seem to recall that the liqueur was also made by Van Gogh, but it may have been Godiva. In any event, the recipe was quite simple, really, and the martini was just as remarkable as the night before - though minus the thrill of discovery.
Regrettably, I did not note the proportions of the ingredients, though I've since learned the mixture is as much a matter of taste as technique. After we returned to Vermont, I headed to the liquor store and searched the shelves for Van Gogh vodkas.
Turned out the brand was not available in these parts. "But can't you order it?" I inquired incredulously, privately thinking, Can't you get anything in America? Unless it comes from Cuba? (A subsequent Google search revealed that the product is made, logically enough, in Holland, and its U.S. distributor is based in Orlando.) The clerk shrugged sympathetically.
Undeterred, I purchased some regular vodka and vanilla vodka - Absolut, I think - along with a bottle of Godiva dark chocolate liqueur, and commenced to experiment. My creations have been drinkable, just not . . . Key-West perfect.
Every once in a while, though, I'll order a chocolate martini from a real bartender to see if he or she can come close. Since the martini craze arrived in Vermont, the number of options - even for this particular concoction - has multiplied. I limited my "research" to venues around Burlington because - trust me - you do not want to get on the highway after drinking one of these.
While the ingredients of a so-called chocolate martini vary in both kind and proportion, the primary distinguishing factor is the presence or absence of dairy: milk, cream or half-and-half. In other words, some bartenders proffer the clear, dark-brown version; others concoct something resembling chocolate milk - light brown and opaque. Both are delicious, and a preference for one or the other is just that: a matter of taste. And lactose tolerance.
Note to dieters: According to one source, while a traditional martini has 135 calories, a White Russian has 250. I'm guessing a chocolate martini is heavier on calories than the former and lighter than or equal to the latter, depending on use of cream.
But I digress. After the dairy divide, another evident variation involves chocolate syrup or shavings. Though mainly intended, I think, to be decorative, these additions do affect the taste and the "mouth feel" of the drink. Some examples:
At The Green Room, my drink came in a stemless glass - less elegant than the traditional kind, but infinitely more stable. The martini was the clear-brown sort and had shaved bits of sweet dark chocolate on top. The liquid was sweet, too, but contained just a touch too much vodka for my taste. Based on this and other specimens, I've arrived at the conclusion that I prefer the clear chocolate martini without shavings. The lightness and clarity of the drink seem compromised by solid flotsam that you have to chew, basically. Also, the stuff can give you a chocolate "moustache" if you're not careful; I can only imagine the debris those who already have a moustache might collect.
Smokejacks serves a chocolate martini with shavings on top, too, but its version is quite creamy, and somehow that makes a difference: The thick liquid and delicate shavings are more compatible, texture-wise. This was definitely dessert in a glass.
So, too, is the chocolate martini at Bangkok Bistro. Even though it's a far cry from my Key West fantasy, I'd have to call this one my local favorite in the creamy camp. Bartender Bobby Chompupong obliged me with the recipe:
3 counts each Godiva white and dark liqueur
2 counts crème de cacao
1 count vodka
Dash of half-and-half
(A "count" is essentially one second of holding the bottle upside down over the shaker. Do not attempt this without those special bartender spouts on your bottles.)
Oh, and Chompupong squirted a Jackson Pollock-esque pattern of Hershey's syrup inside the glass first. Though I was dubious about this addition, the drink manages not to be cloyingly sweet. (Bangkok Bistro's martini glasses, by the way, have a zig-zag stem that is neither easier nor harder to hold, but looks spiffy.)
Later on I talked with Bistro bartender Ben MacIntyre, formerly of Blue Star Café and The Waiting Room, who simplified the chocolate martini proportions for me: half vodka, half chocolate liqueur, and a splash of whatever dairy product one prefers. MacIntyre also reported that about two-thirds of his martini orders come from the restaurant's "specialty drink" menu; the other third are traditional martinis, made with vodka or gin. "If someone over 50 orders a martini, I'll make it with gin," he volunteered. "But since the early '80s, the premium vodka market has changed that."
The market also bears premium prices. Those specialty cocktails, which MacIntyre dubbed "trendy," go for $9 or $10 - even more in some highfalutin' establishments, or for mixtures with gobs of ingredients. The price tag, not to mention the caloric intake, puts these drinks in the realm of special treats rather than daily doses.
Maybe I'll give that creamy recipe a try at home sometime. Meanwhile, the best clear chocolate martini I've found in Burlington is at 1/2 Lounge. On a recent night, bartender Rob Blevins mixed up a lovely rich-brown drink that came nearest to my Key West memory. It lacked the dusting of bitter chocolate, but you can bet I suggested that to him for next time! His recipe, Blevins revealed, goes like this:
3 counts Grey Goose vodka
1 count Godiva dark chocolate liqueur
1 count Stoli Vanilla vodka
Splash of Frangelica
This is not to be confused with the more complicated option on the 1/2 Lounge specialty-drink list, which is called the Milk Bar and includes Godiva white chocolate and caramel-flavored Bailey's. Blevins said the concoction is popular, but for me, it's over the top. Furthermore, flavoring Bailey's should not be allowed. Ew.
Regular Bailey's, though? In place of cream? Well, maybe. But just a splash.