James Buck
Rebecca Campbell and daughter Sam
By the third week of each month, Rebecca Campbell's bank account is usually overdrawn. She lives in a subsidized apartment next to Momo's Market in Burlington's Old North End; to stretch her monthly $1,500 disability check, she eats a lot of chicken-flavored ramen. Her driver's license is expired, and she doesn't own a car. She suffers from chronic health problems, including asthma, which makes her especially vulnerable to respiratory illness.
In early March, Campbell, a single mother, had just submitted paperwork to renew her food stamp eligibility when the coronavirus pandemic struck, seizing the gears of the social service apparatus. With a compromised immune system, no food stamps and no car, Campbell couldn't go to a food shelf, much less buy groceries. Her 12-year-old daughter lives with her part time, and Campbell feared she wouldn't be able to give her enough to eat.
Then she saw a post on the Old North End Facebook page from someone named Matt Gardner, who was offering food assistance, cleaning supplies, childcare, and mental and emotional support. Tentatively, Campbell messaged him: "I hate to ask," she wrote, "but I'm in desperate need of help."
Within an hour, Gardner had replied: "We don't have any financial support, but I'll see what I can do about getting you food." He asked for her shopping list. Campbell sent him her usual low-cost inventory — whole milk, creamy peanut butter, bread, grape jelly, chicken-flavored ramen, lemon yogurt and coffee. Gardner wrote back that someone would be in touch.
Campbell's expectations of having any request promptly fulfilled had been blunted by years of navigating the welfare system; she figured she might hear from him again in a week.
That evening, Rachel Hawkins, a volunteer to whom Gardner had relayed Campbell's request, brought a bundle of free groceries to her apartment. Campbell was overwhelmed. "It was like Christmas morning," she said. "I'm so used to having to prove that I'm deserving of help, and here was this huge bag of food on my doorstep, everything I needed, the day I needed it, with no questions asked."
Gardner and Hawkins are both part of Burlington ONE Mutual Aid, a self-organized group that sprang up in the early days of the pandemic to meet the immediate needs of neighborhood residents. As widespread closures and stay-at-home orders cut people off from their support systems, dozens of similar groups emerged across the state, from Brattleboro to the Northeast Kingdom.
These groups consist of volunteer crews willing to deliver groceries, pick up prescriptions, check on seniors, sew masks and perform emergency home repairs; sometimes, they triage mundane predicaments made exponentially more complicated by a public health crisis. In Randolph, a volunteer group found a place for someone to take a shower; in Burlington, ONE Mutual Aid helped an elderly woman find a mechanic to pump up her flat tire.
These spontaneous, non-monetized acts of person-to-person assistance have taken a multitude of forms. When Middlebury College canceled classes for the rest of the spring semester, forcing students to leave campus with four days' notice, a group of seniors created a Google spreadsheet for anyone in the college community to request logistical and emotional support. Within hours, the form had nearly 100 responses. Town residents invited students to leave cars in their driveways; students offered each other rides home as far away as Tennessee.
For-profit businesses offered Vermonters free goods and services. In late March, the Skinny Pancake Group launched ShiftMeals to provide food, at no charge, to laid-off restaurant industry workers, musicians, artists and anyone else facing economic hardship. Pete's Greens, a farm in Craftsbury, donated produce to town residents. In Shelburne, Vermont Teddy Bear pivoted from making bears to sewing thousands of masks to donate to essential workers.
Since the start of the pandemic, community-specific networks have arisen in more than 150 towns across the state. Some choose to operate outside of any formal civic structure; others have mobilized existing municipal resources and emergency response teams.
Many of these coalitions call themselves "mutual aid" groups, a phrase most readily understood as the unspoken pact to band together in the face of a common threat. The instinct is so deeply rooted in evolutionary consciousness that it hardly needs a name. But to others, including Gardner of ONE Mutual Aid, the concept also connotes a political philosophy grounded in anti-capitalist ideals, a system of sharing resources outside the channels of government or commerce.
Regardless of ideology, all of these groups have managed to do something that, four months ago, might have seemed unimaginable. They have succeeded in helping people, without setting conditions or prerequisites for the recipients, and they have made asking for help feel OK.
'This Isn't So Terrifying'
Jeb Wallace-brodeur
Food Not Bombs volunteers distributing food at the Marketplace Garage in Burlington
In late March, the pandemic's potential worst-case scenarios began to reveal themselves: a shortage of intensive care beds and protective equipment, a rising infection curve that could be months from flattening. And people across rural Vermont convened — virtually or in socially distanced town hall meetings — to figure out how to manage the crisis in their midst. They started Facebook groups, developed videoconferencing apps hosted on local servers, and added information on COVID-19 to their town websites.
In Peacham, a village of fewer than 750 people on the western edge of the Northeast Kingdom, there is no cell service; the closest grocery store is a 15-minute drive away. At least a third of the population is older than 65. When the pandemic struck, the Peacham Selectboard moved to activate the town's emergency management plan, a formal status required by the State of Vermont in order for communities to receive disaster-relief funds.
The plan, according to Neil Monteith, the town's emergency management coordinator, contained no specific provisions for a pandemic. "The thing was written as if we were expecting a flood," he said. "This was nothing like we'd ever envisioned."
Monteith, 65, a retired state forester who serves in the town's volunteer fire department, has held the coordinator role for eight years. Within 72 hours, he had assembled a team to oversee the town response, following the Federal Emergency Management Agency incident command system, which outlines official duties for each team member. But the protocols don't delineate how to respond to any particular crisis, much less a pandemic.
Andrea Kane, a wilderness first aid instructor and a volunteer EMT in the fire department, agreed to serve as operations chief. In an email to the selectboard explaining the challenges of organizing the town response, she wrote: "We had to find people in town willing, able and qualified to take on the various roles. Which is like trying to find and hire a minimum of six or seven people in three days — except they aren't likely to understand what you're asking of them and you can't pay them."
For Kane, those first few weeks were an adrenaline blur. "Every night, I would go to bed vibrating with anxiety," she recalled. "We have a lot of elderly, homebound residents, so our efforts were focused on bringing aid to them."
Kane set up an online mutual aid request form and created an exhaustive database of every Peacham resident. If someone lived on a road that was prone to washouts, she noted it in the spreadsheet.
The crisis response team drew up a plan for emergency briefings on the green in front of the town hall, accounting for every conceivable mishap. (An excerpt: "If the internet goes down AND for some reason you cannot get through via phone, AND you cannot walk or drive to the Town Green AND you need help, please put a large red or orange flag or drape of sorts at the end of your driveway. That will alert neighbors, as well as making it easier to spot your residence while looking. We do NOT expect you to need to take this measure!")
Susan Smolinsky, the town library director, delivered puzzles and games to people's houses and volunteered to read poems over the phone to anyone who wanted to hear one. Judith Markey, a clinical psychologist, offered pro bono mental health consultations. In the cold days of early spring, a handful of residents chopped and delivered firewood. Thirty people signed up to give help through the mutual aid form. In total, there were seven requests, mostly for fuel assistance and deliveries of personal hygiene products, like toothpaste, toilet paper and laundry detergent. But the low number of requests didn't necessarily reflect a lack of need; because so many people were preemptively offering help, there was less reason to ask.
In the early days of the crisis, Mel Reis, a marketing consultant who took on the role of logistics chief, was consumed with the task of getting food to people. "I was waking up at the crack of dawn every day," she said. "It was unreal, madness."
Reis organized biweekly installments of shelf-stable produce and cheese through Green Mountain Farm Direct in Newport, which sources food from farms in the region and sells it in bulk at wholesale prices.
Every two weeks, selectboard chair Mike Heath picked up the food from Newport and brought it to Peacham Elementary School, where a team of volunteers divided the produce into sanitized bins and delivered them to people's houses. Each bin cost about $30; several families subsidized bins for those who couldn't afford them.
Josette Lyders, 77, and her husband, Richard, 86, were among the 27 households who signed up for the food service, which continued for six weeks. The Lyders received other forms of help, too: A volunteer took their trash to the dump so they wouldn't have to leave their house. Since the crisis began, they've received daily phone calls — sometimes several per day — from concerned neighbors, checking in to see if they need anything.
"This whole situation created a lot of fear for an awful lot of people," Josette said. "But the fact that this response happened so quickly in our little town made us all feel like, Hey, maybe this isn't so terrifying. We can imagine how we might get through this together."
Peacham has always been a tight-knit community, said Josette. She and Richard have lived there since the mid-'90s, after they retired from their careers as librarians in Houston, Texas. But this crisis has created a deeper sense of interdependence in the village, a way of knowing other residents beyond superficial familiarity.
"People are always happy to see one another at the annual town meeting, and it's always a friendly wave and a 'Hi, how are you?'" Josette said. "But it does feel different now. It's another level of being in this town."
'Solidarity, Not Charity'
James Buck
From left: Mel Reis, Neil Monteith and Andrea Kane of Peacham
Though the Peacham community response team directed aid to residents through a formal chain of command, other citizens stepped forward to help in any way they could. In rural Vermont, that practice of mutual aid happens constantly and informally, without ideology or group affiliation. It's a necessary adaptation in a place with long, dark winters and Class 4 roads.
The roles, official and unofficial, matter less than the sense of collective duty. In University of Illinois economist Ernest Ludlow Bogart's 1948 history Peacham: The Story of a Vermont Hill Town, he notes that civic participation and private life were inextricably linked for the town's residents. Seventy-two years later, another observer might have expressed the same thing.
"It seemed as if the cooperative spirit which found democratic expression in the town meeting permeated every aspect of life," Bogart writes. "No hard and fast line, therefore, divided those activities that were carried on by the town, acting in its corporate capacity, and those which were undertaken by groups of individuals acting in their own private capacity."
Another school of thought holds that the purpose of mutual aid is to resist the activities of government. When Gardner helped launch the ONE Mutual Aid network in March, he was working in the philosophical tradition of Peter Kropotkin, a Russian intellectual, anarcho-communist and writer. Instead of a world where state-run institutions determined the allocation of resources, Kropotkin envisioned a social structure rooted in the kind of reciprocity he observed in nature.
In his 1902 essay collection Mutual Aid: A Factor of Evolution, Kropotkin defines this instinct toward solidarity as "a feeling infinitely wider than love or personal sympathy," a recognition of "the close dependency of every one's happiness upon the happiness of all."
In contrast to most charities and federal crisis management systems, which operate with top-down governance, mutual aid networks in the Kropotkin mold are often intentionally ad hoc and nonhierarchical. Many exist deliberately under the radar, particularly in communities that have been historically overlooked by the government, ravaged by disaster, or both.
The standard refrain among Kropotkin-inflected mutual aid groups is "solidarity, not charity," a summation of the contrast between acts of traditional charity — which imply a power imbalance between the giver and the receiver — and the direct, person-to-person connections upon which mutual aid networks are based.
"Charity signifies 'people not like us," said Linus Owens, an associate professor of sociology at Middlebury College who has studied anarchist movements. "The 'solidarity' in mutual aid is the idea that we all benefit from living in a world where no one is desperate."
Mutual aid efforts in this vein have existed in Vermont for years. The Green Mountain John Brown Gun Club, the Vermont chapter of a rural, working-class movement that began in Lawrence, Kan., in 2004, aligns itself with antifascist, antiracist and pro-Second Amendment values. Food Not Bombs, an international network focused on recovering and distributing food that otherwise would have gone to waste, has been active in Burlington for at least a decade.
Many other groups have no public-facing presence; some don't even have names, according to Mike Todd. He's an organizer with Mutual Aid and Defense Vermont, a loose-knit association of mutual aid networks across the state. Todd, who lives in Burlington, has ties to Food Not Bombs, which has been distributing free meals and supplies at the Church Street Marketplace parking garage every day since the pandemic began. He believes the recent proliferation of grassroots networks is a direct response to the shortcomings of government agencies and nonprofits.
"The fact that mutual aid networks can pop up spontaneously makes them the most efficient and inevitable solution to meeting a community's needs," Todd said. "People need food, they need rent subsidies, they need direct help on a day-to-day basis, and the state- and nonprofit-industrial complex isn't set up to respond quickly."
'It's an Ethical Choice'
James Buck
A Food Not Bombs volunteer sorting through donations
In the early weeks of the pandemic, Gardner and a handful of other Old North End residents began circulating volunteer sign-up forms on social media. Within a few days, close to 200 people had offered to pick up groceries, deliver prescriptions and do whatever else was needed to help their neighbors.
Gardner and six others took charge of the volunteer group, which became ONE Mutual Aid. The 33-year-old former volunteer for Sen. Bernie Sanders' (I-Vt.) presidential campaign had used the web-based chat app Slack with his fellow Sanders organizers, so the ONE Mutual Aid coordinators adopted the platform as their primary communication channel. "That might have precluded anyone who wasn't tech-savvy, but time was of the essence," Gardner said.
None of the coordinators previously knew each other, according to Gardner, but their volunteer list was a cross-section of the Burlington activist community — people who were also involved in Food Not Bombs, the Burlington Tenants Union, BTV CopWatch, Black Lives Matter, the climate justice movement, or all of the above.
Gardner, a water resource engineer by day, is fairly steeped in the world of social activism and underground movements. After Hurricane Maria struck Puerto Rico, he said, he helped his sister and her partner raise nearly $12,000 to purchase portable water filters and solar-powered lights for people without access to drinking water or electricity. For a time, he was a guitarist in a rural punk band called Black Axe.
No single person has ownership of ONE Mutual Aid, a strategy from the anarchist playbook. "You want to be flexible and you want to be fast and, to my mind, the way to accomplish that is to have as little formal structure as possible," Gardner said.
The group spread the word that help was available through social media and flyers around downtown Burlington. Each flyer displays a QR code that links to the ONE Mutual Aid request form; there, seekers can choose from among 16 types of assistance, including grocery and medication pickup; pet- and kid-related needs; car, bike or home repair; money; and shelter. The form asks recipients to indicate how and whether they could pay for the support and to identify any risk factors, such as age or health conditions.
James Buck
Food Not Bombs table
Whenever someone fills out the form, their responses automatically feed into a Google spreadsheet, which the coordinators take turns monitoring seven days a week. So far, said Gardner, they've been able to connect a volunteer to a person in need within 24 hours of getting a request.
Since the system went up in late March, ONE Mutual Aid has received more than 50 requests, roughly a quarter of which have been for ongoing needs. Between the form responses and other channels, Gardner estimates that the group has helped close to 100 people in the neighborhood.
At the beginning, most of the requests were for grocery delivery or financial assistance — typically within a couple hundred dollars, which the group could usually cover through fundraising.
As Gov. Phil Scott has eased restrictions on going out, the request volume has dropped from several per day to several per week, but the needs tend to be more complicated.
"We're hearing from people who weren't in stable positions before this thing started," Gardner said. "We've been helping people who are active drug users, people who might need Narcan, which some of our volunteers can deliver and show people how to use safely."
For Gardner, the real point of mutual aid is building relationships with people, which then become self-sustaining. "It's an ethical choice, a way to make organic connections, not commercialized connections," he said.
Recently, he talked to a woman in the neighborhood who, because of a disability, can't shop for herself. "She told me, 'I don't really have anything to contribute, except I'm a master gardener,'" he said. He plans to pick up a few plant starts from her and get some gardening tips.
'We're Not Going Anywhere'
James Buck
From left: Matt Gardner, Jack Goldman and Ali O'Brien of Burlington ONE Mutual Aid
For both radical groups and government-coordinated crisis response teams, the barriers to reaching the least enfranchised can be precipitously high. That's particularly true for Vermont's estimated 1,500 undocumented workers, many of whom work on dairy farms.
The crisis has amplified the conditions that made these workers vulnerable in the first place: language obstacles, access to health care and, as milk co-ops are tightening their belts, an industry-wide contraction that imperils their livelihoods.
Migrant Justice, a Burlington-based nonprofit, has been acting as an intermediary between farmworkers and local mutual aid organizations. Marita Canedo, a spokesperson for Migrant Justice, translates the help request forms into Spanish, then relays the workers' needs to the appropriate mutual aid group. Over the past few months, volunteers from Food Not Bombs have been delivering meals and groceries to workers on farms throughout Franklin County.
In communities where town officials are leading the response, Gardner said, he worries that those who are already in precarious positions — because of immigration status, drug use or other circumstances — will be less likely to seek help. As mutual aid groups mobilized around the state, the Vermont Council on Rural Development began hosting Zoom calls every Friday for organizers to share strategies and resources.
In one of the weekly Zoom calls, in late March, a coordinator from Hyde Park, a village of fewer than 500 people, mentioned that Lamoille County Sheriff Roger Marcoux Jr. was interested in delivering groceries.
Gardner, who was on the call, messaged the rest of the group: "Everyone should think long and hard about utilizing law enforcement in a mutual aid network. Potentially will exclude vulnerable populations who are not comfortable with law enforcement."
James Buck
From left: Austin Kahn, Sam Bliss and Emma Schoenberg of Food Not Bombs
According to Gardner, a discussion ensued about whether the Hyde Park approach was, in the Kropotkin sense of the phrase, "mutual aid." The Hyde Park volunteer responded that it probably wasn't. (According to the town's police log, it appears that the police department did, in fact, deliver groceries.)
Gardner recognizes that anti-statist ideals don't graft easily onto the social fabric of small-town Vermont, where a sheriff is as much a private citizen as an agent of the law.
"I think there's room and necessity for both of these approaches in our society, and it's not surprising that small towns tend to blend the two," he said. "The issue I have with it is that if you're moving through official channels, and an undocumented worker needs help, you're disqualifying that person, and that's who we want to help."
Owens, the Middlebury College sociology associate professor, believes that the theoretical framework ultimately matters less than the intention behind the practice.
"This is always going to be the tension between rural and urban, radical and non-radical," he said. "But part of mutual aid is having these difficult conversations and assuming that people are acting in good faith. Not everyone went to a liberal arts college and spent a year in a squat."
As Gardner sees it, the role of mutual aid organizations is to create an alternative infrastructure, one that can endure beyond the current moment. "The COVID crisis has exposed the limitations of what we conceive of as a very progressive state," he said. "I don't think ideas drive change; I think material conditions do. And material conditions have degraded to the point where the state has been unable to provide for people."
To him, the outpouring of volunteer support reflects a critical shift in the way people understand their responsibilities to one another, a growing recognition that institutional safety nets cannot replace the work of neighbors. For Gardner, acting upon this realization falls under the domain of radicalism. Bogart, the economist who wrote about Peacham, might have framed it as the intersection of private morals and civic duty.
In a crisis, the distinction between public and private tends to collapse; people want to feel useful. "This has been drawing in people who wouldn't have had connections with the activist community, people who might have been inclined to allow professionalized services to do their part, or donate money to other organizations rather than digging in themselves," Gardner said.
The longevity of the mutual aid movement will depend upon whether it can sustain the level of participation it has so far attracted — not just among the so-called "radical left," but the broader, non-activist population. The long-term economic impacts, Gardner noted, are only just beginning to show up. When the second wave of the pandemic comes, as many epidemiologists believe it will, he wants ONE Mutual Aid to be ready.
"Even as our work slows down, we're not going to stop checking our spreadsheet anytime soon," Gardner said. "We're not going anywhere."
'We're Handing Out Cash'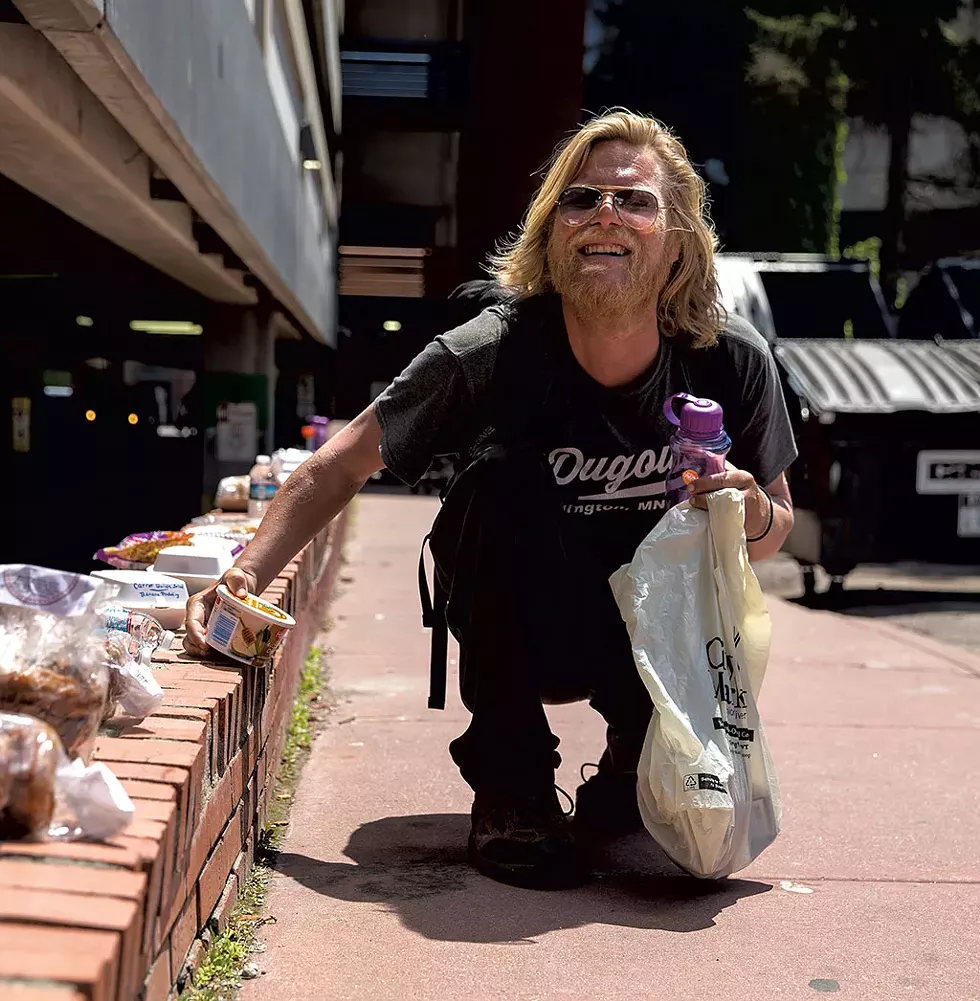 James Buck
Alex Olsen picking up food and supplies
Before the pandemic, BTV CopWatch, the Burlington node of a national network that started in 1990 in Berkeley, Calif., was mainly focused on filming police to hold them accountable for misconduct and brutality. But in the last few months, the group has redirected its efforts toward helping the homeless.
On an uncomfortably warm Friday afternoon in mid-May, 27-year-old Jaz Mojica, five feet tall in flip-flops, stood in the alley between the Marketplace parking garage and the vintage boutique Old Gold. She held an envelope containing $880 in $10 bills. In front of her was a throng of people; when she spoke, they immediately fell silent.
"This is the last week we're handing out cash, because we're running low," she shouted over the traffic noise on Cherry Street. "If anyone has requests for specific items, let me know after."
"Socks!" yelled a tall, lanky man with flaming red hair. "Thank you so much! You're the best!"
Then Mojica passed out the bills, one for each person. Within five minutes, the money was gone.
"Fridays are my least favorite day," she said once the rush had ended. "It gets crazy busy, because so many people come out for the cash distribution, and I don't really get a chance to talk with anyone."
In March, Mojica set up a mutual aid fund to purchase food, tents, sleeping bags, backpacks and first-aid kits. Through GoFundMe, social media and word of mouth, Mojica said, she raised more than $10,000 between March and May, enough to distribute cash every Friday for two months.
ONE Mutual Aid, whose volunteers overlap with BTV CopWatch, used some of those funds to cover purchases for people who requested financial help. Among the recipients was Campbell, the single mother who asked for groceries.
That day, Mojica and other members of CopWatch, along with volunteers from Food Not Bombs, had brought crates of miscellaneous items to distribute. Along a ledge on the ground floor of the garage, they arranged sandwiches from Kountry Kart Deli, bananas, oranges, hand sanitizer, umbrellas, brown paper bags containing tampons and pads, and a box of Plan B contraceptive pills.
For the next half hour, people kept coming up to Mojica to ask if there was any money left. She told them there wasn't but that she'd be happy to pick up something for them at the Walgreens across the street. A girl with neon pink hair asked if Mojica could get her some conditioner. A man on a bike asked her for pants, size 32 by 32. Mojica remembered him. "You like cargo pockets, right?" she asked.
Then, the red-haired man came over and introduced himself as Gingy. He thanked Mojica again for the cash. "If you ever need anything, you let me know," he told her. "Just ask anyone on the street. They'll know how to find me."
'She Made Me Feel Human'
James Buck
Food Not Bombs receiving donations in Burlington
The coronavirus pandemic has contracted our worlds, forcing us to re-create civic and social infrastructure on the smallest possible scale. Our neighbors have become first responders; grocery store employees are now essential workers.
Owens thinks the practice of mutual aid in this crisis has the power to permanently reshape our values.
"People feel like they've lost a lot of power right now, and mutual aid gives us something to do and a common source of meaning," he said. "It develops relationships of dependence and support, and that feeling of connectedness is hard to forget."
In the face of a threat to which no one is immune, and a federal response that has mostly left states and communities to fend for themselves, the rise of mutual aid seems to be an acknowledgment of our individual and collective vulnerability.
Campbell finds solace in this sudden transparency. "This whole situation has brought everyone's reality out," she said. "There was a stigma attached to being broken, but now people are less afraid to say, 'I'm struggling.'"
When Hawkins, the ONE Mutual Aid volunteer, delivered her food, she told Campbell that she was glad to have her as a neighbor, that she was setting a good example for her daughter. For Campbell, those words meant more than the groceries. "She took the time to validate me and express gratitude for the things that I will be able to do, and I was empowered," she said. "She made me feel human."
This story has been updated to reflect the correct titles of Andrea Kane and Mel Reis in the Peacham emergency response team.