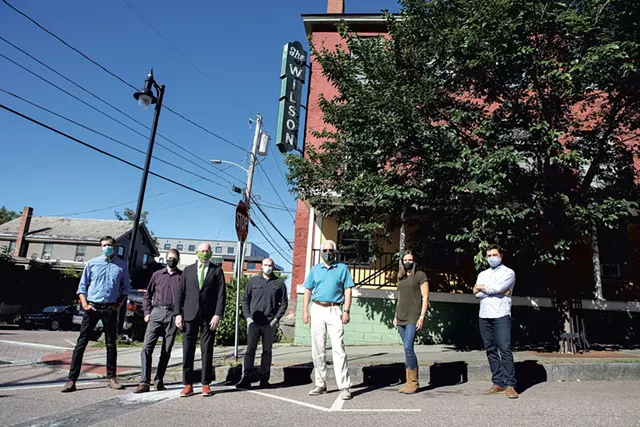 Luke Awtry
From left: Sam Beall, Phil Colteryahn, Michael Wisniewski, Dustin Fleming, Bob Duncan, Taryn Barrett and Arthur Chukhman
The intersection of North Avenue and North Street in Burlington might as well be called Bob and Michael's corner — that is, Bob Duncan and Michael Wisniewski, founding principals of Duncan Wisniewski Architecture. Three of the firm's buildings are visible from the intersection: the new Sara Holbrook Community Center, with its playfully projecting window frames; Mermaid House, topped by Leslie Fry's sculpture of a mermaid at its prow-like corner; and the Committee on Temporary Shelter's headquarters, a historic renovation and addition whose Daystation features a welcome panel in 10 languages that doubles as a gate.
These types of projects — respectively, a daycare and gathering place for low-income and refugee communities; affordable housing above a bank; and transitional housing for the homeless — are hallmarks of the 35-year-old firm. So, too, is the creativity evident in their details and, less visible, their energy efficiency.
Since 1985, when Duncan and Wisniewski formed their Burlington practice, DWA has devoted part of its work to collaborating with nonprofit clients, such as the Champlain Housing Trust and Cathedral Square, to produce affordable housing, local health centers and other community improvement projects around Vermont. Many of these projects have won awards; several went to Elm Place, a senior housing project in Milton that was the first certified passive-house multifamily building in the state.
DWA's projects do much more than fill a basic need; they create a sense of community for users and passersby alike. They are invariably unpretentious yet manage to have curbside appeal despite limited budgets. Through details, scale and massing, the buildings knit together visually and enhance their economically underprivileged surroundings. It's often difficult to tell that DWA's housing facilities are "affordable" — that is, for individuals who earn less than 60 percent of area median wage.
Affordable housing is not the sort of work architects typically go after, according to Joel Page, a principal at Scott + Partners Architecture in Essex Junction and immediate past board president of the Vermont chapter of the American Institute of Architects. His firm and DWA are among just a handful in Vermont that compete for the affordable-housing and other projects that nonprofits put out for bid.
"Most of us who do multifamily housing — you don't really make money doing it, [but] you understand the importance to people," said Page. "[DWA] are principled and have a high regard for doing the right thing environmentally, and they have the right social bent."
"They're just very civic-minded," agreed Cindy Reid, director of development at Cathedral Square. The nonprofit has worked with DWA on a number of affordable-housing projects for seniors and others, including Wright House at Harrington Village in Shelburne and Memory Care at Allen Brook in Williston. The latter is Vermont's first memory care facility that is affordable for households on Medicaid.
"They bring a practical and artistic eye to help create beautiful homes for people of modest means," Reid said.
Dana Veronneau, 60, is one pleased resident of the Wright House, a 36-unit senior housing building that DWA designed for Cathedral Square. By phone, the native of Burlington's Old North End and former Shelburne Shipyard employee described the abundant natural light and roominess of his one-bedroom apartment.
Veronneau also described a building design that facilitates socializing among residents — though that luxury has been suspended during the pandemic. "The common areas on the first floor I miss terribly right now," he said. "In the Grand Room, there were movies once a month, tai chi, Sunday breakfast for whoever wanted it. Everyone kinda got together for a nice Sunday social."
A hospice nurse who was given a tour of Memory Care at Allen Brook commented, in a letter to Reid, "It was obvious how each of [the residents] felt this was their home rather than an institution."
Duncan and Wisniewski met with a reporter at the new Sara Holbrook Community Center, a $3.2 million renovation and expansion project. Easygoing, intelligent men in their sixties, they're as unpretentious as their buildings. They were quick to point out that the firm employs seven architects and designers and that they wanted two of them, architects Taryn Barrett and Sam Beall, to receive equal billing. In the course of reporting this story, the two founders secured their firm's transition plan by naming Barrett and Beall principals and co-owners.
Typically at DWA, one older and one younger architect take each job together; Duncan designed Sara Holbrook with architect Arthur Chukhman and designer Dustin Fleming. During a tour, the white-haired architect reveled in pointing out the building's low-budget, environmentally responsible materials: colorful, nontoxic Marmoleum floor tiles; plywood lining the gym walls for durability; recycled-cotton ceiling panels for sound absorption; and triple-glazed windows — "a nice feature to have on a low-budget job," Duncan said. Upstairs, those windows that project on the outside became cubic window seats with views of Lake Champlain.
Wisniewski, the philosophical voice of the pair, noted, "As affordable-housing architects, we can get too narrow-minded: 'Oh, we can't afford that.' It can stifle your imagination, but it also forces creativity."
Wisniewski's creative interests range from literature to Argentine tango dancing to photography. Leading a reporter from Sara Holbrook to Mermaid House, which he designed, he described the historical markers represented in the building's figurehead, which faces Lake Champlain: Her hair is formed of fish, her hat and coffeepot represent artifacts from the War of 1812 that were recovered from the building site, and the shell she emerges from references the Shell gas station that was formerly on the site.
Both men attributed their interest in social responsibility to their working-class upbringings and early building experiences. Duncan, who is from Barre, became a bricklayer after his junior year of high school and soon joined the masons' union like his father. He went on to study architecture as an undergraduate at Pennsylvania State University.
Wisniewski, from Buffalo, N.Y., was the son of a factory worker and a printer. A leave of absence halfway through his undergraduate career at Cornell University led to a nine-month stint as a framing carpenter. He continued that work during summers to pay for his architecture degree.
Courtesy of @carolynbates.com
Committee on Temporary Shelter building entrance in Burlington
That knowledge of how things fit together from a builder's point of view has helped make an admiring partner of Jeanne Morrissey, founding owner of general contracting company J.A. Morrissey.
"I have immense respect for them. There's no one better than them in terms of their comprehension of the [building] code," Morrissey said. Her company has built a number of DWA's projects, from the health center in Georgia in 1993 to its most recent, Black Flannel Brewing in Essex Junction.
Morrissey gained a lasting trust in the firm during that first job.
She recalled, "Bob noticed something he had done was just simply a mistake: The way he drew a detail wasn't going to work. And — this is very rare — but he wanted to pay us to fix it. When he stepped up to personally correct a mistake, that's when you know that someone is secure enough not to say, 'It's the contractor.' I'll never forget it. They're very quick to own their work; they're very honorable."
Uncharacteristically, Duncan and Wisniewski started out as architects together by designing, among other projects, second homes in Stowe for the wealthy. Those experiences "crystallized the desire to also work for the less fortunate," Wisniewski wrote in an email. DWA's first nonprofit project was renovating the Wilson Hotel in Burlington for COTS.
While affordable housing and the like accounts for 30 to 40 percent of its work, the firm designs plenty of higher-end projects, too. A recent one is Cambrian Rise, developer Eric Farrell's housing development on North Avenue that is permitted for more than 700 units in nine buildings (300 have been built). Anchoring the development is the former St. Joseph's Catholic orphanage, now a high-rent historic renovation.
Two Cambrian Rise buildings are affordable housing — Juniper House, developed by Cathedral Square, and Laurentide, by Champlain Housing Trust. But because DWA designed them all, as well as provided input on the master plan, the two blend visually with the others. Certain details reappear on all the buildings, including sections of metal siding among the fiber-cement clapboard and variations in the siding materials' exposure widths — strategies that add visual texture to the boxy structures.
Laurentide was closed to nonresidents because of COVID-19 during our tour, but a glimpse through a large window revealed a common room and kitchen with a striking ceiling. Its panels are punctured by variously sized holes in a pattern that replicates the molecular structure of ice, water and steam — three common presences in kitchens. The idea was Beall's, who worked on the building with Wisniewski.
Beall and Barrett — the current AIA Vermont president — met with a reporter on the patio of Bright Street Co-op, an affordable-housing project designed by Barrett and Wisniewski in Burlington's Old North End, not far from Feeding Chittenden (another DWA project).
Courtesy Of Gary Hall
Bright Street Co-op in Burlington
The two new DWA partners had already committed to designing pleasant quarters for vulnerable community members when they joined the firm in 2015 and 2008, respectively. Beall had done a three-year fellowship with Cathedral Square on aging-in-place designs a few years after graduating from the University of Virginia's master of architecture program. Barrett had designed a home for a young girl with quadriplegic mixed cerebral palsy during her master's program at Miami University; the project later won awards.
Bright Street contains 40 multifamily affordable units, but passersby wouldn't know it: The two front buildings echo the modest scale and rooflines of the gabled homes and row house buildings that line the street. A walkway between them leads to a much bigger building with underground parking, set far enough back from the street that its three floors look no higher than the two-story homes framing it. Each building's fiber-cement siding has a section of extra-wide, red-orange boards — Barrett's idea — and an oversize house number, eye-grabbing details that also unify the group of structures.
Both architects emphasized the collaborative nature of DWA — not just between members but also with nonprofit clients, financing partners such as Evernorth (formerly Housing Vermont) and contractors.
"In architectural pedagogy, there's this notion of the hero architect — one person who can solve it all," Beall said. "Bob and Michael, they are not the hero architects, nor are we. It's a more collaborative, equitable practice. That's the overarching philosophy. It takes so many people to make this," he added, gesturing at the housing co-op. "It's a small miracle that it happens at all."
With the pandemic in full swing, DWA isn't celebrating its 35th year with an office party. In fact, all seven employees now work remotely, which Barrett and Beall deem a "critical loss" because they can no longer pick up pointers from overheard phone conversations and through "osmosis."
But the firm did get a Paycheck Protection Program loan. While it lasted, from mid-April to mid-June, they used it to pay their salaries while working without charging clients or, in some cases, charging them the same rate as they did in 1985: $25 per hour.
"It was our way of giving back when others were doing things like making PPE," Duncan explained. The plan resulted in a substantial workload, with the principals toiling 50 to 60 hours a week, according to Wisniewski.
The future leaders of DWA are sanguine about riding out the pandemic.
"Bob and Mike made it through 2008," Barrett said, referring to the Great Recession. "A lot of firms [in Vermont] had to stop or close that year. It reassures me, moving through COVID, that our small firm will survive [because of] the work we do, and the diverse portfolio of work, and the relationships with our clients.
"We're nothing without those people," she added.