Matthew Thorsen
Rose Thackeray
Rose Thackeray parked her Honda Accord behind the Price Chopper on Burlington's Shelburne Road one recent afternoon and walked to the compost receptacles at the rear of the building.
She arrived with a canvas Whole Foods Market shopping bag to fill with food and an open mind about what to cook for dinner.
Thackeray, a 22-year-old senior at the University of Vermont, proceeded to stuff her bag with an assortment of produce: cucumber, celeriac, onions, broccoli rabe, apples, bananas, potatoes, green pepper and a lemon. She popped a few grapes into her mouth, a snack while scanning the goods.
"Today's a good day, guys," Thackeray said to a Seven Days reporter and photographer who were watching. "The universe wanted to show you what's up."
Had Thackeray not intercepted this produce, it would have been picked up by a composter who collects food waste from the Price Chopper three times a week. Although Thackeray retrieved the food from 32-gallon compost containers and stood on her two feet to procure it, the practice is known as dumpster diving. People who take food from waste receptacles are sometimes called freegans.
Thackeray, who's been diving for about a year, knows the drill at Price Chopper. The compost bins on the south side of the back alley are filled with food awaiting collection.
One container held loaves of bread and stray slices; in another, the green tops of pineapples were visible — castoffs from the store's fruit salad, Thackeray surmised. A couple of bins held a composite of food so mushy and gross that it was hard to distinguish what was what, but other contents could've been dumped from the salad bar: shredded cheese, croutons, pasta, bits of lettuce, sliced meat. Thackeray passed over some discarded calla lilies, though she said she sometimes gathers a bouquet. She also rejected loose greens and avoided anything with "gunk" on it.
"I'm learning to be pickier," Thackeray said. "Sometimes I get a stomachache."
But, this time, she left with plenty of food for dinner. With some quinoa she had at home, she planned to make a stir-fry.
"It looks like I just went to the market or something," Thackeray noted, examining her haul. She estimates she gets two-thirds of her food by this method. Her primary sources are this Price Chopper and the Shaw's in Waterbury.
"It's technically a form of gleaning," Thackeray said. "Gleaning takes many forms, and it has a long history in many cultures. And this is how a 21st-century college student is practicing it."
Thackeray is majoring in environmental studies and is a teaching assistant in an introductory course. Her concentration is in food, land and communities. She dreams of owning a piece of land where she can produce food and bring people together.
"Looking inside a dumpster is the beginning, my first point of intervention," Thackeray said. "I'm always thinking about food waste."
A waste composition study for Vermont, completed in 2012, indicates that roughly 100,000 tons of organic material reaches the landfill every year, according to Josh Kelly, materials management chief for the Agency of Natural Resources. Of that amount, some 60 percent, or 60,000 tons, is food waste, he said.
With the implementation of Act 148, Vermont's Universal Recycling Law that is being phased in, state officials hope to reduce landfill food waste by at least a third, according to Kelly.
Matthew Thorsen
Rose Thackeray
On the late-April afternoon when Thackeray helped herself to the food waste on Shelburne Road, a Price Chopper employee came out a back door and confronted her.
"Hey, folks," the woman said, "you can't go through these buckets."
The gleaner, the photographer and the reporter drove away in their separate cars.
A spokeswoman for Price Chopper, a supermarket chain based in Schenectady, N.Y., said the company has no formal policy about dumpster diving because it "hasn't been an issue."
The incident in Burlington marked only the second time in 10 years she had heard of such an event, said Mona Golub, Price Chopper's vice president of public relations and consumer services.
"I find it disturbing that someone would be picking food out of a bin that has been deemed inedible, or not deemed for human consumption," she said. "We don't have an expectation that anybody would be taking food out of those composting bins for their own consumption."
Price Chopper has a "fresh recovery" program, part of its waste-management system, that the company employs "to be sure that the food we consider unsalable but still edible gets to hungry people in our communities," Golub said.
She noted that the 15 Price Chopper supermarkets in Vermont donated a half-million pounds of food to the Vermont Foodbank last year.
The morning after Thackeray was told to stop dumpster diving, she said she would always respect "the power and authority" of an official who asks her to leave. But she plans to continue taking and eating discarded food — though she acknowledged that her chemist father and biologist mother "aren't down with it."
"Dumpster diving, for me, is a form of resistance," Thackeray declared.
According to Sgt. Wade Labrecque of the Burlington Police Department, there is no criminal law against dumpster diving. An issue that might arise concerns trespassing on private property, he said, especially if a person is physically inside the dumpster. In 16 years on the force, Labrecque said he's received just one complaint about dumpster diving — from Lake Champlain Chocolates on Pine Street.
Perhaps the most experienced and knowledgeable "diver" in Burlington is Phinneus Sonin, 46, owner of Junktiques Collective. His junk/antique shop on North Winooski Avenue, which he opened in 2003, is built on other people's trash — about 90 percent of the initial inventory came from dumpsters.
"Nobody has a creative solution about how to get this [discarded] product to someone else," Sonin said. Junktiques was "inspired by UVM students putting their whole life out on the street" during spring move-outs.
Sonin claimed he has eaten from dumpsters since 1990 and has never gotten sick. "It's a resource that's going untapped," he said.
On New Year's Eve 2014, Sonin opened a café in the Old North End called Psychedelicatessen. Its distinguishing feature was that diners could choose how much to pay for their meals. Some people paid nothing for dinner, while others would leave $20 for dumplings.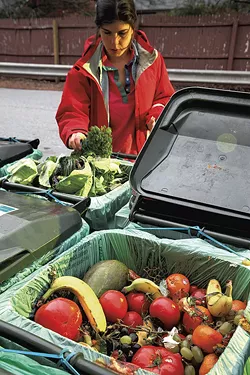 Matthew Thorsen
Rose Thackeray
Stir-fry dishes were made with ingredients that Sonin recovered from dumpster dives, he said. Nightly specials were based on what he found in compost bins at local grocery stores. Fruit smoothies also used discarded produce — bananas, blackberries, blueberries and strawberries that were washed and then frozen. His primary source was a supermarket in Essex Junction, Sonin revealed.
"I kept it a secret, but it's long gone," he said — Psychedelicatessen closed in the summer of 2015.
"I'm not taking rotten food," Sonin said. "I'm taking perfectly good food, cleaning it and re-serving it to people."
Ren Weiner, a doughnut baker who lives in Winooski, said her first dumpster dive was at a Dunkin' Donuts in New York's Westchester County when she was in high school.
"Me and some punk friends had read about dumpster diving, and we decided to do it — and found tons of food," Weiner said. "When you're a 16-year-old kid, a dumpster full of doughnuts is like finding gold."
Soon she discovered an organization called Food Not Bombs, a decentralized collective that gathers excess food and gives it away.
"That was my version of going on tour with Phish — doing Food Not Bombs across the country," said Weiner, 31. "Hopping trains, going to protests."
Dumpster diving as a means of reducing food waste was a "moral" issue for her, Weiner said. The goal was to ask first if the food was available. The group checked dumpsters behind stores and at processing sites. The No. 1 thing she consumed from them, Weiner recalled, was Odwalla juice
"If something's in a dumpster, it's fair game," she said. "But if it has a lock, it's trespassing. You leave a dumpster cleaner than you found it. You never take everything: There's always a chance that somebody else is going to come through and be hungry, too."
Weiner has a long interest in and commitment to food justice. She recently started work as a cook for the Good Food Truck, a Chittenden Emergency Food Shelf vehicle that delivers free meals to low-income Vermonters.
In her baking, Weiner uses spent grains from a brewery and seconds from a farm.
"Let's use things that are delicious and awesome and maybe not being utilized," Weiner said. "We're following all the food sanitation guidelines, working on a small level, trying to create products that will actually mitigate food waste and raise the popularity of them."
At the end of the semester last fall, Thackeray invited her students to her Burlington home for a final project. To make snacks, she went to the Price Chopper compost bins hoping to find avocados for guacamole. But that Sunday morning in early December, she found more salvageable food than expected. "So I went crazy," she said.
Thackeray brought home pizza dough, tomatoes, asparagus and other vegetables. The students made tomato sauce from the compost haul. They calculated the retail cost of the free food (more than $70), fashioned a tablecloth from newspapers and made placemats out of dog-food bags. The project is documented in a video takeoff of the Netflix series "Chef's Table."
With her guests gathered at the table to eat, Thackeray described the meal: "We used our world-renowned dumpster-trash pizza sauce, with our tomatoes and toppings locally sourced from our neighborhood Price Chopper dumpster. We put a lot of love into rescuing your meal tonight."