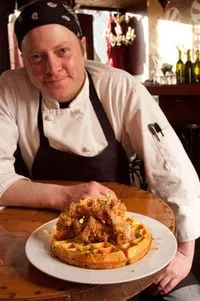 10 N. Winooski Ave., Burlington, 802-660-9346
map & directions | website

A theatrical theme pervades this international-street-food spot – open 'til 1 a.m. on weekends. Expect dishes from majadra to chalupas; chicken and waffles to tostones.
More information
$25 Dinner Menu (Eclectic/Fusion)
¡Duino! (Duende) will tour the world during Vermont Restaurant Week. A new menu will be available every night, filled with the freshest, finest first pickings of all the local meats, cheeses and produce from Vermont farmers. Menus will be posted on the ¡Duino! (Duende) Facebook page one day before it is available, served from 6 p.m. to 10 p.m.
Here is the schedule:
April 27/28 - Mediterranean/European cuisine
April 29/30 - South American cuisine/Southern comfort food
May 1/2 - Ethiopian cuisine
May 3/4 - Far East/Asian cuisine
Below are samples from the regular menu at ¡Duino! (Duende), not the Vermont Restaurant Week specials.
Appetizer Options
Duende Salad (Vermont)
Field greens, house-pickled beets and carrots, goat cheese and roasted walnuts, tossed in our house dressing
Tostones (Cuba)
Hand-cut plantain chips with chipotle aioli and banana ketchup
Corn Fritters (Thailand)
Served with nam prik
Entrée Options
Mushroom Burger (Nepal)
Button-mushroom-and-lentil burger on a challah bun with cranberry mango chutney, pickles, onion and a side salad
Chicken & Waffles (USA)
Fried Misty Knoll Farms chicken atop a fresh waffle with honey butter and herb-cream gravy
Dancing Noodles (Korea)
Sauteed veggies and fried Vermont Soy tofu in sesame ginger sauce, served over rice noodles
Dessert Options
Baklava (Mediterranean)
Honey and nuts layered between phyllo dough
Churros (Mexico)
Freshly made Mexican doughnuts with chocolate sauce
Shin Bo Milkshake (Asia)
Avocado, vanilla ice cream and coconut milk